How to Stop Dating a Married Man? 5 Tips to End the Toxic Relationship
"Men's minds are raised to the level of the women with whom they associate". — Alexandre Dumas Pere.
Women, in general, are more mature than men falling within the same age bracket. But, when it comes to relationships, people normally say that age is just a number.
The whole idea of dating an older, mature, and experienced man can be exhilarating for many women.

The idea of dating an experienced married man is quite alluring

Believe it or not, the undeniable charm and maturity an experienced and aged person brings with him is often irresistible. And if he turns out to be married, then it is just the extra icing on the cake.

A married person is more experienced than a single man and possesses a bundle of ideas to entice a woman and satisfy her needs.

The very thought of committing oneself to an immoral act often excites young women to their core. So, the acts of infidelity and affairs beyond the realms of holy matrimony is not unheard of.

Knowing the cold, hard truth and the unavoidable aftermath of such toxic relationships, young women look for every excuse under the sun to justify their judgment call.

There is nothing wrong with expressing your love for a person. But, if you have to be completely hush-hush about the whole affair, knowing that the slightest hint to the existence of the relationship can completely ruin a family, then steering yourself away from such a relationship is the wise thing to do.

Stepping out of relationships is not easy.
When you are emotionally attached to a married man, then you are already experiencing a great deal of uncertainty and suffering from an emotional turmoil. Riding the roller-coaster ride is likely to take a toll on your health.
Every time you try to take a stand for yourself, your love for him and the thought of a happy ending deters you from stepping away from the affair.
He presents you with a bundle of excuses, woos you with his teary eyes, and manipulates you to stay back with his irresistible charm.

You need to wake up! He is another woman's husband and will always choose his family over his mistress. Despite the incivility of the term, 'mistress,' the fact remains unchanged, and you know it.
Take a grip over yourself and check out the 5 tips on how to stop dating a married man:
Illicit affairs are built on the bed of lies, and they start pricking you as days go by. Try to look out for those messages and hints hidden behind his sugar-coated words.
Study his expressions and body language as well. Body language and facial expression often give out messages contrary to what the words reveal. The more you catch his lies, the more you will grow out of the relationship.
2. Understand 'once a cheater, always a cheater!'
'Cheating is a choice, not a mistake,' and as the point states, once a cheater will always remain a cheater. Your lover has cheated on his wife to maintain this unhealthy relationship with you.
It is quite likely your man can deceive you for someone better than yourself. This is a red flag for you.
3. Scare him with news of your pregnancy

It is quite evident from his behavior that your man is not picturing a future with you. Else, he will never keep the affair all hushed up and under wraps. And the fact that there is no planning for the future from his end apart from endless and baseless excuses, only affirms your doubt.
If giving up on the relationship is not your type, then scare him with news of your pregnancy. The first thing that he will do is ask you for an abortion. His reaction will define your exact position in his life.
So, don't think twice before walking out of this living hell.
4. End any possible path to reconnect with you
This is one of the important tips on how to stop dating a married man.
It is imperative for you to change your contact details and block him from all your social sites as soon as you decide to sever all ties with him.
He will try not to lose you and end up in making a bundle of false statements coated in emotion. Try not to fall into his trap, but try to see through his lies.
5. Do not give in to your emotions

You are likely to confront with uncertain emotions inside you post break-up.
Each time you come across his profile on social media or recall intimate moments, you are bound to develop the urge to dial his number. You might end up at his office or hang out in places that were secret hideouts for both of you.
It takes time to get over someone but never give in to your emotions. Else, you will never make out of the spider cobweb safely.
'Be part of a sisterhood that says no to married men.'- April Beyer
Getting yourself entangled with a married man is not going to end well with either of you. The sooner you realize, the better it is for you.
No one denies the fact that a married person can fall in love again if he is estranged from his wife or is a widower. But, if he is living a double life, then that is a red signal enough for you to stay away.
Else, you can try following the mentioned tips if you are so smitten with him and have no clue on how to stop dating a married man.
Share this article on
Want to have a happier, healthier marriage?
If you feel disconnected or frustrated about the state of your marriage but want to avoid separation and/or divorce, the marriage.com course meant for married couples is an excellent resource to help you overcome the most challenging aspects of being married.
More On This Topic
You May Also Like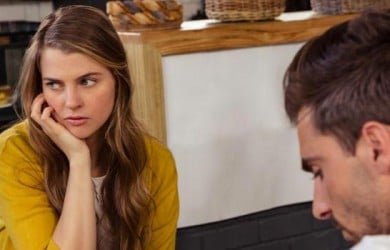 Popular Topics On Married Life