How to Stop Dating a Married Man: 15 Effective Tips
"Men's minds are raised to the level of the women with whom they associate." — Alexandre Dumas Pere.
Women, in general, are more mature than men falling within the same age bracket. But, when it comes to relationships, people normally say that age is just a number.
The whole idea of dating an older, mature, and experienced man can be exhilarating for many women.
However, you may have second thoughts after you begin dating a married man. Keep reading this article for information on how to stop dating a married man and other details you may be interested in learning more about.
The idea of dating an experienced married man may be quite alluring
Believe it or not, the undeniable charm and maturity an experienced and aged person brings with him is often irresistible. And if he turns out to be married, it is just the extra icing on the cake.
A married person may be more experienced than a single man and could possess a bundle of ideas to entice a woman and satisfy her needs.
The very thought of committing oneself to an immoral act often excites young women to their core. So, acts of infidelity and affairs beyond holy matrimony are not unheard of. In fact, they can occur for a number of reasons, and last long-term or short-term, depending on the reasons the affair started in the first place.
Knowing the cold, hard truth and the unavoidable aftermath of such toxic relationships, young women might look for every excuse under the sun to justify their judgment call.
There is nothing wrong with expressing your love for a person. But, if you have to be completely hush-hush about the whole affair, knowing that the slightest hint of the existence of the relationship can completely ruin a family, steering yourself away from such a relationship is the wise thing to do. Stepping out of relationships is not easy.
When you are emotionally attached to a married man, you are already experiencing a great deal of uncertainty and suffering from emotional turmoil. Riding the roller-coaster ride is likely to take a toll on your health.
Every time you try to take a stand for yourself, your love for him and the thought of a happy ending deters you from stepping away from the affair.
He may present you with a bundle of excuses, woo you with his teary eyes, and manipulate you to stay back with his irresistible charm.
In reality, he is another woman's husband and will likely choose his family over his mistress. Despite the incivility of the term 'mistress,' the fact remains unchanged, and you should be aware of this.
Watch this video for advice on how to know whether you are dating the right person:
How to stop dating a married man: 15 crucial tips
When it comes to how to stop dating a married man, it may be obscure what you need to do. However, here are 15 tips that might help you when you are confused on how to end a relationship with a married man.
1. Look out for the hidden hints in his words and expressions
Illicit affairs are built on a bed of lies, and they start pricking you as days go by. Try to look for those messages and hidden hints behind his sugar-coated words.
Study his expressions and body language as well. Body language and facial expression often convey messages contrary to what the words reveal.
For instance, if he cannot look you in the eye, he may be lying to you. The more you catch his lies, the more you will likely grow out of the relationship.
2. Understand 'once a cheater, always a cheater!'
'Cheating is a choice, not a mistake,' and as the point states, once a cheater, a person will always remain a cheater. Your lover has cheated on his wife to maintain this unhealthy relationship with you.
It is quite likely your man can deceive you for someone else. This should be a red flag for you. It also allows you to consider your options and what you want and deserve from a relationship.
3. Scare him with news of your pregnancy
It may be quite evident from his behavior that your man is not picturing a future with you. Otherwise, he would never keep the affair all hushed up and under wraps. Also, the fact that there is no planning for the future from his end, apart from endless and baseless excuses, can affirm your doubt.
If giving up on the relationship is not your style, then scare him with news of your pregnancy. His reaction will define your exact position in his life. He may suggest a number of things or try to end the relationship on his own terms.
If this happens to you, don't think twice before you break up with a married man.
Related Reading: 

This Is How Pregnancy Brings Couples Together
4. End any possible path to reconnect with you
This is one of the important tips on how to stop dating a married man.
You must change your contact details and block him from all your social sites as soon as you decide to sever all ties with him.
He will try not to lose you and may end up making a bundle of false statements coated in emotion. Try not to fall into his trap but try to see through his lies. If you can cut off all contact, this can help you while you are getting over a married man so that you can move on with your life.
5. Do not give in to your emotions
You will likely be confronted with uncertain emotions inside you post break-up.
Each time you come across his profile on social media or recall intimate moments, you are bound to develop the urge to dial his number. You might end up at his office or hang out in places that were secret hideouts for both of you.
Remember that it takes time to get over someone, but try never to give in to your emotions.
Getting yourself entangled with a married man will not end well for either of you. The sooner you realize, the better it is for you.
No one denies the fact that a married person can fall in love again if he is estranged from his wife or is a widower. But, if he is living a double life, this is a sign for you to stay away.
Related Reading: 

14 Tips on How to Control Your Emotions in a Relationship
6. Work on your self esteem
Another reason you should stop dating a married man is because it may negatively affect your self-esteem. If you are someone that has been in many relationships that haven't worked out or weren't right for you, it may seem easier to date a married man.
However, there may be another person out there that is a better fit for you. You owe it to yourself to try to find them. Research suggests that self-esteem is important for multiple aspects of your life.
7. Talk to a therapist
It might be necessary to talk to a therapist when you need to find out more about how to stop dating a married man. A therapist can offer expert advice on what steps you need to take to end this type of relationship.
Additionally, they can help you determine what you are getting out of this affair and why you are choosing to date this man as well, which are things you should be aware of.
Related Reading: 

How Seeing a Therapist Can Improve Your Life
8. Go on some dates
If you have been dating a married man for a while, you may need to remember what a new relationship feels like. It is okay to go on a date or meet up with a friend, especially if you are used to hiding out or spending all your time in the bedroom when you meet up with your man.
Going out and being social can remind you what it is like to have a relationship with another person where it isn't a secret.
9. Remember who he is
When you are with your man, he may make you feel like you are the most important thing in his life. However, it is necessary to remember that he is married to someone else. Essentially, you are a secret from his family.
Thinking about this may help you put your relationship into perspective, where you can decide if it is good enough for you.
10. Be real with yourself
There may be other things in your relationship that you don't agree with as well. For instance, you may only engage in intimate acts and not much else when you are together. This could indicate he is using you and doesn't see you as anything but a sexual partner.
It is okay to ask him about this, especially if you want to hear his true feelings about you.
 

Related Reading: 

6 Tips for Finding Real Love
11. Determine what you need
Overall, you have to take care of yourself when you are learning all about how to stop dating a married man. You must pay attention to what you want and need from a relationship. If you aren't getting the things you want, it could be time to move on and explore your options.
This is something you don't have to feel bad about, especially if you want a relationship that is exclusive and can't obtain that with your married beau.

12. Speak with loved ones
You likely have a friend or family member that always tells you the truth about what you are doing, even when you don't want to hear it. Talk to people you trust about what is going on and listen to what they have to say.
You may be surprised at the helpful advice they can provide. They might also help you understand aspects of the relationship you weren't thinking about.
Related Reading: 

10 Ways to Show Devotion to Loved Ones
13. Think about the pros and cons
Take some time to think about the things you like and dislike in your relationship. Chances are there are many things you don't like about what is happening. When this is the case, it may be pertinent to end the relationship and start one where you can be sure that both parties are devoted to each other.
There's no need to ignore things you don't like, even if you feel like the good things in your relationship are especially noteworthy.
14. Rehearse what to say
It may take some time and courage to be able to break it off with a married man. However, if you determine what you want to say ahead of time, it can help you practice for when the time comes.
Go over these things in your mind, and when you are ready, it is time to have the talk. Remember that wanting to be the only romantic partner in another person's life is reasonable. You don't have to feel bad about this.
15. Keep a routine
After you have found out how to stop dating a married man, you may also need help getting your life back to normal. One way to approach this is by keeping a routine. You can start off each day with a workout, start a new hobby, or another task to help you start a new normal in your life.
After a while, you may think about him less and feel better about yourself.
What are the consequences of dating a married man?
Another aspect to consider when you are wondering how to stop dating a married man is that dating one can have consequences. Here are some of the most significant ones.
1. It won't be a true relationship
The truth is that when you are in a relationship with a married man, it isn't a true relationship.
He may come over a few times a week and provide you with gifts and short amounts of his time, but after that, he likely has to go home, take care of his kids, or go back to work. This could leave you feeling like you need more out of a relationship.
2. You may not get your needs met
Another consequence to consider is whether you are having your needs met. Are there certain things that you want out of a relationship? Are you getting them?
If not, you owe it to yourself to find someone that can give you these things. You don't have to settle for less, especially if there is no room for compromise in your current relationship.
3. The spouse may find out
You may understand in the back of your mind that your man's wife can find out about the relationship. This could cause you to feel guilty and a bit apprehensive. Imagine if you were a woman that had a mate that was cheating on them.
Think about how you would feel if you found out. Would you be angry with both of them? This is something that you should keep in mind.
4. It could harm his family
If the married man you are seeing has kids, you may also need to imagine what could happen if the family found out. This could be detrimental to his kid's well-being, leaving you feeling many different emotions about the situation.
Consider if you want to be a part of the breakdown of any family (even if it isn't your fault) and how people may treat you afterward.
5. You may feel guilt
During the course of your relationship, you may feel guilt about what you are doing. This can lead you to experience stress and anxiety, both of which are bad for your physical and mental health.
When you are feeling guilt, consider why you are feeling it. It may be time to make changes related to this.
Conclusion
Once you are dedicated to learning how to stop dating a married man, there are many things to consider. You must be honest with yourself and take steps to change your situation.
Talk to a therapist or lean on your support system for the advice and guidance you need. Taking a break from social media may also help. For the married man, I suggest taking a marriage course online, so he can strengthen his marriage instead of stepping out on it.
Share this article on
Want to have a happier, healthier marriage?
If you feel disconnected or frustrated about the state of your marriage but want to avoid separation and/or divorce, the marriage.com course meant for married couples is an excellent resource to help you overcome the most challenging aspects of being married.
More On This Topic
You May Also Like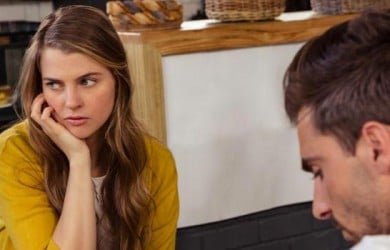 Popular Topics On Married Life