10 Signs Something Feels off in Your Relationship
Have you ever had that nagging feeling that something just isn't quite right in your relationship? Like a persistent itch that you can't quite scratch, you may find yourself questioning whether your partner is truly the one for you.
Maybe there are subtle signs that they're not as invested as you are, or perhaps your gut is telling you that there's something they're not telling you. Whatever the reason, that sense of unease can be overwhelming, and it's important to address it before it becomes a bigger problem.
Do you think, "Something feels off in my relationship?" or are suspecting signs something feels off in your relationship? Know some common reasons why something might feel off in your relationship, and offer some advice on how to navigate these tricky waters.
What does it mean when someone says that something feels off in a relationship?
When something feels off in a relationship, it refers to a deep-seated sense of unease or dissatisfaction that they experience within the partnership.
It's a subtle yet powerful intuition that arises when certain aspects of the relationship no longer align with their expectations, desires, or emotional well-being.
This feeling can manifest in various ways, such as a lack of communication, a shift in emotional connection, or a sense of dissonance between partners.
It signifies a need for reflection and exploration, as individuals try to decipher the underlying cause of their discomfort and determine whether the relationship can be repaired or if it's time to move on to seek a more fulfilling connection.
Why does something feel off in your relationship?
"Why does my relationship feel off?"
There are various underlying reasons when something feels off in your relationship, indicating potential issues that require attention and evaluation. Some of the common reasons why a relationship feels off are below:
When open and honest communication diminishes, it can lead to misunderstandings, unresolved conflicts, and a growing emotional distance.

Noticeable shifts in a partner's behavior, such as increased secrecy, sudden mood swings, or withdrawal, may indicate underlying issues.

A decrease in physical or

emotional intimacy

can leave one or both partners feeling disconnected and unsatisfied.

Betrayal, infidelity, or a breach of trust can shatter the foundation of a relationship, causing lingering doubts and insecurities.

As individuals evolve and change over time, their interests, values, and priorities may diverge, leading to a sense of incompatibility.

Lingering or recurring conflicts that remain unresolved can create tension and erode the trust and happiness in a relationship.

Feeling unsupported or unheard by a partner can lead to feelings of loneliness, resentment, and a sense of being undervalued.

If partners have divergent visions for the future, such as regarding marriage, children, or career paths, it can create uncertainty and strain.

Any form of abuse, whether emotional, verbal, or physical, is a clear indication that something is seriously wrong in the relationship.

Sometimes, a vague sense of unease or intuition may arise without a clear explanation, suggesting underlying issues that need exploration and discussion.
10 signs something feels off in your relationship
They could be subtle or on the face, but these red flags need to be noticed and worked upon. Here are 10 significant signs something feels off in your relationship:
1. Lack of communication
Communication is a vital aspect of a healthy relationship. If you notice a significant decrease in open and honest communication between you and your partner, it is one of the signs something feels off in your relationship and that something is amiss.
Difficulty in discussing important matters or avoiding conversations altogether can be indicators of underlying issues and common signs something feels off in your relationship.
Related Reading: 

20 Ways to Improve Communication in a Relationship
2. Emotional distance
Feeling emotionally disconnected from your partner can be a red flag. If you sense a growing gap between you and your partner, such as a lack of intimacy, sharing of emotions, or support, it may indicate that the emotional bond in your relationship is weakening.
3. Trust issues
It can be one of the most important signs something feels off in your relationship.
Trust is the foundation of any strong relationship. If you find yourself questioning your partner's honesty, loyalty, or reliability, it could be a sign that trust has been compromised.
Frequent lies, broken promises, or secretive behavior can erode trust and indicate underlying problems.
Related Reading: 

How to Date Someone With Trust Issues
4. Constant arguments
While disagreements are a normal part of any relationship, frequent or unresolved arguments can be a cause for concern.
If conflicts escalate, become more intense, or are met with defensiveness and unwillingness to work toward a resolution, it may indicate deeper issues within the relationship.
5. Lack of support
Another one among common signs something feels off in your relationship is less or no support from your partner.
In a healthy relationship, partners support and uplift each other. If you feel unsupported, dismissed, or belittled by your partner, it can be a sign that something is off. Your partner should be your source of comfort and encouragement, rather than someone who constantly undermines or invalidates your feelings.
6. Loss of intimacy
Intimacy goes beyond physical connection and encompasses emotional closeness, affection, and understanding. This is why once it's lost, it can be one of the signs something feels off in your relationship.
If you notice a significant decline in intimacy, such as a lack of physical touch, diminished sexual desire, or a decrease in shared activities, it may indicate that the bond in your relationship is weakening.
7. Unresolved resentment
Lingering resentment and unresolved issues can poison a relationship. If past conflicts or hurts continue to resurface without resolution, it may indicate a lack of effective problem-solving skills or an unwillingness to address underlying issues.
Unresolved resentment can erode the foundation of trust and intimacy.
Related Reading: 

15 Ways to Let Go of Anger and Resentment in a Relationship
8. Feeling isolated
Healthy relationships thrive on mutual support and social connection. If you feel isolated from friends, family, or other support networks due to your relationship, it may be a sign of an unhealthy dynamic.
Controlling behavior, manipulation, or excessive jealousy can contribute to feelings of isolation.
Related Reading: 

5 Signs of Feeling Neglected in a Relationship
9. Imbalance of power
Relationships should be based on equality and mutual respect.
If you feel that power and control are imbalanced, such as one partner consistently making all the decisions, disregarding your input, or exerting control over various aspects of your life, it may indicate an unhealthy dynamic.
This video discusses dismissive avoidants in the power struggle stage of relationships. Have a look:
10. Gut feeling
Sometimes, your instincts can provide valuable insights into the state of your relationship. If you have a persistent feeling that something is off, even if you can't pinpoint the exact reason, it's important to trust yourself.
Your intuition may be picking up on subtle signs of discontent or underlying issues that need to be addressed.
How do you fix a relationship that is feeling off?
If you're experiencing any of the signs that something feels off in your relationship, such as increased conflict or a general feeling of disconnection, it's important to take time to reflect on your feelings and take necessary steps.
What to do when your relationship feels off? When a relationship feels off, it is essential to address the issues and work towards resolving them. Here are five ways to help fix a relationship that feels off:
1. Open and honest communication
Effective communication is key to resolving problems in a relationship. Create a safe and non-judgmental space to openly discuss your feelings, concerns, and needs. Share your perspective while actively listening to your partner.
Express yourself with kindness and empathy, focusing on understanding rather than blaming. Clear and honest communication can foster understanding, rebuild trust, and pave the way for resolving issues.
2. Seek professional help
Sometimes, working with a couples therapist or counselor can provide valuable guidance in navigating relationship challenges.
Relationship counseling can offer unbiased insights, teach effective communication techniques, and help both partners gain a deeper understanding of themselves and their dynamics.
Therapy sessions can provide a structured and supportive environment to explore the underlying issues and develop strategies for positive change.
This research article discusses the causes of emotional distancing in relationships and provides intervention strategies for therapists working with couples.
3. Prioritize quality time and emotional connection
Rebuilding emotional intimacy is crucial when a relationship feels off. Dedicate quality time to connect with your partner on a deeper level.
Engage in activities you both enjoy, communicate openly about your thoughts and feelings, and express appreciation and love for each other. Trusting the process and being aware of the signs that something feels off in your relationship can help you identify potential problems early on and prevent them from escalating.
This study examines the positive relationship between quality time and relationship satisfaction in couples.
Rebuilding emotional connection strengthens the foundation of your relationship and creates a sense of security and closeness.
4. Address resentment and unresolved issues
When you notice signs that something feels off in your relationship, it's important to approach the situation with curiosity and compassion.
Lingering resentment and unresolved issues can poison a relationship. It is important to address these concerns openly and honestly.
Practice forgiveness and empathy, both for yourself and your partner. Seek understanding of each other's perspectives and work together to find mutually agreeable solutions.
If necessary, seek guidance from a therapist to help navigate through deep-rooted resentments and facilitate the healing process.
5. Reinforce boundaries and mutual respect
Establishing and reinforcing healthy boundaries is crucial in fixing a relationship that feels off.
Clearly communicate your needs, expectations, and limits to your partner, and encourage them to do the same. Respect each other's boundaries and work towards finding compromises that meet both partners' needs.
Practicing mutual respect fosters a healthier dynamic and creates a foundation of trust and understanding.
6. Foster individual growth
Sometimes, a relationship can feel off when one or both partners are experiencing personal dissatisfaction or lack of fulfillment. Encourage each other's personal growth and support individual pursuits and interests. Cultivate your own passions and interests while nurturing the relationship.
Personal growth can bring new perspectives and vitality to the relationship, enhancing overall satisfaction and connection.
Common questions
Recognizing the signs that something feels off in your relationship, such as decreased intimacy, communication, or trust, can help you take action to address the issue and work toward a healthier, happier relationship. Know more below:
Is it normal for things to feel off in a relationship?
If you think, "is it normal to feel off in a relationship?" Know that it is normal for things to occasionally feel off in a relationship.
Relationships go through ups and downs, and feelings of dissatisfaction, uncertainty, or disconnect can arise. It could be due to external stressors, changes in individual circumstances, or evolving dynamics between partners.
However, it is important to address these feelings over time and work towards finding solutions and reconnecting.
Open communication, understanding, and a commitment to growth can help navigate these moments and strengthen the relationship. Seeking support from a therapist or counselor can also be beneficial in navigating these challenges.
How do you know if your partner is tired of you?
Recognizing if your partner is tired of you can be tough, as it depends on individual circumstances and communication styles.
However, some signs may include decreased communication and quality time together, lack of interest or engagement in conversations or activities, frequent arguments or irritability, emotional and physical distance, or expressing feelings of unhappiness or dissatisfaction in the relationship.
It is important to have open and honest conversations, listen to your partner's concerns, and seek professional help if needed to address any issues and work towards reconnecting or finding a resolution.
Something might actually be off
Recognizing and acknowledging the signs that something feels off in your relationship is crucial for its well-being.
The ten signs discussed – lack of communication, emotional distance, trust issues, constant arguments, lack of support, loss of intimacy, unresolved resentment, feeling isolated, an imbalance of power, and gut feelings – can serve as valuable indicators that warrant attention and action.
Addressing these signs of feeling off in a relationship requires open and honest communication, and seeking professional help if necessary. It is important to remember that every relationship is unique, and these signs may not apply to all situations.
However, if you consistently notice several signs and they persist over time, it may be beneficial to seek support and work towards resolving the underlying issues.
By proactively addressing the signs, investing in open communication, and seeking help when needed, you can navigate the challenges, strengthen your bond, and work towards a healthier and more fulfilling relationship.
Remember that relationships require effort, understanding, and a commitment to growth from both partners to thrive.
Share this article on
Want to have a happier, healthier marriage?
If you feel disconnected or frustrated about the state of your marriage but want to avoid separation and/or divorce, the marriage.com course meant for married couples is an excellent resource to help you overcome the most challenging aspects of being married.
Learn More On This Topic
You May Also Like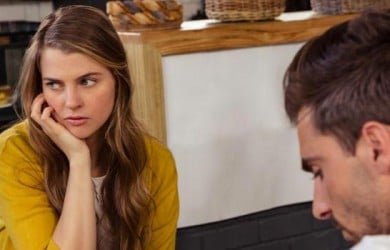 Popular Topics On Married Life