Dating at 50: Five Red Flags to Look out For
Dating at 50 can be much harder than dating in your 20's.
While this may seem to be an obvious statement since there are fewer people who are romantically available at 50 (either because they are married already, or have found a way to enjoy their time alone so much that they don't have space in their life for a companion), the challenges that dating can bring are not as obvious as it may first seem.
Even if you are deep-diving into the dating pool at 50, dating red flags can occur that can give you an idea as to whether the person you are talking to is ready to date, is prepared to make themselves available and are generally seeming to be ok.
So, if you are new to dating at 50, these red flags in dating will help you:
Avoid some of the potential pitfalls of dating
Protect your heart
Notice signs he's not interested after the first date
Signs she is using you for attention
Prevent you from being scammed
Save you a whole load of time
Here are some red flags when dating to watch out for.
1. Online dating profiles with no information
The question is why don't these people have information on their profile?
Chances are because they are hiding something (being married for example, or even the wrong sex for your sexual preference and potentially scamming you!).
If somebody has no information and they are not married or scamming you, well, then it's still a red flag, after all, do you want to date somebody who can't even be bothered to make an effort to give you some information about themselves?
2. Wants to talk online too much without meeting you
Whether you are dating at 50 or not, this is a huge red flag.
Believe it or not, there are some people who (if they are not the scammers mentioned above, or are not lying about how they look, etc.) are more comfortable mentally and emotionally engaging in a relationship without physically being there.
It might seem to be a strange thing to do if you are a social person generally, but if you are dating online, this is an experience that you will probably encounter.
It's one of the red flags when dating a man or woman.
So, if you've been continuously talking with somebody for a few weeks and there has been no effort to meet up – especially if you have broached the subject with them and they've just found an excuse (or even canceled the date without rescheduling!), consider this to be one of the red flags in a relationship with a sign to move on.
As Ariana Grande says; 'Thank you, Next!".
3. Withholds general information
If you are talking to your date, online or in-person and they don't share general information such as a brief outline of their past, their age, where they work, or anything else that you feel is not crossing boundaries then the chances are they are either hiding something or are not very good at sharing themselves.
Withholding general information makes it to the list of dating at 50 red flags.
Don't give them all of your information if they are not sharing theirs instead consider moving onto somebody who is more willing to be open with you.
4. Too much too soon
On the opposite end of the scale, dating at 50 red flags is if somebody you are dating is trying to speed everything up, regardless as to whether you are on board with the speed of your relationship or not.
Moving too fast could be a sign of somebody:
Being overly needy, distrustful, jealous
Someone who is trying to snap up anyone they can grasp onto
Somebody who doesn't know what they want
Either way, rushing things when it comes to dating is never a good idea and being rushed in a way that might make you feel uncomfortable is a definite red flag.
Dating red flags to look for in a man or a woman can come at any time in a relationship.
If you find yourself stressing over how your potential partner is pacing it, don't ignore it. It's best to clearly communicate your discomfort and if they persist, let them lean on someone else.
5. Fixated on their past
The list of dating red flags to look for in a woman or a man is incomplete without the mention of this one.
Run for cover, if your date is plagued by ghosts of the past.
Whether it's a past relationship or their past in general, if a person you are dating, is always returning to a past issue over and over again in a short period and they show underlying anger in particular, take this as one of the major "dating at 50 red flags".
Chances are they haven't worked through whatever issues it is that they have and they are very likely to bring that into any future relationships – which is never going to be fun.
If somebody is ready to date and move forward in their life, they are not going to keep looping on their past.
Sure they might discuss and share their past with you at some point.
But, if they go in deep on the first date turning the conversation very heavy, then take this as one of the red flags in relationships when dating and consider moving on.
Dating is more about psychoanalyzing people online
Dating can be fun, but it can also be a huge exercise in psychoanalyzing people and avoiding those who are either dodgy, fake, liars or not quite ready for your heart just yet.
In addition to these red flags in a relationship with a man or woman, here some online dating player signs to help you spot a player and protect yourself by dating carefully.
He openly brags about his previous conquests with women, without caring about offending you.
He either does not introduce to his friends or if he does, you don't feel treated with respect.
He constantly fives you over the top, insincere compliments and goes on spinning tall tales.
He reaches out to you only at late night, texting you how much he misses you, or how he could walk on a limb to be with you. Clearly, he is fantasizing about a hook-up with you. That sounds nothing like a deep connection at all and everything like a sex-starved player.
He cracks sex jokes and is not treading the gentlemanly way of conversing with dignity.
Also watch:
Be mindful of the major dating at 50 red flags, even as you spruce up your dating profile, as this will help you tip the scales in your favor.
Even if you have to take a little longer, be a bit pickier, and stand by your boundaries.
If you can keep to your boundaries, be wise, don't open your heart immediately, but keep on trying while also keeping a watchful eye for dating at 50 red flags.
Eventually, you'll find that right person.
If it helps you find the right match for you it will be time well spent – especially when you consider that you could waste years on the wrong person.
Remember, if you are not careful and ignore the dating at 50 red flags you will miss spotting the wrong ones who are just not worth your time and effort.
Share this article on
Want to have a happier, healthier marriage?
If you feel disconnected or frustrated about the state of your marriage but want to avoid separation and/or divorce, the marriage.com course meant for married couples is an excellent resource to help you overcome the most challenging aspects of being married.
You May Also Like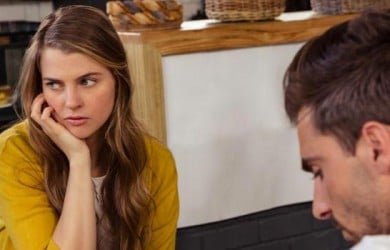 Popular Topics On Married Life