15 Signs of an Unequal Relationship
One of the important keys to a long-lasting relationship is equality. Now, it might differ from the exact 50-50 contribution from both parties. The goal is to both add your quota in your capacity and try to meet your partner in the middle.
When there is inequality in a relationship, it could become monotonous, toxic, and unhealthy. In this article, you will learn some signs of an unequal relationship, so you can know where you and your partner can make the necessary adjustments.
What is the meaning of an unequal relationship?
An unequal relationship is where a partner's needs, ideas, and demands are superior to the other party. This means they may call the shots almost every time, and their partner must agree to their instructions.
In an unequal relationship, there is a power imbalance where one partner tries everything to please their spouse.
To learn more about inequality and unrequited love, check out this article by Robert Bringle and other authors titled The Prevalence and Nature of unrequited love. This article looks into the origin of unrequited love alongside some research evidence.
How to know if you're in an unequal relationship?
One of the ways to know that you're in an unequal power relationship is when most of the weight seems to be on one partner instead of being evenly shared. This means that one party is probably not participating in the activities of the relationship.
Also, if you're feeling unequal in a relationship, another way to know is when you and your partner are unwilling to compromise. A healthy relationship thrives on sacrifices from partners; when this feature is absent, the union could become imbalanced.
If you're in an unequal relationship, this book by Aisha-Sky Gates is for you. This book is titled Unequal partnership and is a dating guide for people in relationships.
15 signs your relationship is based on inequality
Inequality happens not only in other aspects of life like career, religion, gender, etc. but also in relationships. When there is inequality in the relationship, it may point to the fact that the relationship could be unhealthy.
Here are some of the signs of an unequal relationship to look out for
1. You're not involved in decision making
One of the ways to know that there is a relationship imbalance is when you don't get to make most decisions. You may notice that your partner concludes on some things in your relationship without carrying you along.
Related Reading

: 

Ways to Make a Strong Decision Together
They may decide on what to eat, the movies to watch, the best time to go on a vacation, or even the people they hang out with. In an equal relationship, partners should be jointly involved in making decisions that will positively affect them.
2. Your partner may not be concerned about your goals
Another way to spot imbalance in a relationship is when your partner needs to be fully involved in how you aim to achieve your goals. They might be too focused on themselves to care about your plans.
Sometimes, they may not be happy with you when you don't follow up on them.
In some cases, they might be scared that your goals are big, and this could make them intimidated by your potential success. Some may not bother checking in on your plans because they want the attention and spotlight on them.
3. Your partner does not apologize
You can know if relationship equality is absent when one partner does not see the need to apologize when they are wrong. Someone who doesn't apologize may feel superior to the other partner. Hence, they usually think that they could do no wrong.
Some partners may use this behavior to exert their dominance and influence in the relationship, where they could subtly compel their partner to request an apology. Not saying sorry for wrongdoing is one of the signs of an unequal relationship that you may need to pay more attention to.
Related Reading

: 

How to Say Sorry to Your Husband
4. You always feel criticized
When you always feel that it may be impossible for you to do the right thing, it could be one of the signs of an unequal relationship. If you feel this way, it might be because your partner does not think you can do anything right.
They may see you as someone who always needs help when making decisions. Constant criticism in a relationship can wear the other party out, and they may eventually become easier to control.
5. Your partner expects a lot from you
Do you feel that you live with several expectations in your relationship? It might be that you're experiencing an unequal power relationship. When you have many responsibilities that your partner may expect you to perform, there might be a power imbalance in the relationship.
One way to tell is to look at what you expect from your partner and see if they are as much as what they want from you. In a healthy relationship, both partners are expected to share responsibilities with love and understanding instead of making them forceful obligations.
6. They are not always there for you
You may observe that you keep doing things for them, but they don't reciprocate as expected. They might not be intentional or willing to do things for you because they are probably focused on themselves.
If you always try to cater to their excesses instead of experiencing a system where they lovingly reciprocate their love to you, the relationship might be one-sided. You can confirm this if they always warm up to you whenever they need something.
When you provide what they need, they might become distant and inattentive to your needs.
7. You feel more negativity than positivity in the relationship
When you think about your partner and the relationship and experience more negative than positive emotions, it is one of the inequality signs and meanings.
You might feel anxiety, anger, depression, resentment, or even shame. This could mean that you're not happy in the relationship because of different things happening in the relationship.
In a healthy relationship, positive emotions should outweigh negative emotions. So, even though you may not be happy about some things in the relationship, you are convinced that you're in the right place.
Related Reading

: 

20 Ways to Build Positive Relationships
8. You're not sure about their true feelings
One of the common signs of an unequal relationship is when you cannot vouch for your partner's feelings. This could be because communication isn't exactly transparent in the relationship.
Therefore, you will likely overthink their feelings towards you because they may not communicate often. Hence, you will keep guessing until they vocalize and show genuine intentions.
9. You prefer to share your problems with friends instead of your partner
If you always prefer to contact your friends when you face problems instead of your partner, it might be one of the signs of an unequal relationship. Your partner may not be physically or emotionally available to listen to your issues.
Sometimes, they may need to give you the right answers or audience you seek, which could be discouraging. Therefore, you may become interested in reaching out to your friends before remembering that your partner is in the picture.
10. They are not in support of your boundaries
One of the common unequal relationship problems is when your partner is not comfortable with your boundaries. When you set some rules and are not in with you, they might be afraid of losing control over you.
Boundaries are essential in a relationship as they help to curb misunderstandings and conflicts and improve respect.
If your partner does not support your boundaries but is insistent on their own, it might be one of the signs of an unequal relationship.
11. You and your partner don't agree on important things
Sometimes, partners in a relationship might not agree on the same things, which is okay. However, when it comes to some important matters, it is important to look at things from both perspectives.
If you and your partner do not stay on the same page on important matters, different priorities might be the case concerning the relationship.
For instance, you may be interested in getting a breathing space in the relationship while they want to take the union to the next stage. When there is no compromise between both perspectives, the overall state of the relationship is not prioritized.
Related Reading

: 

10 Most Important Things in a Relationship
12. You hide your relationship from your loved ones
When you are not keen on letting your loved ones know more about your relationship, it might be one of the signs of an unequal relationship. You may notice that you're not interested in letting people know what's happening, both good and bad.
Also, you might be uncomfortable hearing some truths from your family and friends, so keeping the details from them may be your best option.
13. There are no present relationship goals
A healthy and balanced relationship will always have goals they are working towards achieving. If you notice that you and your partner don't have any plans for the relationship, it may be one of the signs of inequality.
You or your partner may be too focused on individual goals without remembering that you need to set goals for your union to be successful.
Watch this video to learn more about relationship goals:
14. No interest in important relationship activities
If you or your partner are not interested in regular relationship activities that couples do together, it may be one of the signs of an unequal relationship.
This could mean that you don't look forward to being with them, unlike when the relationship started. Also, it might infer that you're focused on your aspirations or have lost your drive in the relationship.
Related Reading

: 

30 Couple Bonding Activities to Strengthen the Relationship
15. You've lost touch with your individuality
If you discover that you're no longer in touch with personal aspects of your life because your partner does not approve, it may be one of the signs of an unbalanced relationship.
It could be a red flag when you are no longer in touch with your family and friends like before. If you no longer have time for a vacation, hobbies, or anything that applies to your personal life, your partner might control you.
It is important to mention that even though you are in a relationship, you should not lose touch with your personal life.
Can unequal relationships be fixed?
Unequal relationships can be fixed if both partners are willing to work together and put aside their interests. This means that you and your spouse should be ready to communicate openly and honestly on how to move forward.
You can also set strategies to help you meet your individual and relationship needs.
How to make your relationship more equal
When building equality in a relationship, you and your partner must put in the effort to get the best outcome. The both of you should begin with communication. Learn to share your experiences, ideas, and fears to learn more about each other.
It would help if you also practiced being supportive in every aspect of your partner's life. Sometimes, you might not be able to help them directly, but you should make your presence felt.
It is also important for you and your partner to learn how to listen to each other. Good listening lets you pick the important details your partner shares, making you more aware of their personality and needs.
Dean C Delis book is a complete guide for correcting their unbalanced relationship. This book is titled The Passion trap, which contains some insightful tips on the right to an unbalanced relationship.
FAQs
Here are some frequently asked questions about unequal relationships.
1. How to fix an unequal relationship?
You can fix an unequal relationship by communicating effectively, being supportive and understanding, trying to earn your partner's trust, learning how to compromise, etc. Applying all these tips at once might not be possible, but you and your partner can try.
2. What is a good example of unequal power relations?
An example of unequal power relations or inequality in relationships is when one partner gets to make almost all the decisions. At the same time, the other person falls in line.
It could mean that the partner who makes decisions has exerted much control and influence, preventing the other party from making decisions that might benefit the relationship.
The takeaway
When you notice that things are not looking balanced in your union, it may be a good time to watch out for the signs of an unequal relationship.
Learning how to recognize the signs will give you a good perspective on seeking solutions to these issues. If you need more help making your relationship more equal, you can take a course or seek relationship counseling.
Share this article on
Want to have a happier, healthier marriage?
If you feel disconnected or frustrated about the state of your marriage but want to avoid separation and/or divorce, the marriage.com course meant for married couples is an excellent resource to help you overcome the most challenging aspects of being married.
More On This Topic
You May Also Like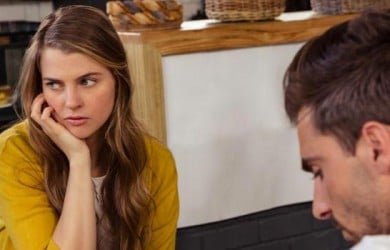 Popular Topics On Married Life