12 Signs He Never Loved You And How To Get Over it
Falling in love is a risk, but we don't see it like that when we're in love.
However, not all relationships strengthen over time. Others realize that their happy love story wasn't real at all.
How hard could it be when you thought someone loved you, but they didn't?
What does it take to realize the signs he never loved you the way you loved him? How can you move on over a relationship of unrequited love?
What does unrequited love feel like?
"My husband says he never loved me even after many years together."
One day, you wake up, and reality hits you. The truth is out. Your husband never had the same feelings that you had for him.
Unrequited love and the realization of it hurts – a lot.
When a husband says he never loved you, you would feel the shock and the hurt. Soon you will realize that you feel betrayed by the person who promised you the world.
Unfortunately, many people experience this type of unrequited love.
This type of love is about empty promises, infidelity, lack of respect, and concern. What's sad is that the signs are there, but victims of unrequitedness choose to ignore or justify them.
When you realize he never loved you, what will happen to you? How can you move one? That is why some people choose to test their men to know if they are genuinely in love with them.
Related Reading: 

How to Deal With Unrequited Love
How can you test your man if he's really in love with you?
Most men are not expressive of their feelings.
So, when he doesn't say I love you back, it would make you feel uneasy.
Like many women who can't help but think if your boyfriend or husband loves you, here are five checklists to test him.
1. How does he say, "I love you?"
This is one way you could know if your partner loves you. How does your husband or boyfriend say these three magical words?
You should feel it. If your partner says it coldly, you will notice it. It would be different when it's from the heart.
Related Reading: 

200 Ways to Say "I Love You"
2. Notice how he listens to you
A person who loves you will listen to you. Listening means he'll understand, remember, and offer help if you are experiencing problems.
3. Does he support you?
Love is all about mutual growth. If your partner is in love with you, he will be there to support your goals and dreams.
Related Reading: 

20 Steps to Becoming a Supportive Partner
4. Does he respect you?
Respect is one foundation of a strong relationship. If your partner respects you and your decisions, then be at ease. He's in love with you.
5. Notice his efforts
Actions speak louder than words, and accurate enough, he loves you if you see his efforts. No matter how busy or tired we are, wouldn't we do our best to show the person we love we are there for them?
Just a little reminder, a relationship is all about trust, and as much as possible, we don't want to rely on testing our partners. Having open communication, but these tips could also help.
Related Reading: 

Open Communication In a Relationship: How to Make it Work
12 Real signs he never loved you
What if your husband or boyfriend fails your test of love?
There's nothing more painful than slowly realizing the signs he never loved you.
Would you still hold on to the feeling that you are okay, or would you want to know if he never loved me and just used me?
Here are 12 signs your husband or boyfriend never loved you.
1. There is no effort
"He never loved me, didn't he? When it comes to me, he doesn't show any effort."
If your boyfriend could exert effort for his friends but not with you, then know what that tells you. If there is no effort for you, he doesn't have feelings for you.
2. Sex is present, but not making love
You always have sex, but it's just sex. It's not making love, and you would feel it.
You do the deed, but there's no passion, tenderness, or respect. After your partner satisfies his carnal desires, he falls asleep and turns his back on you.
Related Reading: 

30 Signs He Is Making Love to You
Still, confused about the difference between sex and making love? Life Coach Ryan David will help you understand this critical question.
3. He's not sweet with you
Some men are not expressive, but they show affection and sweetness in their way.
What if you haven't experienced that? He would walk ahead of you in the mall, ride the car, and won't even open the door for you. Those little things hurt and make you feel unloved.
Related Reading: 

13 Easy Ways to Show Your Affection in a Relationship
4. He doesn't say, "I love you"
He smiles when you say "I love you" but never answers you.
If he does, it's cold and insincere. If your partner couldn't stand saying those words, trust that he never loved you.
5. You're more of a mother than a partner
"My boyfriend never loved me because he treats me like his mother."
Aside from sex, you feel like you could pass as his mom or even house help. You don't even feel that you're a couple.
6. You're not a priority in his life
You should be of the top priorities of your husband or boyfriend, but what if you're not?
What if he would go out with his friends, officemates, or play mobile games, instead of spending time with you? That will tell you that something is not right with your relationship.
Related Reading: 

What Are the Three Biggest Priorities in a Relationship
7. He doesn't consider your feelings
What if your partner goes home with a new car?
As it turns out, he decided to buy one and did not even consult you. This means he makes plans without consulting you, which means he does not value you, your opinion, or your feelings.
8. He would ignore you
One of the signs he never loved you is he would choose to ignore you even if you needed his help and attention.
Your partner should be someone you could turn to, but what if he ignores you? He doesn't care if you're sad, sick, or unhappy; because he doesn't love you.
9. He doesn't try to connect with you
If your partner doesn't show interest to communicate or strengthen your relationship despite all your efforts only means he's showing signs he never loved you.
10. He doesn't believe in you
When you want to do something for yourself, your growth, and your dreams, the first person you would expect to support you is your husband or boyfriend.
If you feel that this person belittles you or doesn't support you, then that's a red flag that he doesn't love you.
11. He doesn't make plans with you
You have been together for years, but you're not moving in your relationship. There are no plans, and your partner doesn't seem to have one. Maybe it's time to rethink your situation.
12. He quickly moved on after your breakup
"My ex never loved me because not one week after our breakup, he's already in a relationship with another girl."
Some couples break up and get back together, but if your ex moves on quickly, then it's one of the signs he never loved you after a breakup.
Related Reading: 

What to Do After a Breakup?
How to move on from someone who never loved you?
The signs he never loved you were brutally honest, right?
There is no way to sugarcoat the reality of being in a one-sided relationship, so if you had enough and gathered the strength to get out of that relationship, then good for you.
"He said he never loved me, so I want to move on. But I want to learn how to get over someone who never loved you?"
You're crushed and hurt, but it's time to move on. Here are some practical ways to move.
1. Accept that it will hurt
You will feel mixed emotions, but don't block them. Acknowledge them, cry if you must, but don't dwell on those feelings. Prepare to move on.
Related Reading:

 7 Ways to Feel Better When Someone Hurts You
2. Think of what you deserve
Remember, your family didn't raise you so that another person would break you like this. You deserve better, and you don't have to justify your ex's reasons.
3. Don't think that you don't deserve to be loved
You are beautiful and worthy of the love that you are willing to give. Remember that, and if your ex wants you back, don't consider it.
4. Create a roadmap
Create a journal about your journey, thoughts, and goals. This will help you heal, and one day, you'll read through it and smile.
5. Look around for love
Be open and accept the help that everyone is offering. That is already love, right there.
6. Take care of yourself
Nourish your mind, body, and soul and start over. Don't forget to practice self-compassion and self-love.
Conclusion
The moment you realize all the signs he never loved you, decide to end it and walk away. Even if you love this person, you need to realize that you are not in a healthy relationship.
Time is precious for you to spend loving a person who doesn't see your worth. Don't be afraid to look for the signs, and when you do realize what you're worthy of, you'll walk away from this type of relationship.
Share this article on
Want to have a happier, healthier marriage?
If you feel disconnected or frustrated about the state of your marriage but want to avoid separation and/or divorce, the marriage.com course meant for married couples is an excellent resource to help you overcome the most challenging aspects of being married.
More On This Topic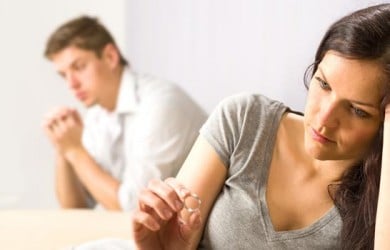 You May Also Like