20 Signs a Married Man Cares for You
Are you wondering if that look from your married male friend means more than it should?
It's an odd feeling when you know someone is constantly watching you, especially if your friend happens to be sitting next to you.
Then again, is it all in your head? Luckily, you can look out for the signs a married man cares for you, to be sure.
Related Reading: 30 Signs He Cares More Than He Says
Why married men go for other women
As psychologist Tarra Bates-Duford explains in her article, the thrill of the chase can be overpowering.
Other factors to look for in the signs a married man cares for you are his self-esteem and the desire for change. These are key drivers for men straying from their wives.
Our brains are designed to seek out pleasure. Although, researchers explain that pleasure is a complex blend of memory and motivation as well as a counterbalance to pain.
They further describe that pleasure goes beyond sexual desire and how we see ourselves and our importance in society.
So, one of the signs that he cares about you is that you'll see a marked difference in how he carries himself when you walk into the room. If not you, then your friends will most probably notice.
Under the umbrella of this research, various factors drive a man to go for other women. These range from overactive sex drive to low self-esteem and searching for novel attention.
Of course, you could throw in marital problems, but that alone doesn't drive men to look elsewhere. The mature ones would approach their wives for constructive problem-solving.
20 Signs a guy cares about you despite being married
The good news is that it's possible to detail the signs a married man cares for you. With these clues, you'll be able to work out the best course of action in the future.
1. Overly attentive to how you look
One of the sure signs that he cares perhaps too much is when he's paying you too many compliments.
It's unusual for men to notice things such as a change in outfit or hairstyle, so the alarm bells can go off when they do.
This is especially true if then you look around and realize his wife is nowhere to be seen.
2. Body language
One of the primary signs a married man cares for you is his body language. Studies now prove that body language gives us clues about other people's intentions, emotions, and motivations.
The body language signs he cares about you cover a wide range. Examples are mirroring your body language, those long doe-eyed looks, tilting the head, and those so-called accidental brushes of touch.
Check out this relationship journalist's list of other examples if you want to know more.
Related Reading: What Your Body Language Says About Your Relationship
3. Knows your quirky habits
If you're asking yourself, "does he care about me" then listen to what he notices. Does he somehow know all your preferences, even those only your best friend knows?
Perhaps he's been asking around to find out what makes you happy? The strange part of this one is that deep down, he knows how to care about someone. It's just misguided.
4. Turns you into his confidante
One of the telltale signs a married man cares for you is if he turns to you for advice rather than his wife. Sometimes they even give themselves away by saying that they couldn't possibly share this with their wife.
Sure, it's flattering to be needed this way. Nevertheless, these signs he cares deeply about you could also cause much pain for someone.
5. Curious about your romantic life
Men don't care much for other women's love lives unless they want something more from them. In essence, the signs a married man cares for you include checking on his competition.
If secretly he's gauging whether he has a chance with you or not, then it's one of the signs he cares about you perhaps too much.
6. He drops everything for you
When a guy cares about you, he'll drop everything to be at your side at the click of your fingers. Married men are supposed to prioritize their wives.
Somehow though, this one seems to make you their number one. You'll even potentially hear later through the grapevine that he was there to hold your hand after a work crisis when his wife was at a family lunch.
Related Reading: Prioritize your Relationship, Partner, and Sexual Connection
7. Finds faults in all your dates
One of the sure signs a guy cares about you is when he keeps criticizing your romantic partners. He can never quite see the positive in them.
Moreover, those partners have noticed something odd about him and how much attention he lavishes on you. Men think they're being subtle, but other men know.
Related Reading: 20 Steps for Coping With a Husband Always Complaining About Something
8. Avoids talking about his spouse
One of the big signs a married man cares for you is how little they talk about their wife. You'll ask questions, but they somehow always deflect them.
The passion and enthusiasm you would expect to hear are simply not in their voice. They almost avoid the subject like the plague, and you're left wondering if he cares about me.
9. His ring goes AWOL
If you're questioning how to know if he cares about you, look at his ring finger. Anyone who's looking outside their committed relationship will take their ring off to feel free.
It even reinforces the fantasy that they're not married and can do what they want.
10. Gives you presents
Are you asking yourself, "does he care about me"? If he's giving you little presents but not to anybody else then yes, chances are that he cares for you.
Of course, gifts aren't necessarily signs he cares deeply about you. Nonetheless, if they're unique to your tastes and preferences so much that you wonder how he knew, then this is one of the sure signs he cares about your feelings.
11. He tries to get you alone
Another of the signs a married man cares for you is when he gets you alone. This isn't supposed to sound dodgy because it can be just about having dinner or a quick drink after work.
Regardless, if he'd rather spend time with you, then you have to wonder about his intentions.
Here is a video that explains why it would be better to not date a married man:
12. Asks questions about your life
How to know he cares means listening for the clues. Does he ask you about yourself, your work, and your hobbies? Of course, he could just be showing interest in his wife's friend.
Then again, sometimes it's too much, and perhaps you say to yourself, "he cares about me." In that case, yes, most probably.
13. He's nervous around you
How to test him to see if he cares is to get up close and personal. We don't mean getting sexual and weird.
On the contrary, talk to him separately from the group and watch his demeanor. One of the signs for how to know he cares is that he's suddenly nervous around you, especially if you corner him.
14. Lots of innuendos
One of the main signs a married man cares for you is all the innuendos. Sometimes, they're even done in front of this wife. After all, the thrill of getting caught can be exhilarating.
The most obvious sign is when he'll happily let his wife go home while you and the rest of the gang go for that innocent dinner.
You know full well that his intentions are far from innocent from the looks, the touches, and the smiles.
15. He shares his emotions and secrets
When a guy cares about you, he'll look to you as someone he can open up to.
Ultimately, it can be tough to share about ourselves with others because of the expectations we put on ourselves to be perfect.
That's why, if a guy is pleased to be himself with you, warts and all, he's into you.
Related Reading: How to Share Your Feelings With Your Spouse
16. Puts on the charm
Is he paying special attention to his appearance when he sees you? Have you noticed a change in his behavior when he's around you? Does he hang on your every word? Those are all signs he cares about your feelings and what you think about him.
17. Cares about your future plans
Married men don't ask other women about their future plans for children, jobs, or retirement. If those topics keep coming up, it's a sure sign that something isn't quite right.
In that case, how to test him to see if he cares could include listening to see if he asks the same questions to other women in your group of friends.
18. Jokes that he cares for you
Another one of the signs a married man cares for you is if he jokes about it. Sometimes that means he's even pretending to himself.
The joke is a defense mechanism to help him justify the special attention he's giving you.
19. He leans in
As mentioned, body language gives so much away about what we think and feel.
More specifically, leaning into someone when talking together is a sure sign that they're both fascinated and overly interested. Essentially, when a man leans in, he wants to touch you and be close to you.
20. You feel awkward around him
Let's not forget our gut instinct. Of course, it isn't always right, but when someone feels wrong, there's a good chance something is going on.
We have things called mirror neurons, as NewScientist explains, that allow us to notice others' emotions.
What to do when in love with a married man
Perhaps you've seen the signs a married man cares for you, and now you've fallen in love? It will be a challenging journey, but you have to check in with yourself.
Try to understand what drove you to fall for the attention, bearing in mind that the likelihood of a married man leaving his wife for you is slim to none.
Of course, some married men do leave their wives to be with their mistresses. Although, you can't assume this will happen for you.
Even if he does, you have to wonder if you can ever trust him. At this point, you have to remember your values and what you believe about healthy relationships.
When you've fallen in love after seeing the signs a married man cares for you, you have to accept the hard truths, especially if they have children.
Most men won't just leave on a whim, and yes, that's what you are. Not only do they not want to upset their children, but even if they don't have any, they don't want to lose half, or sometimes more, of everything they have to their wife.
Conclusion
Noticing the signs a married man cares for you can be exciting and even ego-boosting. Don't let that fool you, though, because it doesn't guarantee lifelong bliss, assuming they even leave their wives.
On the contrary, you should take time to reflect on yourself and discover what being in a healthy and trusting relationship means for you.
Then you can look forward to growing with someone who supports and loves you for who you are.
Share this article on
Want to have a happier, healthier marriage?
If you feel disconnected or frustrated about the state of your marriage but want to avoid separation and/or divorce, the marriage.com course meant for married couples is an excellent resource to help you overcome the most challenging aspects of being married.
Learn More On This Topic
You May Also Like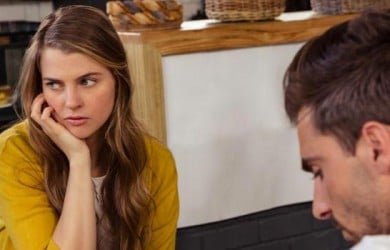 Popular Topics On Married Life