15 Tips for Running a Business With Your Spouse
If you are into entrepreneurship, you must be aware it seeks a very careful balance between business and home life.
But when you are running a successful business with your spouse, it can present a whole new level of challenges. The business challenges you will experience will influence your marriage, and your marriage will impact your business.
While many people have run a successful business with their spouse, it takes a few extra considerations and a lot more teamwork than would be necessary if only one of you was running the business.
Related Reading: 

Ways Entrepreneur Couples Can Balance Love, Work
Should you go into business with your spouse?
Being an entrepreneur can be very exciting, but at the same time, very challenging, especially if there are married couples working together.
Owning a business with a spouse presents some challenges, but the benefits of working alongside your spouse can be huge. If handled properly, it can be a blessing, but if handled the wrong way, it can be a curse.
This can be a great opportunity to connect and grow personally and professionally at the same time, but you must do it right. There's mutual interest in business and the pursuit of financial success.
Your love and your business can dance together, but you have to be willing to lead the way. You can't sit back and hope that everything will work itself out.
The more that you are proactive with the boundaries of your relationship and communicate how you're feeling along the way, the more beautiful this dance between career and couple will be.
Related Reading: 

Advice From Successful Entrepreneurs on Marital Happiness
15 Tips for running a business with your spouse
Could there be a guide when you are starting a business with a partner who happens to be your spouse? What are some tips for couples in business together?
So with this in mind, here are our tips for owning a business with your spouse while maintaining a happy marriage.
1. Pay attention to the pitfalls
It's all too easy to think that running a successful business with your spouse might be easy.
It might also be easy to overlook any possible problems during the planning phase because the notion of running a successful business is too desirable. So, you might not want to address the pitfalls of running a business with your spouse just in case you are put off from doing it.
The perception of running a successful business with your spouse can be too desirable to let yourself be put off by a few problems.
But if you don't stop and pay attention to the possible pitfalls or carefully plan for all aspects of the business, you won't give yourself a chance to create the life you dream of.
Your marriage might just be compromised too.
It's vital for any startup to plan their business well, and failing to prepare is often the reason why so many people fail.
It's especially important to address all potential problems when you are running a business with your spouse so that you don't both lose your income, or start to blame each other for any problems you might experience.
Related Reading: 

Pitfalls of Marrying an Entrepreneur
2. Research well
To make sure you are ready to run a successful business with your spouse, research the impact that running a business with a spouse has had on others.
Discuss between you and your spouse how you will handle similar situations if they crop up in your business.
3. Plan for how you'll deal with problems
In this planning phase, it helps to create a policy that you can both default to when there are problems so that you can maintain clear communication and avoid unhelpful emotion.
You could even form a code word for the times when one spouse is not recognizing that the other is serious about needing to discuss a problem.
4. Consider the pros and cons
There will be pros and cons for starting any business and pros and cons for running a successful business with your spouse. Make sure you address both and build strategies to handle the cons.
5. Protect your family finances
When you are running a successful business with your spouse, you won't need to be worried about money because it should be rolling in (if the business is indeed successful).
But in the start-up phase, that's not likely to be the case. You will probably experience cash flow problems from time to time and also make mistakes with your investments, products or services.
Having a contingency built into your budget for issues is a great strategy for protecting your family finances, as is being clear about your budgets and financial boundaries.
It's also worth agreeing on what situations will cause you to have to quit to protect your finances so that you don't continue sabotaging your private life and your marriage out of desperation for the business to work.
Related Reading: 

How to Communicate and Work on Your Financial Matters Together
6. Don't be optimistic about the business costs involved
Overestimating the cost involved to run a successful business with your spouse is vital; most,people are far too optimistic.
Work out your living expenses and lifestyle budgets frequently so that you know what you are dealing with at any point in time.
7. Communicate well
At any phase of their marriage, this is not a piece of new advice for any married couple. But it's so important when husband and wife are working together.
If you don't discuss your business plans, the pros and cons of everything, and ground rules that you must stick to before long things go awry, that will have a direct impact on your marriage.
Just save yourself the hassle and make an effort to apply the groundwork and communication you'll be glad you did in the long term.
Related Reading: 

Tips for Effective Communication Between Couples
8. Play to your differing strengths
Share out the business responsibilities that play to each other's strengths and factor in for the weaknesses. Assigning different roles within the business should help you work together harmoniously.
9. Set up clear business rules
We've discussed setting startup rules and agreeing on ground rules for working together, but there also needs to be business rules too when you work with your spouse. Then you need to stick to them.
10. Trust your spouse
When you have agreed to the rules, assigned roles, and have started running a successful business with your spouse, you'll need to trust each other and support them with the decisions they make – even if you don't always agree with them.
There will be times when you won't accept.
If your spouse repeatedly makes a mistake that is causing problems in the business, it's important to discuss this privately away from any clients and colleagues.
Take some idea from the video below about how you can build trust in the relationship:
11. Create solid marriage and work boundaries
Once again, the ground rules apply here.
If you are going to be running a successful business with your spouse, you are going to need to be diligent about the boundaries that separate your business and your marriage. Make the line of separation between them as clear as possible so that you can avoid any confusion.
Related Reading: 

How to Build a Strong Marriage
12. Avoid expectations
With business and home life often crossing paths, it can take time to understand each other's emotions or routines. You might expect something from your partner, say a dinner date because you got free early, but unfortunately, your spouse is still caught up with work.
Such things can break your heart. Therefore, avoid expecting too much from your partner, unless in case of necessity. Being in that position, look for ways to be more understanding towards your spouse.
Related Reading: 

Managing Expectations in Your Marriage
13. Listen to your spouse
Listening is an art. As much as you communicate your feelings to your spouse, it is only going to be a one-way street unless you learn to listen too. Listening shows your love, care, and attentiveness.
Undivided attention is one of the most important things that you both must give each other in a busy life.
Related Reading: 

Tips to Be a Better Listener in a Relationship
14. Decide the priorities
Considering you both are involved in the business, you both must sit and decide your priorities. There are two minds involved, and you both think differently. So, there should always be a middle ground to meet each other.
So, create a priority list. This should be for both- your business and your personal life.
15. Accept being wrong
In business, you can't be right all the time. Therefore, you must avoid taking things to heart and not bring them home when you are hurt by something in the office. Also, there could be some fights at home between you two that must not reflect in the office.
This means that you can be wrong at one point and you must accept it gracefully rather than pushing it all over the place and ruining your business life and family life.
Related Reading: 

How Can an Entrepreneur Become an Excellent Spouse
5 Tips for managing business and personal life
Not to mention, there will be a constant tussle between home and family life, and at times, things might seem out of hand but running a business with your spouse comes with its own benefits, ease, assurance, comfort, and happiness.
1. Value your time
As an entrepreneur, you must take care of your time and be judicious about it.
While others might not seem to value yours, you have to ensure that you do it first for others to realize that each minute is essential for you.
2. Create a to-do list
It is always a good idea to plan beforehand so that you don't have a pile in front of you to decide what to lay your hands on each time you sit for work.
This will also help you set your routine and not be over-exhausted when you get back home from work.
3. Be ready for highs and lows
Every day can't be the same or smooth. Be ready to a little disbalance now and then. You can control yourself but not every situation around you. Whether you are working with your spouse on a small business or a huge one, there will be a fight for equilibrium.
Therefore, learn to keep yourself calm and composed at all times to be able to think clearly.
4. Always make some personal time
Having personal space and time is healthy. It is not okay to be engrossed in work 24×7 as it not only disbalances your personal life but also causes people to judge you.
So, while putting in your maximum effort at work, the husband and wife business partnership also calls for both of you to tend to your personal life as well.
5. Set your work hours
Decide on your office hours and stick to it. This will keep your mind fresh when you take up tasks. In fact, you must encourage your spouse to do the same, if they do not practice this already.
Related Reading: 

Benefits of Starting a Business With Your Spouse
10 Benefits of running a successful business with a spouse
While we have highlighted plenty of challenges that will occur when you are running a business with your spouse, there can be some fantastic benefits too. Benefits such as working alongside your husband or wife every day and creating synchronized schedules.
Here are 10 benefits of running a business with your spouse:
You'll be able to have the level of trust in your business partner that you will only get from running a business with your spouse.

You both share the same passion. So, your decisions will be aligned.

You both will have a common goal which is very much required in a

successful marriage

.

You both will learn and explore new things together.

You both will be able to

create more intimacy in your relationship

.

The business profits will remain within the family.

The new partnership will open more honest and

effective communication

.

As married business partners, there will be a shared workload in both home and business.

As a couple working together, you will create a better

understanding with your spouse

in all aspects.

There will be a better understanding in terms of priorities and time management.
Related Reading: 

How to Stay Happily Married to an Entrepreneur
Takeaway
When spouses manage home and work, amazing things happen. This opens new avenues of understanding and prosperity. However, if not handled properly, this can also lead to the downfall of the relationship.
Therefore, keep this article as a handbook for a successful marriage when you are running a business with your spouse.
Share this article on
Want to have a happier, healthier marriage?
If you feel disconnected or frustrated about the state of your marriage but want to avoid separation and/or divorce, the marriage.com course meant for married couples is an excellent resource to help you overcome the most challenging aspects of being married.
More On This Topic
You May Also Like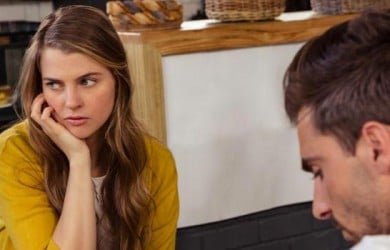 Popular Topics On Married Life