10 Benefits of the 80/20 Rule in Relationships
The 80/20 rule in relationships is not a new concept. It stems from the well-known Pareto Principle in life. This productivity theory was developed by philosopher and economist Vilfredo Federico Pareto in the early 1900s. It states that 80% of the effects in life come from 20% of the causes.
The 80/20 principle works with positive and negative aspects of life. It means the majority of the good things in life (or your problems) come from 20% of your actions (or inactions). The 80/20 Pareto Principle applies to a lot of things across different categories including businesses and relationships.
What is the 80/20 rule in relationships?
Wondering what is the 80/20 rule in relationships? This idea has been successfully adopted across cultures and outlooks of life.
For businesses, it can mean identifying and investing more on the 20% of areas that are more beneficial than the rest 80%. For lifestyle, it can mean eating healthy food 80% of the time and so on.
Similarly, it has been suggested that the 80/20 relationship rule helps couples to expect only 80% of their romantic desires and wants to be fulfilled by their partner. For the remaining 20%, one should make an effort themself.
How does the Pareto Principle apply in relationships?
The interesting thing about the Pareto Principle is not the figure itself but the characteristics involved: the cause and the effect. Some may also interpret this concept as '80% of all dissatisfaction in a relationship is rooted in just 20% of the issues'.
In the mid-1900s, psychologist Joseph Juran advocated the 80/20 rule and stated that it could be applied as a universal principle.
The 80/20 rule in relationships can also stress the fact that one person cannot fulfill 100% of your requirements. Though this concept can have different meanings for different couples, the goal is the same. You need to strike a healthy balance of positives and negatives in your love life.
Can the 80/20 rule in relationships improve your love life?
Everybody wants a perfect relationship. But it depends on the partners' perspective on how much perfection they can derive from their relationship. Having too many expectations and not contributing enough can be one huge obstacle in this regard.
While applying the 80/20 relationship rule, one may have to focus only on the 20% of things that either annoys them the most or causes the maximum pleasure. If you and your partner can identify this area, you will likely rid your relationship of most problems.
The law of attraction and 80/20 rule in relationships
The law of attraction is more intuitive than scientific; not in a way how Newton's laws apply. A lot of scientists have dismissed it as pseudo-science. They claim that using scientific terminology to authenticate a new-age philosophy is misleading people.
However, there are a lot of advocates that believe it works. That includes Jack Canfield, the best-selling author of the "Chicken Soup of the Soul."
The new age law of attraction says that, like the original Newton version, forces attract. In this case, if one person is filled with positive energy, they will attract positive vibes.
The law of attraction centers around the belief that your thoughts and perspective can affect the outcomes or events of your life. It explains how you attract energy similar to what you radiate around you.
A positive approach will manifest positive occurrences and negative thoughts can lead to negative experiences. While applying the 80/20 rule or Pareto Principle in relationships, there can be similar scenarios. The concepts revolve around energies inviting similar energies.
Another similarity to talk about both these two principles is quantitative. If the two principles are applied simultaneously, it can mean 20% of a person's negativity or wrong actions is the source of 80% of their difficulties and vice versa.
To learn how you can activate and benefit from the law of attraction, watch this video:
10 ways 80/20 rule can benefit a relationship
Let's understand what is the 80/20 rule in marriage or dating. This concept can imply that if a partner is mostly positive in their approach, they are likely to receive similar treatment from the other partner.
It can also be interpreted as a person choosing to amend the major 20% of the relationship issues and automatically easing out the rest 80%. Examples of the 80/20 rule in relationships can include simple actions like a person having a conversation with their partner over not spending enough time together.
For a couple, there can be multiple benefits of applying the 80/20 principle. The best part of implementing this concept in your romantic life is its moldability to suit your situation. Let's list out some of the relationship perks you can derive from this rule.
1. Removing negative thoughts
The 80/20 rule puts emphasis on removing negative thoughts from your mind over life and relationships in general. A mind plagued by pessimistic thoughts leaves no room for productive ideas. Applying the pareto principle will help you get rid of thoughts that may hinder your happiness.
Related Reading

: 

4 Tips on How to Get Rid of Negative Thoughts in Relationships
2. Prioritizing the present
The pareto principle helps in realizing the importance of the present moment that you're living with your partner. People tend to forget the present time when occupied with thoughts of past and future events. It is crucial that you prioritize your present before it becomes past.
3. Time management
Managing time efficiently not only improves your love life but also affects the overall satisfaction from life. Adopt the 80/20 rule time management techniques to strike a healthy balance in individual pursuits of your life.
4. Makes you caring
Once you apply the 80/20 rule in relationships, it compels you to be more thoughtful and caring towards your partner. You could start recognizing little things that you can do on a daily basis to make your partner happier and content.
Related Reading

: 

20 Ways to Show Someone You Care About Them
5. Identify problem areas
Identifying the problem areas in your relationship is a task and the 80/20 rule can make it easier for you. When you focus on the 20% issues that are causing the most discomfort in your relationship, it might get simpler to come up with solutions.
6. Healthy introspection
Picking out major issues and working on them can make it easy for you to be self-critical in a productive way. A healthy introspection can help derive better answers to questions like 'Is my short temperedness causing issues between us?'
7. Better communication
This is one of the best things you can get out of this rule. Destructive of no communication can damage a relationship in no time. Working on your problem areas can lead to a realization of how and how much you need to communicate with your partner.
Related Reading

: 

20 Ways to Improve Communication in a Relationship
8. Utilization of resources
Efficient utilization of resources is a basic survival idea. When applied to relationships, it can mean that you make the best use of your availability. For example, if you have a family member who can babysit your kid, take that opportunity to go on a date.
9. Makes you appreciative
The 80/20 rule encourages you to be more appreciative towards your partner and relationship. It motivates you to treat your better half with kindness and gratitude for every little contribution they make to your life.
10. Promotes mutual agreements
The pareto principle can enhance a couples' ability to reach a point of agreement on matters like finances, careers and children's future. Mutual agreement is rooted in a sense of respect towards each other and good communication. Hence, it is likely to improve once you apply the 80/20 approach.
How to apply the 80/20 rule to dating and relationships
The purpose of the 80/20 rule in relationships is to extract the most by investing minimal effort. Focusing on the impactful points not only improves the bond you have with your partner but adds to your overall satisfaction with life.
To apply the 80/20 rule in relationships effectively, start by examining your daily schedule and routine you follow with your partner. Identify the areas that give maximum pleasure or maximum dissatisfaction.
Make a note of minor things about your partner that you do not like much and may become a cause of greater concern in the coming time. Meanwhile, also observe the aspects that make you feel fortunate about your relationship.
Now think about steps or procedures you and your partner can follow to maximize the areas of pleasure and minimize those of discomfort. Brainstorm and prepare a checklist to tick off gradually and achieve your goal.
Discussion is also an important way of utilizing the 80/20 rule in regard to dating and relationships. Have a healthy conversation on all the points mentioned above and ensure that you and your partner are on the same page. You can also opt for relationship counseling in case of persistent issues.
Final takeaway
Every person has a set of favorites and dislikes when it comes to their relationship or life partner. Working towards getting rid of the problems and not being overwhelmed by minor issues is the most productive way of maintaining a happy relationship.
Try to reach the root cause of little annoyances and identify what all can be done to remove them. If you completely understand and correctly apply the 80/20 rule in relationships or the Pareto Principle to your love life, you'll be able to gain maximum satisfaction through minimal effort.
Share this article on
Want to have a happier, healthier marriage?
If you feel disconnected or frustrated about the state of your marriage but want to avoid separation and/or divorce, the marriage.com course meant for married couples is an excellent resource to help you overcome the most challenging aspects of being married.
More On This Topic
You May Also Like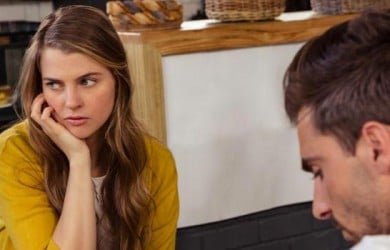 Popular Topics On Married Life