15 Tips on What to Do if You're Married but Lonely
One of the common assumptions when it comes to marriage is that when you tie the nuptial knots with your partner, you may not be lonely again.
However, you can be lonely even when you are married, and this is because there are some suppressed issues that you and your partner have avoided. In this article, you will learn the signs of loneliness in marriage and some possible solutions to solve this problem among couples.
Is it natural to feel alone in marriage?
It might seem natural to feel alone in marriage, but this should not be the case. Anytime you have this feeling of loneliness, it means that something is fundamentally wrong. Hence, you need to find the reason for this feeling and make the necessary corrections.
It does not mean that your marriage is over when you feel alone or lonely. It only suggests that you and your partner must have missed out on some things that should make your marriage rock-solid. Therefore, you must revisit why you married and renew your commitments.
To learn more about marriage and loneliness, read this research study by Steven Stack titled Marriage, Family, and Loneliness. This study sheds more light on the connection of marriage to family ties, cohabitation, and comparative analysis.
5 signs of being married yet lonely
Being married to someone does not eliminate the chances of being lonely. When you are married but lonely, you cannot emotionally connect with your partner. At this point, there is no mental and physical intimacy between the both of you.
1. Feeling of disconnection from your partner
When partners do not connect emotionally, it feels like a distance has been created between them. Therefore, one of the signs that you are married but lonely is when you feel like an emotional gap has been created.
One thing that can make you feel disconnected from your partner is when you feel like your spouse does not listen to you.
Related Reading: 

The 15 Signs of Relationship Disconnect and How to Fix This
Watch this video on how to reconnect with your partner:
2. You don't request things from your partner
Another sign that you are married but lonely is when you don't feel the need to ask your partner for some things. You might be comfortable asking other people apart from your partner because you don't need to use anything they have.
The only time you are likely to get things from your partner is when they notice that you have a need and offer to help.
3. Absence of quality time
You might be married but lonely when you don't see a reason to spend ample time with your partner. You most likely prefer to spend time with people other than your partner because you don't crave closeness with them again.
Sometimes, if they want to spend time with you, you will give different excuses not to be around them.
Related Reading: 

15 Reasons Why Quality Time Is So Important in a Relationship
4. You don't remember their special days
If you find it hard to remember your partner's special days, marriage loneliness might be in the mix.
On some occasions, if you get a reminder, you don't show the expected level of enthusiasm, which could leave your partner wondering. Similarly, you are sometimes not motivated to get your partner gifts to commemorate some of these special days.
5. Communication problems
When you are lonely and married, you will likely experience communication problems. If you face any challenge outside the home, discussing it with your partner might be hard because you feel lonely in marriage.
Similarly, if your partner does something you don't like, you will rather keep quiet because you want to avoid confronting them. Someone married but lonely will not try to communicate with their partner.
What is the cause of loneliness in relationships and marriages?
People are lonely in relationships and marriages for different reasons, and it often comes from isolation, disconnection, and sometimes, invalidation. One of the reasons why loneliness exists is because of unrealistic expectations.
Some people don't set the right expectations for their partners, and they get disappointed eventually. When you understand your partner's capacity, you will be able to set the right expectations for them.
Another cause of loneliness in marriages is comparison. Some people make the mistake of comparing their partners to their exes or other individuals. When you keep comparing your partner, you may lose touch with reality.
You might assume the best about people and presume the worst about your partner. If you also have many work responsibilities, you might be unable to connect with your partner like before. You may not be committed to creating space and time for your partner as you should.
What are the effects of being married but lonely?
Being a lonely husband or wife in a marriage can be an unpleasant experience that people rarely discuss. Loneliness can affect you in different ways you might not be aware of. It can increase the risk of depression and anxiety, poor self-care, substance or behavioral addiction, etc.
When you are married but lonely, you will not be motivated to do things that will benefit your health.
Learn how being Married but lonely affects older people in this interesting research. This study is titled Married but lonely- Impact of poor marital quality on diurnal cortisol patterns in older people: findings from the cross-sectional KORA-Age study. Hamimatunnisa Johar and other authors wrote it.
10 tips on what to do if you're married but lonely
If you are married but lonely and want to save the union, you can apply some of these tips to bring you out of your emotional hiatus. Here are some things you can do if you feel alone in a marriage.
1. Discover the possible reason for the loneliness
When you are married and lonely, you need to find out what has changed between you and your partner. This is where you introspect to discover why you now feel lonely. Then, you can look back to the period when this feeling of loneliness was absent and at the activities you did then that you no longer do.
For instance, you might feel lonely because you have not had a vacation with your partner in a long time. When you figure out why loneliness crept into your marriage, you can discuss it with your partner.
2. Discuss your loneliness with your partner
It is only right to let your partner know you are lonely in the relationship. If you keep this information from them, you will be doing yourself and the relationship a disservice.
When you tell your partner about this issue, be careful not to blame them. Rather, approach this issue from the standpoint of understanding and concern for the relationship's health.
You can let your partner know that you have not felt bonded to them in a long time, and you miss that feeling. Also, you can ask open-ended questions about this issue so they can respond.
3. Listen to your partner
Even though you feel lonely in a marriage and discuss it with your partner, it is important to listen to them. You might be surprised to hear they are also experiencing the same loneliness but have not spoken about it yet.
Therefore, listen to what your partner has to say without being defensive. Please don't allow yourself to be overwhelmed by your emotions so that you don't judge them. When you practice active listening with your partner, you will get some vital points that might help sustain your marriage.
4. Create a plan to reconnect with your partner
When you feel lonely in a marriage, you need to plan to reconnect with your spouse. Remember that for a marriage to be successful, it requires intentionality and commitment from both parties.
Also, when you spend more time with your partner doing different activities, the flame between the two of you will be rekindled. For example, you can spend time doing a hobby common to both of you, provided it allows you to be together.
5. Don't blow your expectations out of proportion
When you are married but feel alone, it might be that your expectations are high, and that is why you feel lonely. Hence, it is advisable to review your expectations and try to adjust some of them.
Remember that your marriage might not be able to meet all your needs.
Some of the things you are expecting from your partner might be impossible within their capacity. There are some things that you might only be able to get outside your marriage and not your partner.
Related Reading: 

Managing Expectations in Your Marriage
6. Practice healthy self-care
While you work towards eliminating loneliness in your marriage, take care of yourself. Look out for your physical, mental, and emotional health, and put measures in place to keep them in good shape.
Please do not engage in activities that will endanger different aspects of your health because it can affect your relationship. Instead, continue practicing healthy habits that will make you feel fulfilled as an individual and spouse.
7. Learn your partner's love language
Sometimes, one of the best ways to help yourself from loneliness is by showing intentionality towards your partner. For example, you can try knowing your partner's love language and showing them love through that medium.
With time, you will discover that the intimacy between the two of you will deepen because you are committed to making them happy. Sometimes, they might reciprocate and care for you in your love language.
8. Show gratitude to your partner
Even though you are married but lonely, you may still agree that you have had some enjoyable times with your partner. Learn to express gratitude to your partner for their input in the marriage. Talk about the things they have done that made you happy.
You can even express appreciation for the little things they didn't notice. Showing gratitude helps you to see your partner and marriage in another light. It also serves as a subtle reminder to both parties to keep caring for and loving each other.
9. Learn to resolve conflicts the healthy way
One of the reasons you might feel alone in a marriage is because there are unresolved conflicts that both of you have refused to talk about. This may be one of the reasons why an emotional gap has been created because too many disagreements and fights have not been sorted out.
You and your partner need to know how to manage conflicts so that it would not kill the communication and love in your marriage. This should begin by hearing each other out, owning up to your mistakes, and promising to make each other happy subsequently.
10. Speak with a professional
If you are married but lonely, you can consider speaking with a professional mental health counselor or therapist. When you seek counseling from a professional, it may become easier for you to uncover the root cause of your loneliness.
When you find out the reason, the professional will help you with actionable steps to eliminate the feeling of loneliness. Additionally, you might need to attend some sessions with your partner to smoothen out some relationship issues.
For partners who now feel unloved and lonely in their marriages, David Clarke's book is an eye-opener on how to resolve the situation. The book is titled Married But Lonely.
Final thought
One of the ways to tell if you are married but lonely is to ask yourself how you feel whenever your partner is unavailable. Also, you can be honest with yourself if you prefer being unmarried or not.
With the information in this piece, you can tell whether you are truly lonely in your marriage. You can also take a relationship course or see a therapist to expound on applying some of the tips mentioned above that can save you from loneliness in an unhappy marriage.
Share this article on
Want to have a happier, healthier marriage?
If you feel disconnected or frustrated about the state of your marriage but want to avoid separation and/or divorce, the marriage.com course meant for married couples is an excellent resource to help you overcome the most challenging aspects of being married.
Learn More On This Topic
You May Also Like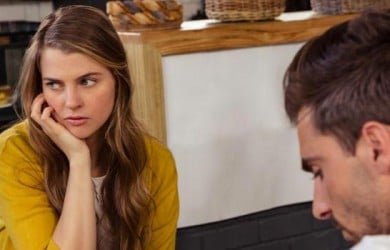 Popular Topics On Married Life