Disagreeing on Where to Go on a Vacation with Your Partner?
Vacations are supposed to be, well, vacations. But couples often get into trouble when they discover that each person has a different place or "take" on what they need or want from a vacation.
Do you ever disagree on where to go on vacation? When you and your partner disagree on vacation activities, you end up throwing a wedge in what was supposed to be an opportunity for bonding and rejuvenating.
Things every couple does wrong while on vacation
How vacations can help or harm your relationship largely depends on what activities and qualities you choose to focus on, during your vacay time. By avoiding these things on the list, you can ensure that your vacation goes smoothly.
Don't spend all your time and energy on taking photographs. Experience the vacation for what it is.

Don't drain your energy in arguing with your spouse. Try to empathize with your spouse instead of reinforcing your point.

Don't be in a cocoon of just the two of you. Branch out and make conversations. There will be like-minded people you will come across at your hotel or resort. Great conversations make for sweet memorabilia.

Don't be frugal on spending in a good hotel. You don't want to be in a hotel with unhygienic conditions, falling sick or catching some infection from the dirty linen. When you can spend on food, airfare, shopping, you can spend on a decent hotel accommodation too.
Tips for couples who are disagreeing on where to go on a vacation
A place with no interruptions

Your homework

A world map

An open mind and a loving mindset
After you've fulfilled the requirements above, then do all or any of the following exercises. Don't focus on coming up with a solution. Focus instead on doing the exercises and having fun!
1. The "I am on you" vacation exercise
Pretend that you are your partner, and you-as-your-partner are starting your first day of one of your choices of vacation destinations. Pretend that you are unpacked, showered, rested, and fed. Write on a piece of paper the answers to the following questions as though you are answering as your partner:
Where are you? City? Country? Who are you with? Just your partner? On a group tour? On a train? On a ship? With family? With friends?
What are you doing? On a tour? Just the two of you? With a group? Wandering around? Seeing Sites? Having a great meal? In the ocean? On a river? Doing activities?
You can have multiple answers for each question. If you have a second or third choice of vacation, repeat the exercise. Remember to answer as you think your partner would answer.
Describe what you are learning about your partner's needs.
Take out the map and look over it for a while. What places can you each find that might fulfill enough of each of your needs?
Swap pieces of paper so that you each have the other person's answers. Each of you tells your partner what they got right.
What ideas are coming to mind from this exercise? What are you learning about your partner's needs?
2. The map or globe exercise
Each of you looks at a map or a globe while the other person is not present. Where would you like to go—and how would you like to do it? Car, Fly, Sail? Just the two of you? A tour? Cruise? Or anything else?
Now the other person does the same exercise.
After both of you have done the map or globe exercise, choose which person goes first in pointing to the places on the map or globe where that partner thinks the other partner has chosen. Make it fun, such as playing the children's game of "Hot or Cold," where you say things such as "hot, cold, cool, warm, warmer, etc.) to indicate how close your partner is to your choice or choices. Now switch roles.
What are you learning about each other?
Discuss which ones appeal to you or not. What ideas are the choices sparking? Most of the time, couples learn and discover a vacation or vacations that they each like.
Share this article on
Want to have a happier, healthier marriage?
If you feel disconnected or frustrated about the state of your marriage but want to avoid separation and/or divorce, the marriage.com course meant for married couples is an excellent resource to help you overcome the most challenging aspects of being married.
Learn More On This Topic
You May Also Like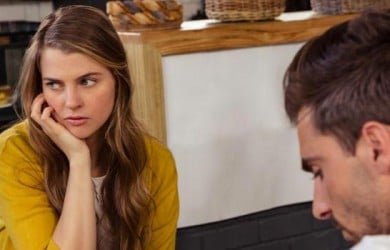 Popular Topics On Married Life