Is Loving Two Men at the Same Time Actually Possible?
One of the most delicate situations is when a woman loves two men and cannot decide to whom she wants to stay committed to. Love also implies sex, and this can be problematic when you are in a long-term relationship or have been married for years and have kids.
When you become involved with someone in a romantic setting, sex will automatically spring in the picture, and we have to mention that if you already got someone at your side to fulfill that basic need, looking for fun and pleasure elsewhere is called "cheating."
Can loving two people at the same time actually happen?
Your definition of love alters your perception, how you perceive yourself being with two men at the same time. You have to ask yourself what love actually means for you.
Being such a complex feeling, love can be embodied in the warm touch of your life-long partner, his hands circling around you and hypnotizing you with his loving gaze. Or you may perceive love as a constant altruistic endeavor, constantly wanting to satisfy your partner and make them happy.
You can draw security and comfort from both of the above situations, while in the same time experience the joy and ecstasy of love in the arms of that special person, the high of being alive and nervous in the thrills of a sinful affair.
If you are involved in a marital relationship for years, and you think that your partner doesn't satisfy your romantic sexual needs anymore, getting involved with someone else and cheating on him is a disputable matter.
Andrew G. Marshall, a British marital counselor, writes that for love to exist for a person, you need three crucial elements: intimacy, passion, and commitment.
Bearing this in mind, for a person to love another, the commitment needs to be involved, and thus loving two men at the same time can mean problematic.
What if all three of us agree?
One of my friends, let's call her Paula, got involved with another younger man named Tom in her early 40's. Her husband knew about it because she told him all about it, and they agreed that all three of them would live together in the same house. This lasted for about two years, and Tom eventually left and parted ways with his lover.
If this is settled beforehand and in complete disclosure between the two members of the couple, this kind if arrangements can work out, but still, in most of the cases they don't work out as long-term deals.
Our society is based on a monogamous layout, and people may become uncomfortable and misunderstand your feelings towards another as being just purely hedonistic in nature.
Of course, you may feel deep feelings for both men in your life, but people always tend to gossip and spill out their misunderstandings inappropriately in a situation that involves loving two people at the same time.
Love and sex
Loving two people at the same can cause a great deal of emotional dissonance and confusion.
Like we've stated earlier, if all three parties agree on the relationship and emotions involved, things might seem to work. More and more couples are getting involved in extramarital relationships, and allow their partners to be engaged into a polyamorous circle.
They usually tend to keep this a secret for themselves, because this kind of behavior is generally not condoned by society's standards.
When you love someone, love isn't the only feeling that you are experiencing in your emotional spectrum. Along with love also comes the contrasts, such as jealousy, sorrow or fear of abandonment.
Sex is the most intimate human connection, and sometimes it can be so intense that it can alter your whole former emotional background that you had with your first man.
But if you go out and feel attracted to another man just because you want to realize your fantasies and escape the monotonous mundane day-to-day life, you are being selfish, and you need to be honest to yourself.
It's called cheating, as we have previously stated, but if you've realized that your current partner isn't the one that was meant for you, talk it out with them, but don't be a backstabber.
Share this article on
Want to have a happier, healthier marriage?
If you feel disconnected or frustrated about the state of your marriage but want to avoid separation and/or divorce, the marriage.com course meant for married couples is an excellent resource to help you overcome the most challenging aspects of being married.
More On This Topic
You May Also Like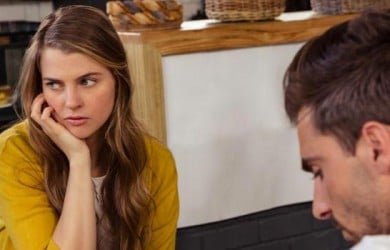 Popular Topics On Married Life