15 Tips On How to Turn Around a Rollercoaster Relationship
A roller coaster relationship involves unsteady emotions and frequent heartbreaks that drain you. How do you get out of a roller coaster relationship? Keep reading to find out.
The joy we get out of life is often derived from our relationships with people. Whether with a relative, friends, or lovers, life can only be meaningful with how we are treated. A romantic relationship is one where many people find fulfillment. It involves individuals who are committed, compatible, and ready to be together.
Indeed, it's supposed to bring partners closer and strengthen their connection. However, if you have uncertain feelings or sad and happy moments, you may be experiencing an emotional roller coaster relationship.
This relationship guide will show you the meaning of a roller coaster relationship, the psychology behind roller coasters, and how to turn around a roller coaster relationship.
What is a roller coaster relationship

?
What is an emotional roller coaster relationship? A roller coaster or an emotional roller coaster relationship is full of ups and downs and rapid, violent changes.
In such a relationship, one minute, you are having fun and enjoying your partner, and the next hour, you are arguing aggressively. These cycles of events, including roller coaster sex, happen so often that it becomes overwhelming.
An emotional roller coaster is tiring because you may find it hard to predict things. You can't even tell what things will be like on any day. You may be enjoying a particular moment, then remember it's only temporary and might swing from one state to another. This line of thought might sadden and dampen your spirit.
People may have described their relationships as full of drama or issues. Most often, they represent a roller coaster relationship. You hardly have an extended moment of happiness and peace of mind before a problem arises.
While some say love is like a roller coaster, it isn't the same as an emotional roller coaster. A typical love relationship is stable and full of highs and downs. However, they are emotionally stable with healthy ways of resolving conflicts. An emotional roller coaster drives you down the hill of heartbreaks, leaving you shallow and bitter.
What causes an emotional roller coaster?
An emotional roller coaster happens for several reasons you may not know. It is characterized by impulsive and irrational decisions, rapidly changing decisions, intense anger, swirling emotions, and angry and unnecessary rants.
In a relationship, emotions can feel like a roller coaster ride when you allow your emotions to get the better of you. Life is full of uncertainties, and so is your relationship. It's not perfect like you watch on television. How you feel about it is what determines the state of your relationship. When you focus on negative emotions, it affects your reaction.
Some of the causes of an emotional roller include:
1. Fear of abandonment
A top reason for an emotional roller coaster in a relationship has an unsettling fear of someone leaving. People with unstable emotions become insecure in their relationships and, as a result, show frantic efforts to avoid their partner leaving them, even if it's imagined. Sometimes, they push their loved ones away.
Related Reading: 

15 Signs of Abandonment Issues and How to Deal With Them
2. Overthinking
Overthinking is the act of thinking about or analyzing something repeatedly in a more harmful than helpful way. Someone who overthinks also worries a lot about imagined ideas rather than actual events.
Consequently, this anxiety that something might not go their way affects their mood and makes them react. Accepting that relational life is a roller coaster is the best way to avoid overthinking.
3. Intense emotions
Extreme emotions can occur from hours to days. It fluctuates rapidly, showing a progression from overthinking, depression, hopelessness, anxiety, panic attacks, anger, aggression, and self-harm to suicidal thoughts.
Related Reading: 

14 Tips on How to Control Your Emotions in a Relationship
4. Feeling of emptiness
Another reason for an emotional roller coaster is the uneasy feeling of loneliness and boredom. Also, people with unstable emotions may feel like they don't belong or lack a sense of purpose.
5. Lack of a sense of purpose
People with emotional roller coasters often have no sense of direction. Also, their goals, principles, and values may appear unstable or shift over time.
For example, you might see them switch careers quickly or go from one relationship to another. In addition, an emotionally unstable person lacks self-confidence and self-esteem.
6. Unstable relationship with loved ones
Family members and friends often shield one another from life issues. It will affect your subsequent relationship if you have no connection or a shaky one with your loved ones. Anger, aggression, and devaluation will dominate your dealings with other people.
Related Reading: 

How Being Emotionally Unstable Is Damaging Your Relationship
15 tips on how to turn around a roller-coaster relationship
Here are some most useful tips on how to turn around a roller coaster relationship that you can try.
1. Be patient
A way to deal with the roller coasters of emotions ideally is to take a deep breath and be patient. Accepting that relational life is a roller coaster full of good and bad moments will help you understand things better.
Besides, understand that you and your partner have different backgrounds, experiences, and upbringings. As such, you will react to issues differently, which doesn't make anyone feel less valid.
Related Reading: 

15 Ways to Have More Patience in a Relationship
2. Stay open-minded
When issues arise, it's easy to close your mind to your partner and ignore them. However, there are better solutions than this. Instead, be mindful and check with yourself about the source of your feelings. Where is it coming from, and why?
Also, you can take a walk when conflicts come up to cool off, then meet your partner to explain your perspective. Remember, you are both different and see things differently. The goal is to allow your partner to understand your feelings and point of view.
Related Reading: 

20 Pros and Cons of an Open Relationship
3. Practice mindfulness
Constantly dealing with issues of life can take a toll on your emotions. Thankfully, a way out is mindfulness. Mindfulness helps you stay conscious of your emotions and feelings. You become more aware and pay attention to the present.
This state describes observing your thoughts and feelings without judgment. You accept them as they come without labeling them as good or bad. When you know why you feel the way you think, you are better off combating them as quickly as they come.
Check out the importance of mindfulness in this video:
4. Think before you act
Whenever you are compelled to act in the heat of an argument or dispute, pause, anger from the feeling of hurt can make you throw caution in the air and act irrationally. Instead, take a deep breath and calm down. It might help if you walk away to calm down before meeting your partner.
This break might help you see things from an indifferent perspective and give you time to reassess your decision. Hasty decisions often don't end well. When you realize the damage, it might be too late to rectify the situation.
5. Don't compare your relationship with others
We have all pictured a perfect relationship with no qualms. However, a wrong move you can take concerning your relationship is to use others' partnership as a metric to measure yours. Each relationship is unique in its ups and downs.
No matter how flawless it looks to you, another person's relationship has its problems as well. You are not alone! You can never know what others deal with in their partnership. Therefore, avoiding judging or comparing your reality to theirs is better.
6. Identify the causes of your emotional roller coaster relationship
Now, it's time to have a one-to-one discussion with yourself. It might help if you ask yourself the following questions:
Why do you feel this way?

When did these unstable emotions start?

Have you always been this way? If no.

When did things change around?

Who was about during the time you changed?

Is there something in my background that caused this emotional roller coaster?
These questions might help you see things clearly and get to the root of the matter. An emotional roller coaster often results from adverse childhood experiences (ACE). Other causes include anger, stress, and anxiety.
Therefore, you should dig deeper into your upbringing and background. In addition, you may need to talk to your partner to hear their side as well.
7. Talk to your partner
Besides discussing with your partner the possible cause of the roller coaster of emotions in your relationship, you should have a one-to-one conversation. This time around, let it be an intentional communication done in an unhealthy way. Love is like a roller coaster, but most relationships don't start this way.
The beginning is often exciting and full of happy moments. So, what changed in your situation? Why do you have a recurrence of cases? When did it start? This conversation will help you analyze the problem and map a plausible solution together.
Related Reading: 

10 Relationship Conversations You Can Have With Your Partner
8. Learn to accept your feelings
The psychology behind roller coasters is that you can feel them; they are right there. So, there is little you can do to run away from them. However, you can mitigate the situation by accepting them.
Feel everything that comes to you, even if you don't like them. Then, take them without judging them as good or bad. Remember, you are a human to have this feeling. And it doesn't mean you are overreacting.
9. Express your feelings clearly
Again, the psychology behind roller coasters is that feelings come at you very fast. You think about many things simultaneously, and focusing on one becomes challenging. Therefore, your best option in this situation is to communicate better.
Focus on one emotion at a time and describe it clearly to your partner. When you are alone, imagine your partner is in front of you and talking to them. Then, when you see them in real life, do the same without mincing words.
Related Reading: 

20 Ways Men Express Their Feelings Without Words
10. Forgive
The easiest reaction in a tense situation is to flare up and act rashly. Anger can be so overwhelming that it prevents you from seeing the good in things. However, it is best to forgive your partner.
Forgiveness in a relationship is an important skill every person should learn. It helps you reconnect with your partner and gives you the strength to develop the relationship. Besides, it makes you an emotionally mature person who isn't clouded or controlled by situations. It also helps you move on as quickly as possible.
11. Align your relationship with your goals
During your discussion with your partner, you might have realized that you and your partner are different. While this is okay, a wide gap might indicate that you will have more significant issues in the future.
Most successful relationships involve partners who want the same thing. If your and your partner's goals differ, you might have problems later. As a result, it might lead to resentment, anger, and frustration.
12. Don't have too many expectations
You aren't perfect, and the same goes for your partner. Regardless of the experience in the past, it is best to avoid placing your partner on some unrealistic metrics and expect them to act accordingly.
Life can become unpleasant when you think you can control things. Instead, be open to possibilities and change and give room for the unexpected. In turn, it limits the feeling of disappointment or dissatisfaction.
13. Create a healthy relationship
After highlighting your goals for your relationship, it's time to focus on having a healthy partnership. A healthy relationship is emotionally stable and open to constant and intentional communication. It has issues, but the individuals concerned usually find a way around them.
14. Take care of yourself
Self-care is the best way to improve your self-esteem and self-confidence. Paying attention to yourself has been proven to boost one's mood. Go for an outing and enjoy yourself. Take yourself out shopping with the little you have. Indulge in some cravings and go somewhere new. It helps you see things better and clear your mind.
15. Consider relationship counseling
Seeking help isn't an act of cowardice. Instead, it shows strength. When it seems you have tried everything to make it work, but it proves abortive, it's best to go for relationship counseling. A therapist or marriage counselor can help you highlight and analyze the issues in your relationship. They also proffer suitable and proven solutions to them.
10 ways to cope with a roller coaster relationship
If you find more reasons to stay in a roller coaster relationship than leave, it is best to consider ways to cope. This step will help you deal with the situation better without compromising your feelings for your partner. Here they are:
1. Highlight the good things in your relationship
Sometimes it's easy to focus on the bad experiences while neglecting the good ones. However, this leaves you empty and sad. Instead, highlight all the ways that your relationship has made you happy.
Remember how you both started and the activities You did. This will lift your mood and even help you make an informed decision.
Related Reading: 

10 Most Important Things in a Relationship
2. Focus on your partner's good side
Think about all the times your partner has made you happy. The truth is that person is still there. All you need is to harness a way to wake that part up.
3. Make your partner happy
Understanding an emotional roller coaster's meaning will help you see that sometimes your partner wants to be happy. So, please do something to elevate their mood for a change. You may encourage them to try a new activity, plan a dimmer date or join them in an activity they enjoy.
4. Work on yourself
Self-evaluation is the best mirror you need when you have constant conflicts in your relationship. Is your partner just ranting, or are there elements of truth in what they say? See if you are doing something correctly before you label your partner. After all, no one is perfect.
5. Understand their perspective
Switch up your approach to issues by putting yourself in your partner's shoes. See things from their perspective. If they complain that you neglect things, ask yourself why they feel this way.
6. Accept that things happen
Accepting that relational life is a roller coaster will help you understand that things in your relationship are no different from others. You will always disagree with your partner since you are different. The best way to accept them and seek solutions together.
7. Focus on solutions
Dwelling on problems is time-wasting. Instead, focus on seeking solutions to the issue at hand.
8. Don't attack your partner
No matter how heated the situation is, do not attack your partner emotionally or physically. Hurtful words scar your mind, while physical injury can be hard to forget. It is also unhealthy.
Related Reading: 

15 Phrases That Will Diffuse Arguments With Your Partner
9. Go out often
If you have a roller coaster of emotions constantly, going out often might help. Attending events or visiting friends can lighten your mood and help you focus on other things. It also brings a breath of fresh air and new thinking.
10. Love yourself
While you focus on loving your partner, don't neglect yourself. Loving yourself helps you make better decisions. You will only have yourself to deal with when things don't go your way.
FAQs
Here are some frequently asked questions about how to turn around a roller coaster relationship.
Is a roller coaster relationship good?
A roller coaster relationship has non-stop high emotions full of connection, intimacy, disconnection, low moments, and heartbreaks. Therefore, it's mentally unhealthy.
Is love an emotional roller coaster?
Sometimes, love is like a roller coaster. It is full of good and bad moments, but the partner learns to cope.
Takeaway
A roller coaster relationship is full of swirling emotions and unstable feelings and thoughts. It's draining and exhausting. However, there are ways to turn around an emotional roller coaster.
By following the tips in this relationship guide, you will better understand your feelings. If you need more roller coaster relationship advice, consider going for relationship counseling.
Share this article on
Want to have a happier, healthier marriage?
If you feel disconnected or frustrated about the state of your marriage but want to avoid separation and/or divorce, the marriage.com course meant for married couples is an excellent resource to help you overcome the most challenging aspects of being married.
More On This Topic
You May Also Like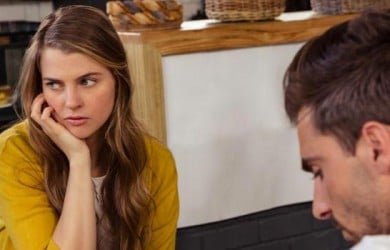 Popular Topics On Married Life