Oversharing: What Is It, Reasons And How To Stop It
Thanks to the prevalence of several social platforms, chances are you have overshared at some point in your life. You aren't the only one. You may even find yourself asking, why do I overshare? The reasons could be numerous.
With several platforms telling you to share your thoughts with millions of strangers, people telling you to be more vulnerable, and friends convincing you to share your lives with them, it is challenging not to cross the line between sharing and oversharing.
Sharing certain information in itself isn't bad. It is an attempt to connect with others looking for advice. However, there is sometimes a temptation to overshare in order to present yourself in a certain light or make them distinctly perceive you in a certain way.
This, in turn, may cause you to share information with people who don't have your interest at heart. Besides, it may mean you are unloading your issues on another person, making them uncomfortable.
Oversharing in relationships sometimes tends to be inevitable because many people see their partner as their intimate person. This is also okay, but it might affect your relationship negatively.
Before you question if you are oversharing or approach how to tackle oversharing and talking too much, you must understand the concept of oversharing and why you overshare.
What is oversharing?
Oversharing in a relationship refers to sharing too much personal information or details with your partner that they may not be comfortable hearing. Because it causes discomfort, oversharing could even damage the relationship.
Oversharing in a relationship can include sharing intimate details about your past relationships, your insecurities, fears, or personal issues that are better addressed with a professional. Often, people overshare information to establish bonds or intimacy.
While sharing personal information with your partner is important for building trust and intimacy, oversharing can lead to discomfort and even emotional exhaustion. It can also create an unequal balance in the relationship, where one partner is burdened with more emotional labor than the other.
Establishing healthy boundaries and communicating openly with your partner about what you're comfortable sharing and what you're not is important. Strive for a balanced and respectful sharing of information.
If you need to discuss something that might be too personal or sensitive, consider going for couples therapy or talking to a trusted friend instead.
People ask, "Why do I overshare?" or "Why do people overshare?" Oversharing in relationships is based on many factors. In other words, people don't just start oversharing; it usually happens because of their past experiences, depression, or simply being in a relationship in its early stages.
For example, suppose you come from a family that doesn't know how to stop oversharing and talking too much. In that case, your oversharing is a learned behavior. Similarly, the early stage of a relationship is characterized by the need to connect through conversations.
Therefore, you might overshare without noticing. To prevent any issues in the future, it is better to stop oversharing. But before that, you must understand why you overshare.
Have you ever asked yourself, "Why do I overshare?" Oversharing in relationships is a common phenomenon that can happen to anyone at any point in their romantic journey.
It can be defined as divulging too much personal information, feelings, or experiences to your partner, often without considering the boundaries of the relationship or the effect it could have on the partner. While sharing is essential to any healthy relationship, oversharing can cause discomfort and awkwardness.
So, why do people overshare in relationships?
1. Trust issues
One reason why you may overshare in relationships is due to trust issues. Suppose you've been betrayed or hurt in the past. In that case, you may feel a sense of insecurity and anxiety in your current relationship.
To ease this, you might end up sharing more than you should to test the waters and see if your partner is trustworthy. However, oversharing can often lead to discomfort and a sense of overwhelm, ultimately damaging the relationship.
2. Lack of boundaries
Why do people overshare? People tend to overshare in relationships because they may not have established clear boundaries. When individuals are unclear about their partner's expectations, they may overshare, thinking it is the right way to connect or feel closer to their partner.
Related Reading: 

15 Signs of Unhealthy Boundaries in Relationships
3. Need for validation
It's a human trait to want to feel accepted by others. People may also overshare in relationships due to their need for validation. Suppose someone feels insecure or unsure of themselves. In that case, they may share more personal information than necessary to gain reassurance from their partner.
However, this can lead to the partner feeling overwhelmed and unsure of how to respond, ultimately leading to tension in the relationship.
4. Fear of rejection
Again, everyone wants to feel accepted. The fear of rejection is another common reason why people overshare in relationships. If someone has been rejected, they may need to share more personal information to make their partner feel closer to them.
5. Difficulty with communication
Difficulty with communication can also lead to oversharing in relationships. When someone finds it challenging to communicate their thoughts and feelings effectively, they may end up sharing too much personal information as a way of trying to convey their need to be understood.
10 ways to stop oversharing in relationships
Now that you know why you overshare information, the next course of action is to know how to stop oversharing or how to stop oversharing and talking too much. If you tend to overshare in your relationships, here are ten ways to stop this habit and build healthier communication pattern with your partner.
1. Set clear boundaries
How to stop oversharing? Set boundaries. Establishing clear boundaries is one of the most effective ways to stop oversharing in relationships.
Take some time to reflect on what you feel comfortable sharing with your partner and what you would rather keep private. Communicate these boundaries to your partner, so they know what to expect and don't feel overwhelmed or uncomfortable.
2. Practice self-reflection
If you are wondering how to stop oversharing and talking too much, try practicing self-reflection. Self-reflection is an essential tool for anyone looking to improve their communication patterns.
Take some time to think about why you tend to overshare in your relationships. Is it because of past experiences? Fear of rejection? The need for validation? Understanding the underlying reasons for your behavior can help you to address the issue at its root.
Watch this video on learning how to control your emotions:
3. Focus on active listening
Active listening is a crucial skill in any healthy relationship. It helps each individual understand the other and be empathetic toward others in general. Instead of always talking and sharing, listen to your partner actively.
Pay attention to their words, maintain eye contact, ask questions about what they say, and nod when you understand them. This will help you to understand their perspective, build trust, and create a more balanced communication dynamic.
Watch this video to learn the tricks to getting better at talking to people:
4. Take breaks from technology
In today's information and social media age, it can be tempting to overshare online. However, taking breaks from technology can help you stay present and engaged in real-life relationships. Put down your phone or laptop and focus on connecting with your partner in person.
Engage in activities that help you build healthy communication methods.
5. Learn to be comfortable with silence
Many people tend to overshare in relationships because they feel uncomfortable with silence. However, being comfortable with silence can help avoid oversharing and create a more natural communication flow.
Instead of filling every moment with conversation, embrace the quiet moment and enjoy it with your partner.
Related Reading: 

How to Break Silence in a Relationship
6. Practice mindfulness
Mindfulness is a practice that can help you to stay present in the moment, calm your mind, and reduce anxiety. According to research, mindfulness helps decrease and mitigate anxiety, depression, constant thinking, rumination, and emotional reactivity.
When you feel the urge to overshare, take a moment to practice mindfulness. Close your eyes, take a few deep breaths, and focus on the present moment.
7. Seek professional help
If you cannot break the habit of oversharing in relationships, seeking the help of a therapist or counselor can be beneficial. A mental health professional can help you to identify the underlying causes of your behavior, develop healthier communication patterns, and build stronger relationships.
8. Write in a journal
Writing in itself is an expressive skill that helps you empty your mind. Specifically, writing in a journal can be an excellent way to process your thoughts and feelings without oversharing with your partner.
Take some time to reflect on your experiences, emotions, and reactions in a private journal. This can help you to gain a better understanding of yourself and your behavior.

9. Practice assertiveness
Assertiveness is communicating your thoughts and feelings clearly and confidently without being aggressive or disrespectful. Practicing assertiveness can help you to avoid oversharing and create a more balanced communication dynamic with your partner. Remember that it is okay to say no or set boundaries when necessary.
10. Say less
Finally, it is essential to remember that less is often more when sharing in relationships. Sharing too much personal information can lead to feelings of discomfort and awkwardness while sharing just enough can create a deeper sense of connection and understanding.
Try to balance sharing and listening, and remember that sometimes, the most meaningful conversations are left unsaid.
Is oversharing a trauma response?
Oversharing can be a trauma response for some individuals. Trauma can cause people to feel intense emotions, such as fear, shame, guilt, and anxiety, which can be difficult to manage alone. Some people may cope with these overwhelming emotions by oversharing in their relationships to seek validation, support, and comfort.
It is important to note that not all oversharing is a trauma response. Some people may overshare simply because they enjoy sharing personal information or feel comfortable with vulnerability.
Additionally, people may overshare for various reasons, such as needing attention or validation, a desire to connect with others, or a lack of awareness of social boundaries.
Take control of your emotions
Oversharing in relationships can be a difficult habit to break. However, knowing how to stop oversharing can help you remedy the situation in no time. As discussed in this article, setting clear boundaries, practicing self-reflection, focusing on active listening, taking breaks from technology, and so on can help you stop oversharing.
Also, reading valuable books and seeing a therapist can help you reflect better when you are about to overshare.
Share this article on
Want to have a happier, healthier marriage?
If you feel disconnected or frustrated about the state of your marriage but want to avoid separation and/or divorce, the marriage.com course meant for married couples is an excellent resource to help you overcome the most challenging aspects of being married.
Learn More On This Topic
You May Also Like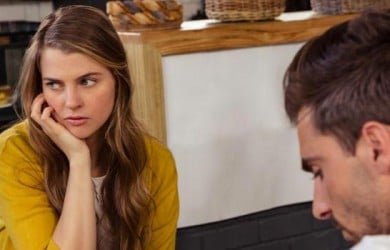 Popular Topics On Married Life