15 Ways on How to Start a Romantic Conversation With Your Loved Ones
Do you often think about the cute conversations between couples and wonder how to start a romantic conversation of your own? If you find yourself thinking about how to do a romantic chat or talk romantically, this article can help.
Romantic conversation can be challenging and may make you feel awkward or uncomfortable. Thankfully, romantic conversation starters can help you have a romantic conversation with your girlfriend or boyfriend and form a deeper bond.
Stop worrying about starting a romantic conversation over text or in-person, and read on to start a love chat conversation today. You can have love talks with your girlfriend or boyfriend, and this article can teach you how to do romantic chats.
The basics of a romantic conversation
What is a romantic conversation? Well, that depends on the situation.
Racy texts and nude selfies may not be your cup of tea, but that does not mean you need to give up all hope of having a romantic conversation with your girlfriend or boyfriend. There are plenty of options for love chat conversation, and you need to find the one that works best for you.
Romantic conversations will look different for everyone. A romantic conversation with your girlfriend or boyfriend, for example, will be vastly different than a romantic conversation with your crush. You must understand romantic conversation starters and know what is appropriate if you hope to succeed.
Looking for ways to flirt with your significant other from a distance? Watch this video.
How can you begin a romantic conversation with a girl you just met
You have a few options when you hope to start a romantic conversation.
Start with romantic conversation questions or romantic introductions.

Discuss shared interests: In any he and she love conversation, one of the best topics to start with is a shared interest. For example, if you see a girl reading a book that you are familiar with, you can

share your thoughts

on that book or discuss the author. Turn the conversation to romance by pointing out the romantic aspects of the plot or characters

Tell a joke to get the conversation started: A good joke can lighten the mood and open the door to deeper conversation. Always have some jokes on hand to help when you need to break the ice.

Be genuine. People love someone who is

honest and authentic

. Be yourself, and you will be enjoying a romantic conversation in no time. This approach can quickly become romantic if you choose to be blatantly honest.




For example, you could say, I am racking my brain for something witty to say to you, but I am distracted by your beauty, and I am at a loss for words, so I am just going to tell you my name is Josh, and

I think you're beautiful

.

No matter how you choose to begin, you

must do so with confidence

if you hope to open the doors to a romantic conversation with your girlfriend or crush.
How important are romantic conversations in relationships? Read this research to know more.
How to establish a real romantic conversation and create a connection
A romantic conversation occurs between two people who have built up trust. Creating this connection takes some time, but you can speed up the process through self-disclosure.
Self-disclosure means sharing personal things about yourself. You create an image of vulnerability through self-disclosure that blows the doors to romantic conversation wide-open, shows kindness, and promotes honesty, vital to any romantic conversation.
When you think of cute conversations between couples, it is essential to remember that they have trust that took time. Romantic conversations do not simply happen; they take time and effort. Being genuine, embracing self-disclosure, and seeking opportunities to turn the conversation into a romantic chat conversation are the best ways to create a romantic conversation with your girlfriend or crush.
Use of technology to enhance romance in relationships is also an important tool in today's day and age.
Also Try: Platonic Or Romantic Love Quiz
15 ways to start a romantic conversation with loved ones
Roses and candlelight are romantic, but romance is more than that. Romance begins before you ever enter the bedroom and should be a part of everyday life. If you want to start a romantic conversation or know how to do romantic chat, you must understand romance.
Below are 15 ways to start a romantic conversation that will help you have a love talk with your girlfriend or boyfriend.
1. Start by listening
You need to listen to your partner if you hope to engage in a romantic conversation. Listening is vital to a romantic conversation.
2. Stick to your word:
The quickest way to end any romantic conversation with your girlfriend or boyfriend is by breaking a promise. Thus, do not make promises that you cannot keep. Sticking to your word and following through on your commitments is an easy way to create cute conversations between couples down the line.
Also Try: Are You Romantic? 
3. Be assertive in your arguments
Every couple will have disagreements. How you handle yourself in those arguments is what matters. Aim to be proactive and listen to what is being said. Often, needs are hidden behind words when we are angry.
4. Instill trust
Everyone lies, and this is not always grounds to remove trust from someone. People lie to make themselves and others feel better, avoid hurt, cover shame, and hide embarrassment. Whatever the reason, the goal is to create an environment where the other person feels safe telling the truth.
Also Try: How Much Do You Trust Your Spouse?  
5. Stop accusing
Complaints are often shadowed behind accusations. If you do not like something, talk about it openly and honestly. Focus on the problem rather than the person.
6. Learn to answer, not argue
You must learn to be assertive in your responses to avoid unnecessary conflict. Yelling leads to adverse reactions and sets an ominous tone. Learn to respond in a non-confrontational way, and step away if you need a moment.
Also Try: Do We Fight Too Much Quiz
7. Forget your expectations
Our expectations can be our worst enemy when it comes to romantic conversations. Learn to speak without expectations. Share simply for the sake of sharing.
8. Show interest
Open the door to love chat conversations by taking an interest in things that your partner enjoys, listening to what they have to say, and making an effort to give them what they want.
Also Try: Am I Losing Feelings for My Girlfriend Quiz 
9. Learn to compromise
A romantic conversation often centers around compromise. When you give in to your partner, you show that you can be trusted to do what is best for others, even if it is not what you want.
10. Show understanding
Making concessions for another person shows that you care and is one of the world's most potent romantic conversation starters.
Also Try: How Well Do You Understand Your Spouse's Moods?
11. Try to open up
Will you ever honestly know the ending if you never open a book? You must learn to open up to your romantic partner if you hope to have a love conversation of any kind. Opening up can be difficult, but it is a necessary step.
12. Enjoy the experience
Nothing is more romantic for a couple than a shared experience. Set out on an adventure together, and you are sure to learn how to talk romantically with your partner.
Also Try: What Sexual Personality Are You Quiz
13. Keep things exciting
Life can be tedious. This fact becomes increasingly accurate as you age and end up in a long-term relationship. Shake things up with surprises on occasion. Even the most minor surprise can spark an extensive romantic conversation or personal moment that may not have occurred otherwise.
14. Give help when asked
Take a request for service as an opportunity to be romantic and throw yourself into it with passion. Your partner will be thankful for the help, making this the perfect romantic conversation starter.
15. Expand your horizons
Learn to enjoy what your partner enjoys. Learning about things that your partner loves can open the doors for a deep and passionate he and she love conversation.
Also Try: Is He Into Me or My Friend Quiz  
Examples to help you start a romantic conversation with your crush
So you like a girl or guy, and you want to get to know him or her better. Perhaps they are a friend of a friend, or maybe they are a stranger you see often. You need to break the ice, but how?
When it comes to meeting someone, your options depend on what you hope to achieve. If you want this introduction to lead to those cute conversations between couples, you will want to get this right. Below are a few introductions that can help teach you how to start a romantic conversation.
1. Get to know their interests and use them to break the ice
While you do not want to lurk in bushes or follow them home in the dark, getting to know the subject of your affection is essential if you're going to have a romantic conversation with them. Find out what kinds of things they like and focus on a shared interest.
For example, if you love the same music, try talking about the artist's latest album and how it makes you feel. You could say something like, 'that new song is so romantic.'
The goal is to start a conversation and steer it in the desired direction.
2. Show confidence, even when you don't have it
The old saying, fake it till you make it, applies to a romantic conversation. Confidence plays a key role when you wonder how to start a romantic conversation.
Show that you are self-assured and are not afraid to make a move. Your confidence will be compelling in any romantic chat conversation and set the tone for a future love chat conversation.
Also Try: Is Low Self-Esteem Preventing You From Finding Love?  
3. If you can't be confident, be funny
Humor is the fastest way to anyone's heart. Women are highly attracted to men who can make them laugh. Seek out opportunities to share your humor any chance you get.
Start a conversation with a light-hearted joke by saying, "I know you just said something important, but I am just sitting here with this stupid grin on my face planning our future," or you can try, "Don't move, I need to call the police because you just stole my heart."
These examples are filled with both humor and confidence. They show the other person that you have enough guts to say what you want without fear of rejection, and that is an exceptional quality that almost always leads to a romantic conversation in the end.
4. If confidence and humor are not an option, there is honesty
When confidence or humor is not an option, be honest. Honesty is the best policy for any love chat conversation. Use honesty to break the ice and spark a romantic conversation. You can try saying something like, "I've been trying to work up the nerve to talk to you for the past hour, and I came up with a bunch of cute pick-up lines that I could use.
Instead, I am standing here with this dopey grin on my face, so I am just going to tell you that my name is John, and despite not using some fancy pick-up line I found on the internet, I'm going to hope this works."
Honesty shows integrity. You appear sweet and vulnerable. Women like to know that you are not perfect, and they especially like that they affect your behavior. Being honest shows that you are a genuine person with flaws and weaknesses, just like everyone else.
Also Try: Does He Care About Me Quiz
Romantic questions for couples
We have all seen, read, or taken those quizzes for couples. While many of these quizzes are purely for entertainment and should not measure your relationship, they provide us with examples for starting a romantic conversation.
The questions in these generic online tests should be asked in all relationships. Yet, sadly they are not. Ask romantic conversation questions to learn more about your partner.
Here are a few romantic conversation questions to ask.
– How do you feel about public displays of affection?
– What is the perfect date?
– Do you want kids?
– If you could have anything in the world, what would it be?
– How would you spend the day if you knew it was your last?
Questions like these can be excellent romantic conversation starters. They encourage deep thinking and self-expression. These romantic conversation questions inspire you and your partner to share your innermost thoughts, inviting a he and she love conversation to occur.
For more romantic conversation questions, try reading this article from marriage.com.
Conclusion
How to start a romantic conversation depends on the situation. It requires that you have confidence and are willing to go the extra mile to get what you deserve.
If you long for those cute conversations between couples that other people talk about, you need to be willing to work. Asking romantic conversation questions is one way to start those love talks with your girlfriend and begin your journey to a romantic conversation.
Forget the fear, throw away thoughts of failure, and dig deep to find how to talk romantically. Once you have a romantic conversation with your girlfriend, you will never look back. A romantic conversation has the power to change you both for the better. Embrace that change and learn to love with your whole heart.
Share this article on
Want to have a happier, healthier marriage?
If you feel disconnected or frustrated about the state of your marriage but want to avoid separation and/or divorce, the marriage.com course meant for married couples is an excellent resource to help you overcome the most challenging aspects of being married.
You May Also Like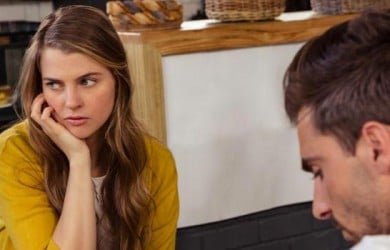 Popular Topics On Married Life