How to Handle Being Pressured Into a Relationship: 25 Tips
When you're feeling pressured into a relationship, often the idea of taking that next step or committing becomes scary. You might think that's something you've been waiting for, even hoping for this whole time while dating, but now you're not so sure you're actually ready.
Being coerced or persuaded to move too fast is not in keeping with what your own wishes or expectations might be, and those are as important as your mate's needs.
If you feel you're not ready, the situation could work out to be negative, and then there's no way to go back to simply dating, albeit not living together anymore.
You're not ready to move forward, but you don't want to lose your partner either; how do you deal with these relationship pressures?
Why do you feel pressured to be in a relationship
Feeling pressured into a relationship can result from numerous factors like maybe there are influences from outside telling you it's too soon. Close friends and family significantly affect how people respond to their partnership.
Work commitments do as well if you're striving to develop a career and have minimal time to put into an exclusive, committed partnership.
Other pressure situations in a relationship can arise when a partner does little to compromise or has unrealistic expectations, like the notion that you should forego your plans to establish a career in favor of nurturing a longer-term relationship.
5 signs you are being pressured in a relationship
As dating progresses, with two people having fun and developing a connection, ultimately, instead of taking things one day at a time to see what will eventually grow, one partner might become a bit anxious to move things along.
That can mean they start to do or say things making their mate pull away due to being pressured into a relationship. Some signs of being pressured in a relationship include:
1. Hearing mention of the future together
While dating might eventually lead to more, speaking of a future together too soon can add tension in a relationship causing a mate to run instead of growing closer.
2. Needing answers
When you need answers that a mate doesn't have yet, like where they see things between the two of you heading or what their intention is for the partnership, it causes a partner to start feeling pressured. Look for ways to manage relationships better to avoid questioning early in the dating stages
3. Mistrust in feelings
When you need to analyze every word to see if that means someone likes you, it creates a feeling of pressure in a relationship.
Questioning why text messages aren't returned or if there's a reason why phone calls aren't made during the day can turn a mate sour to dating you when all you need to do is trust in their feelings.
If it turns out he doesn't genuinely like you, you can move on to a better catch. It's not worth the stress you're putting on yourself.
4. Letting friends and family know you're exclusive
Before things become an official commitment, you decide to let everyone know that you are exclusively committed after only a handful of dates.
Many people take commitment slowly with the need to be sure the person is the right one before taking that step; doing so after only a couple of dates is generally not going to happen, and telling everyone it has will only bring a feeling pressured into a relationship.
5. Suffocating the other person
It can be a significant turn-off when you believe life revolves around your partner since each person needs independence with separate interests and hobbies.
Attempting to spend all your time with someone is something you don't want in a relationship. Study shows single men feel more pressure to date than women, along with other facts.
Definition of applying pressure in a relationship
Applying pressure in a relationship is similar to setting expectations that are unreasonable for where the dating is currently and believing the other person will simply go along with it.
That leaves someone open for distress when a mate responds negatively to those expectations or expresses a misperception of what's been happening between the two of them.
Not feeling wanted in a relationship can lead to conflict where there was a fun and exciting match with the potential for a healthy connection to be made over time if these assumptions would have remained within reason.
25 tips on how to handle feeling pressured into a relationship
Experiencing feeling pressured into a relationship but not wanting to lose the person as a dating partner can prove challenging. That's particularly true if the individual has made working things out in a relationship tricky by posing questions about the future no one is genuinely ready for yet.
Let's look at a few essential tips for handling that feeling the pressure of being in a relationship:
1. Communication
Communication is key in any relationship, dating or otherwise. If you're happy with the person you're seeing, and everything is good except their expectations, have that conversation.
Explain that you're not ready to move forward, but if that's what they need, they might need to find that with another person, unfortunately.
Related Reading: 

The Key Components Of Communication In A Relationship
2. Put yourself in their place
If you can try to relate to the extremeness of their emotions, it might help you to understand their need to instill the pressure they're giving you to move forward. Perhaps then you can help them to slow things down a bit.
3. Compromise
When you are feeling pressured into a relationship, find a way to compromise what's happening in the partnership. The essential things to your partner deserve consideration, just as your needs should be satisfied.
If there is sexual pressure in a relationship, find a way to determine why this has become such a vital component when one person is not ready or wants to wait.

4. Reassure
When someone asks pointed questions about the future, they're really trying to find out if you like them; there is a need for reassurance. When you provide them with this, things will move along more smoothly.
Related Reading: 

Seeking Reassurance in a Relationship? 12 Ways to Rest Assured
5. Fresh take
When you're feeling pressured into a relationship, you might merely need a fresh look at the partnership from close friends or family who can see the situation from a different perspective. You might be reading more into it than your mate intends.
In these moments you may wonder, "are relationships supposed to be hard?" Yes, because in this case they might not be fishing for a specific commitment but more so to know you're not seeing other people.
6. Space apart
When you start to question, "are relationships supposed to be so hard," it might be time to get some space apart for a bit to start working things out in a relationship and let go of some of the pressure.
While that's not what your mate will want, it can possibly help you to realize what you might be missing if they weren't in your life.
7. Let the anger subside
If you disagree about feeling pressure in a relationship and express "he is pressuring me into a relationship," there is likely anger on one or both sides.
It's not the time to try to work out the issue until each of you calms down and can discuss the problem constructively. Never talk while angry.
8. Set boundaries
If boundaries have not been set yet in the relationship, it's time for each of you to outline these and ensure they are enforced. It's also to remind your mate when these are crossed, pressure is felt, or stress creeps into the partnership.
Maneuver through a helpful workbook by Nedra Glover Tawwab, titled 'The Set Boundaries Workbook,' to learn the fundamentals of how to set boundaries for your personal growth.
Related Reading: 

10 Personal Boundaries You Need in Your Relationship
9. Mindfulness
It's good for the two of you to practice mindfulness, staying present in the moment. That means avoiding what's happened in the past and not looking into the future. When focusing on each other, you remain rooted in the here and now. It will alleviate pressure for both individuals.
10. Keep a sense of independence
Make sure your mate maintains their independence and that you can enjoy individual time and space to participate in specific interests, hobbies, and time with close friends.
Time apart is good for a relationship, and a partner should never have their entire lives revolve around their mate. It's unhealthy.
11. No sexual pressure
It's okay to wait until both of you are ready for the relationship to become sexual. Don't feel pressure and express that you won't be pressured into something intimate.
There's no specific timeframe for that to take place. One telltale sign is when each of you feels comfortable discussing the topic and revealing any STIs or STDs or expressing specifics about overall sexual health.
If you're unable to have an open, honest conversation about the topic, the activity shouldn't happen. How will you let someone know what you like and what you'd enjoy trying if you can't discuss the subject of health?
12. Have an open mind
You might not be ready for a commitment or to look into the future and don't expect to experience feeling pressured into a relationship. Still, it's a good idea if you like the person to have an open mind when discussing feelings and thoughts. At least they'll feel heard.
13. Respect yourself
In that same vein, you can come back in that same conversation with the reasons why you're not to that point in the partnership just yet. It might take you a bit longer to reach a desire for a commitment or even to see a future. The hope is that they can be patient.
14. Don't hide the truth
If there are things in the past that make you hold back, perhaps an ex cheated on you, or there was a traumatic experience, let your mate know these things instead of especially keeping them internalized if you feel this person is special in some way.
Vulnerability is favorable in a partnership. It shows trust that there will be no judgment or repercussions.
15. Moderate messages/phone calls
In order to avoid the expectation that you'll be contacting your partner constantly, keep the messages and phone calls to a minimum in the beginning. That way, no one has pressure or stress when these aren't sufficient.
16. Let go of control
No one can control another person, and you shouldn't want to. That is toxic in a relationship.
Suppose your partner is experiencing a different way of approaching the relationship. In that case, the only thing to help in that aspect is to communicate and work through the issue constructively and positively. Otherwise, you'll be creating pressure and stress for your mate.
17. Embrace the good times
Try to grab onto when your relationship goes smoothly with no wrinkles in those moments when you're experiencing the most pressure. There's a reason you're with this person and why you don't want to let go despite the stress. Hold onto that.
18. Journal the experience
If you feel pressured into a relationship, journaling your feelings can help you out. Once you begin to journal, there will come a time when you'll notice a pattern of thoughts and feelings you're experiencing.
You can begin to change those situations causing you to have feelings of pressure in a relationship by working with your mate instead of against them. Research tells us that journaling can help you navigate your feelings better.
19. Goals
Take a look into the future to see what it is you're trying to avoid. Everyone has goals and things they're trying to achieve. There must be something you hope for in the future.
Take a peek and see what it is and if you might see your current partner in that scene. When you feel pressured into a relationship, you don't have to share your goals with the other person; it's merely an exercise in understanding your desires better.
20. Accept change
One of the significant factors when facing the possibility of exclusivity and involving oneself in a committed relationship is the fact that life will change from what you know. Eventually, you have to embrace change and be accepting of it.
Those single friends that you spend your time with will all be moving forward if they're not already. Things don't stay the same forever. Help relieve the pressure by considering the possibility.
21. Perfection is a misconception
If you're waiting for the perfect partner or relationship to trump the one you have, you could be waiting a long time and perhaps putting pressure on yourself.
There is no such thing as perfection in any partnership, and no person has these characteristics, nor do they want to. The flaws and eccentricities make us wonderfully unique, so perhaps you have "perfection" but are missing it with your continued search.
22. Try to consider their ply
What could your mate be dealing with underneath the pressure they're applying to this relationship? Is there a past trauma or rejection that they're attempting to avoid this time, and how can you help them?
When you are feeling pressured into a relationship, remember, understanding is much more beneficial than putting a wall up or pushing them away. That's only more rejection making the situation worse.
23. Don't blame
When approaching the stress and pressure you're experiencing, don't express the problem using "you" terms, blaming your mate for the problem.
Talk in terms that "I am feeling" and why it makes you feel a particular way. Blaming can make the other person defensive and insecure.
Watch this video to learn why we find blaming our partner an easier option in all situations:
24. Bring it to an end
Suppose your mate continues to push for a commitment or to take things further along, like moving in together or even an engagement, and will not let it rest regardless of your efforts. In that case, it might be time to call an end to dating the individual.
While you might like the person, you're simply not ready for that kind of partnership, and there is no getting through when attempting to speak about the issue. It's better to move on and let this person find someone ready for a more serious relationship.
25. Counseling
If a dating partner doesn't understand that they need to stop placing such pressure on the partnership and allow it to flow one day at a time, it's wise to suggest counseling if you want to continue to pursue dating.
A professional might be able to guide the individual through their issues so they can better handle dating without rushing it into something more too soon before anyone is genuinely ready.
Related Reading: 

6 Reasons to Get Professional Marriage Counseling Advice
What do you do when you feel pressure in a relationship
If you genuinely enjoy the person as a dating partner, the primary thing you can do is communicate the stress and pressure you're experiencing.
The best suggestion is to either recommend individual counseling for the person or even attend couples counseling sessions so you can better express the situation and receive guidance on making corrections.
Final thoughts
A dating partner can create a great deal of pressure on their mate by pushing for a commitment or forcing them to look at their intentions for the future.
In many cases, this makes a partner pull away unless they really enjoy dating this person and then experience stress about how to stop the behavior.
The ideal method is to attend counseling to express what's happening and gain insight into tools to keep the partnership at the moment. It can be couples' counseling or individual, but the outcome will be beneficial in either medium.
Share this article on
Want to have a happier, healthier marriage?
If you feel disconnected or frustrated about the state of your marriage but want to avoid separation and/or divorce, the marriage.com course meant for married couples is an excellent resource to help you overcome the most challenging aspects of being married.
More On This Topic
You May Also Like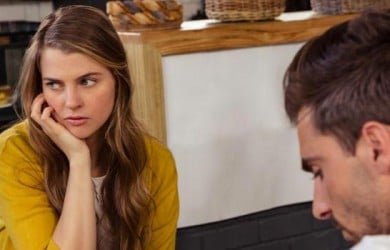 Popular Topics On Married Life