15 Tips to Handle Long Distance Relationship Fights & Arguments
Most of us cannot choose when, where, how, and with whom we fall in love. And we often surprise ourselves!
For example, you might find yourself falling in love with someone older or younger than you expected. Or, you are surprised that you actually met someone who sat next to you on a plane—and who turned out to be a wise match for you!
All relationships have unique challenges, and one of the more challenging relationship situations is one that is long distance. Yet, for some couples, long-distance suits their emotional and career needs well.
For instance, for couples where each person has to travel frequently for work and when living together is geographically not possible, a long-distance relationship is their only way of being a couple.
Related Reading: 

Long Distance Relationship Problems and What to Do About Them
Reasons for long-distance relationship fights
One of the thorniest issues for long-distance relationships is dealing with fights and arguments. All couples have disagreements, but LDR couples often tend to have more grave long-distance relationship problems.
Why is that? They have to deal with these key issues:
Not being able to

hold hands while discussing difficult topics

Not being able to "Kiss and Make Up" in a timely way

Not being able to read each other's body language fully and accurately

Not having enough or the right time at the moment to talk things out.
To make matters worse, some topics are more difficult to handle in a long-distance relationship because you have different work hours, live in different time zones, can't handle time-sensitive issues that work for both of you, and don't have all the documents, mail, and other papers that you need.
These hot-button topics include:
Disputing bills for incorrect charges on your credit cards

Not wanting or able to book the next flight or train route to see each other

Not being able to plan or attend important family and friends events together

Not agreeing on how you want to spend your precious time together

Not having enough or a good time to deal with one of you being ill or needing advice.
Related Reading: 

Ways to Avoid Long-Distance Relationship Drama
15 Tips for handling long-distance relationship fights
So, what can you do to be happier together? How can you handle long-distance relationship fights?
Here are some tested tips to get through a long-distance relationship.
You may not need all of these ideas, and you will also probably need to adapt them to your unique situation. With these tips on long-distance relationship fights, over time, you will become good problem-solvers and partners!
1. Know what to discuss
How to handle arguments in a relationship?
To start with, make a list in order of importance of the things you need to discuss in person.
There are so many things that might not come to mind when you meet each other in person. It is better to keep a list handy lest you forget important things in the excitement of meeting after a long time.
2. Hold hands
Especially when you are together and are having disagreements, always hold each other's hands or hug each other. You both would be meeting after a long time. There shouldn't be any room for arguments.
Related Reading: 

Ways of Holding Hands Reveal a Lot About Your Relationship
3. Get solution-oriented
NO complaining without first offering a solution!
Arguments are never-ending. And fighting in long-distance relationships can get more troublesome because you both are not around each other.
So, instead of focusing on the problem and playing the blame game, handle long-distance relationship fights by looking for a solution.
4. Listen
One of the relationship argument tips is to listen to your partner without any interruptions. Communication does not only mean talking and expressing your side of the story. It also means practicing the art of listening.
So, listen, comprehend and empathize.
Related Reading: 

The Importance of Art of Listening in a Relationship
5. Disagreement Technique
Instead of accusing or blaming your partner when you are trying to solve a problem, practice this Disagreement Technique to solve long-distance relationship fights instead of explaining or arguing your points in a disagreement.
Talk about your feelings and issues as though you were your partner. Speak in the first person by using the word "I." This Technique will feel awkward at first, but you will gain a better understanding of your partner—and a better solution.
Related Reading: 

Using "I" Statements in Relationships
6. Write love texts
Don't let a day go by without sending love texts or one of those special photos to your partner. Your note can be brief.
For example, you can write things such as:
I know you will do well on your presentation!
I miss you and think of you first thing in the morning and the last thing at night.
I love being with you. And when you get stressed, just think of that special time we just had together!
Here is a picture of me in my new outfit (or the one you bought for me.)
Here are some of the special things I love about you!
This can also help in reminding you how lucky you are to be together.
7. Get proactive
Don't let things fester. Do some soul-searching of why you and your partner acted that way.
Agree that when you are together, you will discuss key issues.
If possible, discuss them when you are at your favorite café or park or any other places that are important to you. Talking at one of the places you live may not offer the safeguard of being at your best.
8. Choose the right time to discuss problems
For all long-distance relationship fights, don't attempt to settle hot topics when one of you is tired, had a tough day, or still have work to do.
If you are fighting a lot in a relationship, be prudent enough to call or text your partner and discuss the problem when you are both feeling calm and peaceful.
9. Keep a journal
Journaling is a great way to help you reflect on yourself and your relationship.
Include any or all of the following:
Why did I act the ineffective or highly emotionally charged way I did?
Why do I think my partner handled the situation in the way they did?
What do I suggest as a better way?
10. Send a problem and solution chart
Forge a solution together quickly—instead of having marathon disagreements.
Make a chart of the most pressing issues you need to discuss. Write out your ideas, reasons, and solutions. Explain them without getting angry or accusing your partner.
Instead of fighting over text, you can choose to talk it out or send your partner your idea.
11. Develop empathy
Forgive yourself and your partner for missteps.
If you have an issue to discuss, think about how your partner would respond. What "buttons" might get pushed in your partner?.
Handle long-distance relationship fights by creating a plan as to how you will address these "buttons" with kindness and understanding.
Related Reading: 

How to Build Empathy in Relationships
Check out this video by Mary Jo Rapini on how you can empower your partner by showing empathy:
12. Keep important information handy
Make sure you have each other's important information, such as social security numbers, shared bank accounts, and phone numbers of best friends, children, family, boss and coworkers, attorneys, physicians, and any other contacts.
The last thing you want to do is face a situation where you don't know what to do.
13. Avoid disagreements
Having disagreements is healthy, but too much of it only signifies that the relationship can turn toxic. However, this can be controlled simply by discussing issues calmly.
Important tip: Don't start your time together with a disagreement, and don't end a conversation with a disagreement.
Related Reading: 

Steps Couples Should Take Toward Settling Disagreements
14. Spend together-time
There are so many apps and websites that can give you an experience of playing real-time movies or songs together, just like you would have if you both were together in person.
Once you spend quality time together, you can shoo away many long-distance relationship fights. So, watch the latest releases or classic hits "together" when you are apart with ease.
Related Reading: 

Ways to Have a Quality Time With Your Partner
15. Celebrate important events
Create "family time" together when you are together and apart. For example, you could do a zoom call to celebrate something with each other's families. The fact that you both are apart should not be the reason for having a drab celebration.
This will only pile up and ensue fights.
Related Reading: 

Mistakes Many Long Distance Couple Make
Takeaway
Is it normal to fight everyday long-distance in a relationship? There could be days when your long-distance relationship fights will be more severe than the other days. However, if it has been happening throughout your relationship, this needs to be corrected.
Remember that misunderstandings, disagreements, and mistakes occur in all couples. So, remember to follow the aforementioned tips for long-distance relationship fights.
Share this article on
Want to have a happier, healthier marriage?
If you feel disconnected or frustrated about the state of your marriage but want to avoid separation and/or divorce, the marriage.com course meant for married couples is an excellent resource to help you overcome the most challenging aspects of being married.
More On This Topic
Recent Articles
You May Also Like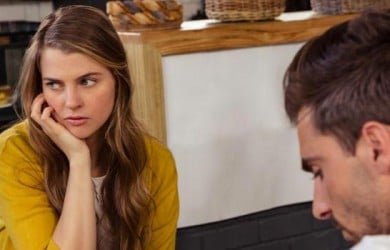 Popular Topics On Married Life