How to Get Out of a Controlling Relationship
Are you stuck in a controlling relationship where you keep going out of your way to deal with a controlling boyfriend or girlfriend but never feel appreciated? Well, you're not alone. Tolerating controlling behavior in a relationship can be exhausting and suffocating.
Maybe you've tried your best to save the relationship, but things keep getting worse. You've reached your limit, and now you find yourself wondering how to get out of a controlling relationship. If this sounds somewhat like you, read on.
In this article, we're going to explore the signs of a controlling person, what a controlling relationship looks like and how to get out of a controlling relationship when you feel stuck.
Also Try: 

Controlling Relationship Quiz

.
What is controlling behavior?
Controlling behavior means isolating someone from their support system, threatening and manipulating in a way that makes the victim feel so insignificant that they end up giving up control in a relationship.
Passive-aggressive behavior, criticizing someone for their every move, and trying to change others are examples of controlling behavior in a relationship. Controlling behavior is one kind of emotional abuse, and the victim might feel confused, guilty, or ashamed because of it.
Sometimes controlling behavior includes abuse and domestic violence as well. If you are a woman who feels she is trapped in a controlling relationship, check out this book by Psychotherapist Carol A Lambert. It highlights ways to take back control and get out of an abusive relationship.
Related Reading: 

Signs You're in a Controlling Relationship
15 Signs of a controlling relationship
What is a controlling relationship? Is there an obvious controlling relationship behavior to look out for?
Well, Let's have a look at these 15 signs to assess the state of your relationship and know for sure if you're being controlled in a relationship.
There's an

unhealthy power dynamic

in your relationship. Your partner is the one making all the decisions in your relationship, and you have got no choice but to follow. You might be forced to put your goals and aspirations on the back burner.
Your partner finds faults in everything you do. Their

destructive criticism

keeps making you feel like you're not good enough to be loved by anyone, and your controlling partner is doing you a favor by being in a relationship with you.
The controlling partner tries to isolate you from your friends, family, or anybody you're close with. They find problems with your friends' behaviors and keep telling you to stay away from them for one reason or another.
When you deal with controlling people, they manipulate you in a way that makes you

codependent

. You start having a hard time making decisions, even simple ones like what to wear on a casual night out.
Veiled threats and

emotional abuse

are regular parts of your life. You live in constant fear of them doing something spiteful if you don't do as they say.
They love you conditionally and with strings attached. You hear them saying things like, 'I'll love you more if you do that for me' or 'I'll spend more time with you if you stop hanging out with your best friend.'
When you deal with a controlling partner, they make sure you always feel indebted to them. You have to work hard to earn their love. They

keep score

and make you feel guilty if you fail to indulge their whims.
You have no privacy. Be it your Facebook password to your bank account details; they need to have access to every bit of your life. They demand complete transparency in the name of love.
In a controlling relationship, you regularly find yourself saying 'sorry' without knowing what you did to hurt them. It looks like every step you take somehow annoys your partner.
Your

partner doesn't trust you

enough and keeps

snooping

on you. You keep reporting your whereabouts to your partner because they get paranoid if they don't know where you are all the time.
Your partner wants others to feel indebted to them for everything they do and indulge their every whim. If not, you may have to face their angry outbursts.
Your partner might show

signs of extreme jealousy

. They may also intimidate and threaten you to have control over you.
They tend to gaslight

others and call them 'crazy' or 'irrational' if things don't go their way. If something goes wrong in the relationship, they take on the role of a victim and make others feel guilty.
They try to

change their partners

and make them feel insignificant. They don't respect the boundaries others set and can't take 'no' for an answer.
Might show

signs of abusive behavior

.
Related Reading: 

Signs of a Controlling Wife and How to Deal With Her
Also, watching this video might help.

How to get out of a controlling relationship
Leaving a controlling relationship is challenging on so many levels. But, here's a 10 step framework for you to break free from a controlling relationship.
1. Recognize the signs
Instead of being in denial and staying in a controlling relationship out of fear, see your partner for who they really are. Are they just clingy, moody, and concerned about your wellbeing? Or are they controlling every aspect of your life without taking your wishes into consideration?
If most or all of the signs of a controlling relationship are present in your relationship, make a decision. Do you want to continue living with a controlling person like that or leave this relationship and start over? The sooner you realize and decide, the better.
2. Get in touch with your support system
Being in a controlling relationship makes it incredibly difficult to stay connected to the people you love. Your controlling partner may not like and approve of most of your friends and family anyway.
To keep the peace in your relationship, you slowly gave in and started to lose touch with the people who always had your back. But, when leaving a controlling relationship, you need to gather your support system and let them know what you're dealing with.
3. Set healthy boundaries
It might feel really hard to go against a controlling partner and do what's good for you. But you need to start doing that for your own good. Set boundaries and tell them what you will and won't tolerate.
If you don't want them to handle the finances for you, let them know and start doing it yourself. Want to meet your friends, but they don't like it? Make it clear that your friends are an important part of your life, and you'll keep seeing them whether your controlling partner likes it or not.
If they're willing to accept and respect your boundaries, great! If they don't and try to be manipulative like they've always been, it's time to pull the plug.
Related Reading: 

Setting Healthy Boundaries in a Relationship
4. Create a safety plan
Assess the state of your relationship and figure out if you're physically safe with your partner.
Even if they aren't physically abusive yet, they might lose it in the spur of the moment. So, make sure you develop a safety plan before you tell them you're leaving.
You can have the conversation in a park or open space where you have privacy, yet other people are around you. Have a friend around who can be there for moral support once you're done talking to your partner.
5. Talk to your partner
You might feel really scared to talk to your controlling partner about how their behavior is affecting you and your relationship. But stop worrying and do it anyway. Be calm and reasonable while you talk to them.
They might get defensive and start acting the way they usually do. Or, they might realize and acknowledge that their controlling behavior is hurting the relationship. Either way, you'll know if your relationship can still be saved or not.
If they don't see any problems in their actions and keep trying to make you look like the crazy one, let them know that you don't want to be treated this way anymore.
Related Reading: 

How to Communicate With Your Spouse When Things Are Tough
6. Don't change your mind
Once you talk to your controlling partner about ending the relationship, you can expect them to get overly emotional. They might get angry and call you names or start crying uncontrollably to stop you from leaving.
Don't fall for their manipulation tactics. Once you've tried your best to save the relationship and given them countless 'one more chance, it's time to be firm. Plan what you're going to say and how you'll say it.
Do it, and then leave the room before they entrap you into staying with them. If they say you haven't given them a chance, it's best to ignore them. You've given them more than enough chances, but it looks like they just don't know how to stop being controlling in a relationship.
7. Cut off all contact with them
It might break your heart to even think about this, but staying with them for one more night or talking to them for one last time might only make you feel worse. Getting away from them may be the right thing to do. Not telling them where you are going might also help.
You might block them on your phone and social media. If they show up unannounced, it's better not to entertain them. If you do need to talk to them for some reason, try not to meet them alone. Bringing a friend with you is always a great idea and remember to keep it short.
It may break your heart to end all communication with the person you loved with all your heart, but give it some time, and you can get over this.
8. Take back control of your life
Don't mope around the house all day. Get busy. Meet your friends and spend time with the people you love instead of sitting alone in the dark and regretting your decision. Try out new things and invest in yourself.
However tempting it may be to call them or respond to their texts, make sure you don't. Don't stalk them on social media as well. You need to remember why things didn't work out between you and your controlling partner. You don't want to go back to that life.
9. Take time to heal
Be kind to yourself. Don't blame yourself for not leaving the relationship sooner. Take all the time you need to heal.
Don't rush the process. Don't hold yourself to a deadline. Allow yourself to feel all of the emotions and seek professional help if needed.
If you've been with your partner for a long time, it's normal to take longer than others who've gotten out of their controlling relationship earlier. So, don't beat yourself up for taking as much time as you need to feel like yourself again.
10. Make self care a priority
Focus on yourself and make sure you eat well, get some sleep and exercise even if you don't feel like getting out of bed in the morning. What are the things you weren't allowed to do simply because your controlling partner hated them?
Why don't you do them now? Find a new hobby, go out with your friends, visit your family, or whatever it is you've wanted to do for a long time. Keep working on yourself until you feel whole again.
Related Reading: 

How to Deal With a Controlling Husband
Conclusion
The controlling behavior in your partner might be a result of low self-esteem, a difficult childhood, or past trauma. If they're willing to recognize their behavior and work on them, your relationship still has a fighting chance of surviving.
But, if they're totally blind to their own faults and incapable of change, getting out of that relationship is the way to go.
Share this article on
Want to have a happier, healthier marriage?
If you feel disconnected or frustrated about the state of your marriage but want to avoid separation and/or divorce, the marriage.com course meant for married couples is an excellent resource to help you overcome the most challenging aspects of being married.
Learn More On This Topic
You May Also Like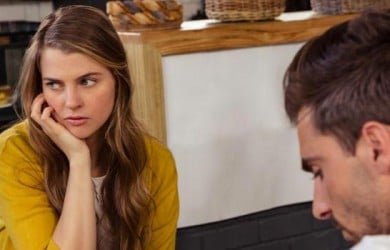 Popular Topics On Married Life