4 Ways to Communicate With Your Spouse Without Fighting
Imagine planning a date night with your partner- you arranged every detail to make it fun and exciting. On the drive to the event, you or your spouse casually make one comment that sets a course for disaster.
This scenario is all too common, and it is especially frustrating when you are just trying to have a romantic moment with the one you love.
Our nervous systems are designed for a single purpose: to keep us alive. This is largely the role of the sympathetic nervous system, which activates our stress response. The parasympathetic is the counterbalance that helps us calm down and return to baseline after a stressful experience.
Unfortunately, these systems have not evolved to help us thrive in our modern lifestyle. When we perceive a threat, our limbic system takes over and starts to assess the level of threat before responding.
If you have experienced significant trauma or levels of anxiety in the past, your system might overestimate the current threat. Your body and mind are engaging in what had traditionally been labeled as the fight or flight response.
However, the theory expands into six distinct reactions.
6 human stress responses: Recognizing & managing them
While our nervous systems have a lot in common, any individual person might have unique needs. It's important to discuss how to support each other proactively instead of reactively in the heat of a moment.
The following suggestions are based on a wide view of human behavior. Before you enact any single tactic, discuss the approach with your partner to make sure they are comfortable with it or have the opportunity to offer suggestions on what would work better for them.
Let's look at the 6 styles of stress responses and how you can support yourself or your partner when you need to figure out how to communicate with your spouse without fighting:
1. Fight
Lashing out at someone during an argument, either physically or verbally is a classic example of a fight response. In some cases, you might use hurtful language, try to humiliate someone who embarrassed you, or you might get physically threatening.
All of these are examples of trying to attack the attacker in hopes of defending yourself.
If this style matches your or your partner's stress response, consider finding a different outlet for that aggressive energy.
Working out, going for a hike, using your hands to make something, or playing a sport are all ways to take out your fight energy on some other object while sparing your partner from receiving it.
2. Flight
Those in a flight response tend to avoid conflict by walking away or disengaging from the conversation. Going emotionally numb is also common in this style as it helps the person distance themselves from the uncomfortable emotions they are feeling.
If you or your partner tend to flee from stressful interactions, then it's important to first give the person space. One of the worst approaches you can take is to continue pursuing your partner after they walk away.
This almost always leads to more conflict because they are trying to remove themselves from the situation to calm down. Let them take a break before you come back together and work on repair (which is described at the end of this article).
Related Reading

: 

The Challenge of Conflict Avoidance in Relationships
3. Freeze
Think of a deer in headlights, and you have accurately envisioned the freeze response. You can also think of this stress response style as being stunned or in shock. These people tend to just stand there with a blank expression while their inside biochemistry is on absolute fire.
This is one of the more difficult styles to identify because it can look like someone is processing their thoughts and feelings when in reality, their brain is in overload.
If you or your partner tend to freeze, then I recommend staying close by, sometimes even in physical contact or at least close proximity, while the frozen person starts to rebalance. Don't engage, but rather observe and monitor the situation.
The research says freezing occurs when there is little immediate chance of escaping or winning a fight.
So, if the frozen state continues for more than a few minutes, you might want to separate from each other and come back together once they are unfrozen. When they have successfully found their way back to baseline, then you can process the experience together and help them to feel reconnected.
4. Fawn
The fawn response is when someone gives into the demands of the attacker or tries to soothe them in hopes of warding off the threat. A common example would be if your partner starts to yell and you give in to their demands to avoid further conflict.
This is a dangerous style because you are essentially rewarding someone's inappropriate behaviors with a positive outcome. Learning theory in psychology teaches that this kind of reinforcement is likely to increase their yelling in the future.
If you or your partner use fawning to handle stressful situations with each other, then it is important the provoker of the situation consider their behaviors. By definition, someone who is fawning is probably timid or insecure about confrontation.
Therefore, fixing this dynamic will require the provocateur to address their role in the conflict first and ask their partner to help them change their behavior.
This is one of the more difficult responses to change since it requires a shift in power dynamics. I would highly recommend considering professional support for this one. A well-trained couples retreat therapist can help you retrain your stress response in a short period of time.
Learn more about the fawn response from Irene Lyon in this video:
5. Tend
Tend and befriend are newer additions to the list. They were proposed by Dr. Shelley and her colleagues in 2000 as a feminist critique of the theory on stress responses in humans.
Tend is often seen as a maternal response since it describes one tending to the wellbeing of their offspring in the face of a threat. One example will be checking on your children if your spouse starts to get angry.
Unlike the other four theories, these last two involve a more complex function of human behavior. The tend response suggests that someone is placing the well-being of another over their own, and this is largely a very healthy response.
It can start to cause issues if one spouse is frequently more worried about their children's wellbeing than the state of their marriage. I have often heard spouses talk about staying together for the sake of the children.
This is usually a bad idea. Kids don't need two married parents. Kids need two adults who are well-adjusted and model good behaviors and appropriate relational norms.
6. Befriend
The final response is again more complex than the first four that were presented. Befriend means to use your community to help deal with a threat. This is often a very helpful stress response because it allows us to feel connected with others and supported.
One example would be if you get into a fight with your partner, you might talk with a friend to try to get a new perspective or see if you were actually the one who was out of line.
Although this is often a healthy stress response, it can cause issues in a relationship when you triangulate other people into your marriage. Triangulations mean that you are putting another person between you and your partner in a way that takes away from your power as a couple.
If you tend to talk about your relationship with a friend, then that might be considered triangulation. It is extremely important in a marriage that you are able to honestly and effectively communicate with your spouse.
If you find yourself using community in a way that detracts from a possible connection with your partner, that could be a red flag.
4 steps to communicate and repair with your spouse
When you or your partner start to feel triggered or notice that the other person is entering into fight or flight, then it's important to call time out on the conversation. Most couples that continue to engage once they are emotionally overloaded will only make the situation worse.
Take a break, and then follow up with each other within 24 hours to start the repair process. It's important to do this relatively soon since unresolved issues will only fester with time.
There are four key steps for how to communicate better with your partner without fighting and repair your marriage after an argument:
1. Reset your nervous system
Couples cannot get well in a war zone. Relationships are built on the foundation of your parasympathetic nervous system, which is the counterbalance to your sympathetic system.
Feeling safe, secure, and calm allow you and your partner to nurture your marriage and let it grow to its full potential. Conflict is inevitable, but you have the ability to be proactive or repair to help heal along the way.
To avoid fighting with your spouse, practice communication exercises for couples.
Also, consider deep breathing exercises, gratitude journaling, mindfulness, yoga, or other exercises that can help you release the stress of an argument and rebalance. Improving your emotional resiliency will help both you as a couple and as an individual.
2. Own your mistake
Do not blame or judge your partner, as that will likely cause more conflict. Think of one or two things you could have done or said differently and fess up. This also creates empathy since you are showing your partner that you have at least some self-awareness that you hurt them.
You are also validating their experience, which is extremely valuable to helping them to soothe and calm down.
Related Reading

: 

10 Ways Blame-shifting in Relationship Harms It
3. Say what you should have done
When you state a behavioral change out loud, it makes it more likely that you will actually follow through. This has been proven repeatedly in research on addiction. If the person owns their addiction and then talks about making specific behavioral changes, they are more likely to be successful.
Creating a picture of what you should have done also gives your partner a more pleasant image in their mind than the previous one depicting the argument or conflict.
4. State the positive outcome of change
Finally, one healthy way to communicate is to share with your partner what the likely benefit would have been if you had handled the situation differently or if you were to in the future.
This is another important step because it creates an experience of positive reinforcement or reward, which again means you are more likely to follow through in the future.
Here's an example of what a repair might sound like:
"I'm sorry that I kept following you through the house when you told me you wanted space. I should have listened to your request and at least given you a few minutes to be alone. I think that would have helped you calm down, and then we could have discussed the situation later more effectively."
Takeaway
It's always important that both of you offer a repair in most cases. There are some situations where there is truly only one person at fault, but it is far more common that both of you have some ownership in the argument.
Remember, marriage is a dynamic that you both create together and are responsible for nurturing.
Share this article on
Want to have a happier, healthier marriage?
If you feel disconnected or frustrated about the state of your marriage but want to avoid separation and/or divorce, the marriage.com course meant for married couples is an excellent resource to help you overcome the most challenging aspects of being married.
Learn More On This Topic
You May Also Like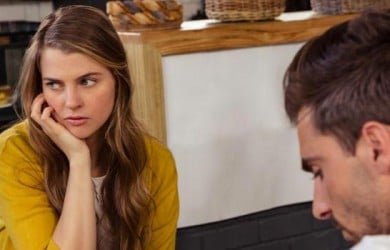 Popular Topics On Married Life