3 Signs That You Need to Change Your Spouse and Call It Quits
There are many times when you have doubts about your relationship, wondering if this person is actually 'the one' for you. Once you find out they are not, having to leave your marriage is a scary thought. There is always the fear of being left all alone with an unknown, scary future. As a result, many of us choose to settle for mediocrity and try to live through the pain. However, this should not be the case. None of us deserves to simply 'settle for it,' and there is always someone out there meant for us who will love us just the way we are.
It is not healthy for any of us to stay in a relationship where all love is lost, there is no way for it to continue and the future is blurred. Toxic relationships can affect one's mental and emotional health greatly. People in poor relationships are often seen to suffer from anxiety, depression, low self-esteem, and are more prone to illnesses. Therefore, it is necessary that you know when to say goodbye and start new.
Here are 3 signs that are sure to tell you that it is time to change your spouse
1. Lack of communication
Talking is said to be one of the best ways to remove misunderstandings and develop a better bond between any two people. Similarly, couples usually opt for talking it out when going through issues in their married life. Being able to express your opinion and hearing out your partner's perspective is a great way to resolve issues and usually, in the end, it turns out both of you more or less want the same thing but were just saying it differently!
But when the time comes when neither of you wishes to speak to each other and you also fight way less often, this is a clear indication that there is something definitely not right. Moreover, when there are times that despite being in the same room, both of you are busy doing your own thing rather than spending quality time with each other, it shows lack of connection. One more sign which is an indication that you need to change your spouse is the lack of physical intimacy. Physical affection is said to be what distinguishes marriage from friendship. If you find yourself in a relationship without sex, there is a really big red flag waiting to be noticed.
2. You imagine a happier life without your spouse
If you catch yourself daydreaming of a happy future and that too, without your spouse, this is a clear sign you're in a wrong relationship. It is normal to enjoy your own personal space and have your own dreams, but when it comes to making progress in life and making plans for the future that do not include your partner, this means you no longer wish to spend your life with this person. Your spouse needs to be a part of the future you imagine. If this is not the case, it is about time you realize that you are unhappy and unsatisfied with this relationship. You should either try fixing it or leave it for good because both of you deserve to be happy and be with the person you love.
3. You are no longer each other's priority
When getting married, both the man and the woman agree to make each other their top priority, to be present for each other, and to respect and support each other at all times. Losing this means both of you have lost interest. If you come across times when in need of talking to someone or wanting to share exciting news, you rather turn to your friends than your spouse, it is clear that you are not as happy in your marriage as you used to be. You begin to resent your partner for all the things you once loved them for.
Moreover, you choose to have your needs met outside your marriage. This includes the need to feel loved. You find interest in someone other than your husband or wife and end up on the verge of having an extramarital affair. This is something that mostly leads to disastrous ends and pesky fights with compromised emotional and mental well-being of both of you. Therefore, it is better to sit down with your spouse and talk about where your marriage is headed towards and part ways on mutual terms.
Final take away
Breaking a relationship you invested in for so long and with someone you once loved is never easy. It is going to be hard and requires a lot of courage. But love, respect, and trust are some of the most important things in a relationship. When this is lost, there is nothing left to hold on to in a relationship.
Share this article on
Want to have a happier, healthier marriage?
If you feel disconnected or frustrated about the state of your marriage but want to avoid separation and/or divorce, the marriage.com course meant for married couples is an excellent resource to help you overcome the most challenging aspects of being married.
More On This Topic
You May Also Like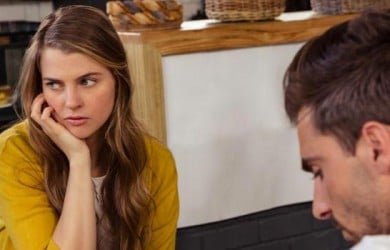 Popular Topics On Married Life