6 Easy Steps to Inspire Your Spouse to Change for Better
There is a school of thought that expresses that you shouldn't want to change your spouse or your life partner. Instead, you should love them just the way that they are in order to sustain a happy marriage. And while it is true, you shouldn't feel the need to change your spouse completely, since it is also a somewhat idealistic notion. There are occasions when a change in you or your spouse is necessary and in some situations very much needed for the sake of your marriage.
If you and your spouse have committed to a lifetime and many many years together, there are going to be aspects, patterns or behaviors that your spouse may have that will cause you to want to change your spouse.
But how do you change your spouse in an encouraging and empowering way? So that your spouse doesn't feel as though they have to change to be good enough for you, so that they don't feel nagged, or that they are disappointing you in some way? And how do you assess your need for change so that you can understand that this need for change is coming from the right perspective. So that you can encourage positive developments free from critical, controlling or entitled perspective ideals?
The secret to changing your spouse is that your spouse must want to change, and they must not feel coerced or forced into doing something they don't want to do. If you can manage to achieve this ideal situation you create a win-win scenario that will delight and serve both of you.
Here are some steps to help you inspire change in your spouse
1. Make a list
List the behaviors that your partner has, that frustrate or annoy you and then prioritize them. If you have a lot of small situations try to put them into categories, and then select the biggest or most frustrating problem. Consider which issues have the best chance of your partner responding to that have the highest impact upon your discomfort where possible. And plan to discuss this one problem. Parking all of the other issues for another day.
2. Describe the problem
Clearly and factually describe the problem. Explain what they do, how it affects you or your children from a practical perspective and how they can correct the situation.
3. Describe your reaction
Explain why it is a problem for you from an emotional standpoint, for example; calmly explain how you interpret this pattern emotionally and how it makes you feel. Also, explain how you react, for instance, if something that your spouse does, makes you think that they are inconsiderate and unsupportive, you might start to become aloof with them and withhold affection. Explain these outcomes to your spouse so that they can see that by changing a small behavior, they will solve some of the problems that they might also be experiencing in your relationship.
4. Be patient and understanding
Explain to your spouse why you think that would be hard for them to change the undesired behavior. So that they know that you can see the problem from their perspective too and that you appreciate that they are listening to you, considering change and are willing to compromise.
5. Gain commitment from your spouse
Ask your spouse if they are willing to make the change you're requesting. They might like to negotiate different terms, or motivators instead. If they do want to make some changes take the time to consider whether they are agreeable to you, or whether it's going to make the problem worse and decide whether you want to make such a compromise.
6. Investigate further
Excellent communication is at the heart of every successful marriage, so it makes sense to take the time out to find out why your spouse responded in the way that they did to your request; even if they said no.
Knowing why they said yes, will help you to learn more about what is important to them, what motivates them, what style of communication works and what doesn't. So that the next time you need to change your spouse or re-approach the same topic again, you'll know how to engage your spouse positively, so that they will hear your request and work with you on a positive outcome for both of you.
7. If they said no
Sometimes people don't respond well to requests; they need time to consider their actions and recognize themselves why they have said no. If the answer is no, for now, remain calm. Remind your spouse of the consequences of their decision; i.e., how you think, act and feel when this situation occurs, and how it affects you as a couple and how things could change if they could do this – then drop it. Keep it on your list for future use.
Final thought
Your calm reaction should invoke your spouse to reflect on his or her decision and maybe reconsider or be open for further discussions in the future. Changing your spouse does not have to end up in tears, a raging argument or months of nagging and eye rolls. If approached constructively and fairly, eventually your spouse will learn that this issue is important to you and might just one day change as if by magic … as if it was their own idea to do so.
Share this article on
Want to have a happier, healthier marriage?
If you feel disconnected or frustrated about the state of your marriage but want to avoid separation and/or divorce, the marriage.com course meant for married couples is an excellent resource to help you overcome the most challenging aspects of being married.
More On This Topic
You May Also Like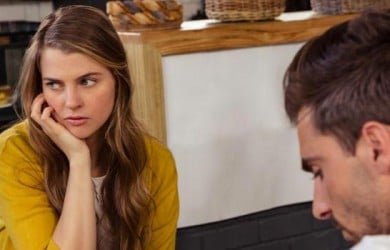 Popular Topics On Married Life