Develop 'Gratitude Is the Parent of All Virtues' Attitude in Your Child
"No act of kindness, no matter how small, is ever wasted"
–
Aesop
, The Lion, and the mouse.
Let's begin by citing the example of the famous story of 'King Midas and the Golden Touch' here –
"King Midas wished that everything he touched would turn into gold as he believed he can never have too much gold. He never thought that his blessing was actually a curse until his food, water, even his daughter turned into a golden statue.
Only after King got rid of his curse, he cherished his wonderful treasure of life, even small ones like water, apple and bread and butter. He became generous and thankful for all the good things life has to offer."
Moral of the story
Like King Midas, we never appreciate things that we have been blessed with, but always grumble and complain about things we don't have.
Some parents are often worried that their kids never appreciate/ value things in their lives and are always unthankful.
Research reveals that thankful kids (even adults) are more physically, mentally and socially active. They sleep better, enjoy their studies and other extracurricular/ co-curricular activities.
In fact, such kids are more successful in whatever fields they are associating with in their lives. Also, the same feeling of gratitude towards little things in life helps in building a stronger immune system, high level of positive emotions, optimism and happiness.
Developing an attitude of gratitude is a tough but achievable task.
Here are a few tips on how you can develop gratitude among your kids –
1. Maintain family diary
Penning down personal thoughts in the form of journal every day is the favorite hobby for many. You can also implement the same practice in your family.
Each one of you can write at least one thing we are grateful of. If your kids are small and can't write for themselves, you ask them (if they can answer) or you think and write on their behalf.
2. Compose gratitude letter
Push them to write a gratitude letter addressing the person who has influenced them in a positive way.
It can be their teachers, peers, grandparents or any community helpers.
Teach them how volunteering/ donating to help others promote our well-being. Make them see how helping others will help them in many ways, and most importantly, bring them immense joy.
4. Teach them to appreciate
You can start this parenting journey by teaching them how to appreciate every small thing in life.
Don't wait for big happiness to practice gratitude.
5. Tutor them to find positivity in every situation
Life isn't simple, accept it.
Sometimes finding positive experiences in a different situation can be easier said than done. Tutor them to find positives in every negative situation and be thankful for the lessons they have learned in life.
6. Exercise
Chalk out a one month plan to develop the feeling of gratitude in you child.
Start a daily Gratitude ritual with your child by thanking good things that happened in your life or even throughout the day before going to bed, after waking up in the morning or starting your meal.
It can be as small as thanking for a beautiful morning, good food, a healthy life, good sleep, beautiful moonlight, etc.
This practice will surely help the kids to change their outlook on life. They will feel more content, connected and look at the glass half full. Also, it will teach them to cultivate a sense of appreciation for the things we love.
Pray together, eat together
"A family that eats together, pray together, play together, stay together"– Niecy Nash.
Families that 'Pray together, eat together, stay together' is just more than a saying. Study says eating out in USA has become more of an everyday activity. Millennials spend 44% of food dollars on eating out.
A scary and alarming situation!
Data further confirms that 72% of Americans visit a quick-service restaurant for lunch frequently. So, the whole concept of families that eat together, stay together is long gone in the cold storage.
In addition to this, do we ever wonder why our stress level is always high?
One of the reasons is because we don't realize the significance of eating a meal with our family or praying together which is proven stress relievers. Families must ideally try to pray and eat together at least five-six times a week.
If you find it difficult to discover any motivation for family meals and prayers, here is your inspiration.
These are a few proven benefits from research studies of praying and eating together as a family –
Both provide an opportunity to practice gratitude which cultivates positive emotions and thoughts.

It supports unity, deeper intimacy, provides security, and divine protection among family members' especially children who feel loved, safe, and stay secured.

Parents can teach their children the significance of family values and traditions.

Kids feel accepted among their family members and are less likely to be depressed.
There are other benefits of dining with your family.
Benefits of eating at home
Family meals include nutrient-rich food which provides comprehensive nutrient to the children. Such nutrients help them to grow strong and healthy, both mentally and physically.
Further, home-made food reduces the chances of children to gain extra weight since the food that they are consuming is healthy.
Moreover, teens who participate in family prayers meals are less likely to use alcohol, drugs, tobacco or cigarette.
In a nutshell, children learn to listen to others, obey their elders, respect them, share their daily routine, serve, help, practice gratitude, solve their conflicts, and so on.
Tip: – Do involve your kids of any age in planning a day's meal, preparing a meal and even post-meal cleanup!
Share this article on
Want to have a happier, healthier marriage?
If you feel disconnected or frustrated about the state of your marriage but want to avoid separation and/or divorce, the marriage.com course meant for married couples is an excellent resource to help you overcome the most challenging aspects of being married.
More On This Topic
You May Also Like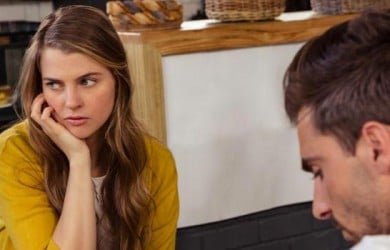 Popular Topics On Married Life