The Reality of Emotional Boundaries in a Relationship
People have a lot of misconceptions about what boundaries are and what they do for relationships. They are often thought of as a bad thing or simply unnecessary in a romantic relationship. Isn't our partner supposed to act on our needs and wants? Isn't that a part of a perfect relationship? Don't they ruin the relationship? Studies have shown that many couples assume having that having boundaries means not having loving feelings towards their partner.
Healthy emotional boundaries are crucial in helping us to enjoy a happy and long-term relationship. Setting emotional boundaries in relationships allows both partners to feel comfortable, develop positive esteem and reduce anxiety, depression, and stress.
Types of boundaries
Boundaries set in a relationship are your own invisible force field, and you are in charge of protecting it. Boundaries may include physical boundaries and emotional boundaries. Physical boundaries involve your personal space, body and a sense of privacy. Emotional boundaries mean setting your feelings from another's feelings.
What are emotional boundaries?
Emotional or most commonly said personal boundaries are limits we set in a relationship that helps us to protect ourselves from being manipulated by.
Similarly, defining emotional boundaries in marriages is a process of determining what behavior you will accept from others or what you will not. A successful relationship is all about two individuals having a clearly defined sense of her or his own identity.
Healthy emotional boundaries
Having boundaries means honoring ourselves as a separate individual, and without them, we allow others to override our own feelings and desires. They help certain benefits:
Healthy emotional boundaries allow us to rejoice in our own uniqueness.

These intact boundaries are flexible and allow us to get close to others when it's appropriate.

They help to maintain our distance when we might be harmed by getting too close.

Good boundaries specifically protect us from becoming engulfed in abusive relationships.

Most importantly, they allow us to take care of ourselves and if we can receive it, to respect the selves of others.
Boundaries that don't work
Boundaries with the words 'always,' 'never' or any other absolute language often fails. Such boundaries are usually unrealistic and thus don't last. Many partners don't even talk about their boundaries and expect their partner just to know them. Therefore, a lack of communication creates confusion and can hurt your relationship in the long run.
Unhealthy boundaries are generally a result of being raised in dysfunctional families. In such families, maturation and the individual process are not properly understood, nor the child respected as an individual. They are often characterized by a weak sense of your own identity. Thus, it leads you down the road to relying on your partner for happiness and even decision making responsibilities.
Boundary traps
Meanwhile, you need to be aware of boundary traps in a relationship. In order to know how to set emotional boundaries, you need to start from recognizing the common boundary traps you fall in. Some of the following scenarios may seem familiar:
My identity comes from my partner, and I am nobody if I'm not in a relationship.

This is way better than the last relationship I was in.

The relationship might get better if I just give it more time.

My partner would be lost without me.
Setting emotional boundaries
Healthy boundaries involve everything from knowing and affirming what is important to us to speaking up when you think you are being disrespected. Additionally, it includes advocating for yourself to have time for your own interests. Following are ways to help you get started setting emotional boundaries with your partner in a relationship.
Be self-aware
The first step in setting any boundary is undoubtedly self-knowledge. It is important to know what you like or dislike and what makes you comfortable versus what scares you.
Without your own knowledge, it would be quite difficult to engage in the process of an ongoing relationship in a way that is functional.
Never assume your partner's feelings
Making assumptions about your partner's feelings can create a lot of misunderstandings in a relationship. You may think you are familiar with your partner very well. But it is always best to ask their wants and needs rather than assume.
Be specific and clear
It is crucial to follow through on what you say because it seems easier said than done. Setting boundaries and then not being able to execute them lets your partner think they have an excuse to continue to overstep your boundaries.
It better not to make any exceptions to your own boundaries or soon you will find yourself on compromising things that aren't acceptable to you.
Try a sandwich approach
This includes compliment and criticism. You can start a discussion with a compliment which prevents your partner from getting defensive.
Be clear about your love
You need to be clear about your love while being clear about your boundaries. When couples are clear about the rules, goals, and expectations, the relationship can be stable.
Share this article on
Want to have a happier, healthier marriage?
If you feel disconnected or frustrated about the state of your marriage but want to avoid separation and/or divorce, the marriage.com course meant for married couples is an excellent resource to help you overcome the most challenging aspects of being married.
More On This Topic
You May Also Like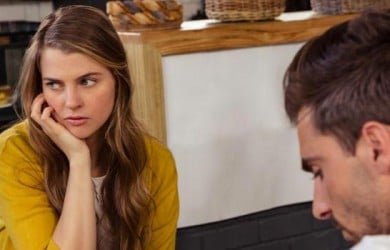 Popular Topics On Married Life