6 Tips for Surviving Separation
Marriages naturally ebb and flow; it is that one aspect that seemingly comes with the territory.
The hard truth of the matter is, although marriages experience good seasons, rough seasons will inevitably arise.
Unfortunately, sometimes the rough seasons linger a little too long, and when these seasons persist, a marriage may find itself at a crossroad, and separation may present itself at that point.
Surviving a marriage separation can be hard to navigate, but with these guidelines and surviving separation advice within the article, I hope it will help bring some ease to your circumstances.
1. Set clear expectations
When a couple has decided on moving forward with separation, it is extremely vital to communicate exactly what that means and what that looks like for both spouses.
To handle the separation of marriage, you must determine the ground rules, such as whether or not dating other people is permitted (I strongly suggest avoiding this until a concrete decision has been made for your marriage).
How often you two expect to communicate with one another, financial responsibilities and etc.
Ultimately, when coping with separation, address all areas that can help maintain trust and not further threaten the marriage. Boundaries also highly coincide with establishing reasonable and clear expectations.
2. Communicate the goal
When the decision has been made to separate, it is important to communicate the end goal of the separation. Most believe that separation is a means to an end; however, that is not always the case.
Separation may come about for the purpose of reassessing the marriage. When a marriage has hit a point of separation, it could very well be as a result of a change in dynamics or something somewhere has been broken.
With that, a spouse or both spouses may need to take a minute to step outside of the marriage to assess whether or not things can be restored, and if both parties want to consider doing so.
Another perspective, couples may decide to get separated for the purpose of working on themselves with the intention to also work towards rebuilding their marriage.
This may consist of individual counseling, taking time to enjoy the things you love, and giving yourself the love you need, but also giving dedicated time to the marital resolve, maybe through marital counseling.
Whatever the reasons for separating, be sure to communicate the true intentions of the marriage for surviving separation.
Also watch:

3. Set a realistic timeframe
There are various reasons why couples decide to be separated, but regardless of that reason, an end time must be indicated.
At times the reason for the separation may be the determining factor of the actual timeframe, but it is not healthy to drag out a separation no matter the end goal.
I have seen and experienced a separation that went on far too long. This is not a just "winging it" situation; separation is a serious matter and requires much understanding of how long it will last.
So, how to deal with separation? And what to do for surviving separation?
For starters, flesh out every possible idea, feeling, and thought in order to come to an agreement that works for both you and your spouse.
If you want to enlist a third party to assist with this process, I suggest proceeding with such.
A supported third party may consist of a therapist, a trusted individual from church (i.e., pastor), mediator, and, if necessary, a lawyer.
4. Self-care
Personally speaking, surviving separation is difficult, and some days, you may not know how you are going to continue on, but you will! Make time for yourself and give yourself the grace you need to endure each day.
There will be moments when you are sad, and it may come upon you suddenly, but when it happens, give yourself permission to feel it. Work through every emotion and consider counseling to assist with ways to cope.
For surviving separation, indulge in self-care, be sure to eat healthy, exercise when you can, surround yourself with supportive people, and engage in activities that bring you peace and joy.
5. Know your options
If it has been decided for the marriage to be dissolved, do your research to gain an understanding of what your options are.
It may be time to consider a legal separation rather than an informal agreement or trial separation if that is what was in place.
Discuss with your spouse the most viable and respectful way to proceed. Seek mediation if necessary and consult with a qualified legal representative to provide you with advice and insight regarding your legal separation and/or divorce.
6. Be open with your children
If you have children, to help them cope with the separation, you should provide them with a clear understanding as it relates to the nature of your present circumstance.
However, keep in mind the age and level of maturity when presenting them with information as this will determine the amount of the details you will share.
Younger children will need to be provided with a sense of security, knowing that their physical and emotional needs will still be met and that life will continue on as normal as possible.
Be prepared to answer any questions, to be a listening ear, and to provide as much comfort as they need during this time.
Further, I caution parents on involving children in any conflict. Children should never be privy to any adult conversations about marriage and do not speak negatively about one another to your children or in front of them.
Surviving separation can be very exasperating; however, if you are committed to improving yourself, then you would definitely find a way.
Share this article on
Want to have a happier, healthier marriage?
If you feel disconnected or frustrated about the state of your marriage but want to avoid separation and/or divorce, the marriage.com course meant for married couples is an excellent resource to help you overcome the most challenging aspects of being married.
More On This Topic
You May Also Like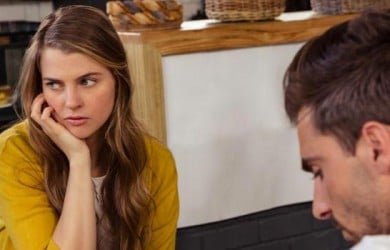 Popular Topics On Married Life