How to Help a Friend Through a Breakup: 15 Ways
Words are powerful and can help heal or cause harm. It's impossible to change something that has already happened, but you can uplift a mood and change a life by saying the right words.
Going through a breakup is a confusing and vulnerable time for everybody. But, you don't have to helplessly watch your friend going through a breakup because you don't know how to comfort them. With the right words and genuine feelings, you can help ease their pain.
Now, let's jump to the main purpose of this article, how to help a friend through a breakup?
Related Reading: 

What to Do After a Breakup?
What should I say to a friend who is going through a breakup?
Seeing your friend heartbroken can be difficult, especially if you don't know what to say to a friend going through a breakup. Certain words lift the spirit of your friend, and the words to say to a friend after a breakup include
You're not going through this alone; I am here for you

This experience doesn't define you, nor does it reflect on you in any way

It's okay if you're still hurting, don't rush the recovery process

There is no right way to grieve; I'm here for you, whatever you need to get better

If you feel like texting your ex, text me instead.
However, there are some things you shouldn't say to someone going through a heartbreak, and they include
You need to put yourself out there and

start dating

or have a rebound

You will fall in love again soon and forget all about your ex

I understand what you're going through, but I got over mine and met someone really good. It will soon be your turn

Breaking up isn't such a bad thing; enjoy your single life. You will be much happier single

There is no need to cry over spilled milk. Stop thinking of your ex and move on.
Related Reading:

  

25 Ways on How to Accept A Breakup And Finally Move On
15 ways to help a friend through a breakup
How do I comfort my friend after a breakup? Breakups are messy, and this is the time a friend will need you more. However, you don't have to be caught unaware but know how to support a friend going through a breakup. So do you want to know how to help a friend through a breakup? Then, keep reading.
1. Listen
Helping a friend through a breakup entails listening to them.
Irrespective of how long your friend was in the relationship, they will likely want to talk about their feelings after a breakup. Your role to play as a friend is the listener.
At this stage, your friend doesn't need your advice but somebody to listen to them.
Related Reading: 

 4 Tips to Be a Better Listener in a Relationship- Why It Matters
2. Be empathetic
How to comfort a friend after a breakup is not difficult if you know the right steps to take.
A true friendship extends beyond being available during the good times and the bad times. So don't get tired of listening to your friends even if they say the same story repeatedly. They are just trying to work through their feelings.
Instead, be empathetic and allow them to vent out their feelings.
3. Remind them they aren't at fault
After a breakup, most people are likely to blame themselves and feel like they could have done something differently. So remind your friend constantly that the breakup wasn't their fault.
A failed relationship can't be one person's fault; after all, it takes two to make a relationship work. Remind them that they didn't set themselves up for failure and can't put the blame on themselves.
4. Phrase your words appropriately
Be careful of what you say when comforting a friend after a breakup. Instead, be sympathetic with your words, and don't force them to go out and start dating again. Also, don't tell them there are many people out there, and they shouldn't cry over spilled milk.
This is a very sensitive time for them, and they don't need empty words but compassionate words.
Related Reading: 

 How to Get Over a Breakup: 25 Ways to Move On
5. Engage your friend
You aren't there only to listen but engage your friend in the conversation. Consoling a friend after a breakup is more than lending a listening ear. Don't let them feel like they are talking to a brick wall but ask questions and comfort them during the conversations.
The aim is to make your friend feel understood. For instance,
Acknowledge what your friend is going through

Do not downplay their feelings but validate them.
6. It is about them, not you
Do not make their breakup about you by comparing the situation to your previous breakup. Do not assume you know what they are going through because you have been there before. People react to situations differently.
Also, your friend might feel like you're stealing their thunder by making their situation about you.
Related Reading: 

 How to Deal With a Breakup: 15 Ways to Cope Up
7. Ask them how you can help
How you will need to be comforted while going through a breakup can be different from your friend's. So, you should offer practical help. You can start by asking, "How can I help?"
Your friend might need their space or need a listening ear. They might also need you to block their ex or prevent them from texting their ex. A study published in the journal Proceedings of the Association for Computing Machinery stated that moving on is challenging if you constantly see ex-related content on social media.
8. Don't insult your friend's ex
You don't have to insult your friend's ex to comfort them. Your purpose is to comfort your friend, and you mustn't do this at the expense of their ex.
Insulting the ex can also invalidate your friend's relationship, which isn't advisable.
9. Let them have quality alone time
Spending quality time alone is beneficial as it helps refresh a person's mental and physical well-being. Advise your friend to spend some time alone to consider the next move and reflect on their decisions.
Although it's beneficial to speak to someone about your problems and seek advice, the choice is yours alone. When surrounded by different opinions, it's hard to distinguish what you want from other people's views.
10. Take them out
Do you want to know how to make your friend feel better after a breakup? Then suggest they go out.
Don't allow them to be cooped up in their house for months. Instead, ask them out for the occasional night-outs or even a trip. This is also a good way to distract them from thinking about their ex.
A night out doesn't mean getting overly drunk or searching for a rebound. Instead, it can simply entail hanging out with friends over wine and laughter.
Related Reading:

 Healing Relationships After Breaking Up And Making Up
11. Allow your friend to grieve
Everybody's grieving process is different, and interrupting your friend's process is counter-productive. Also, don't tell them how long they can grieve or give them a timeline.
Just be present when they need you and accept that your friend needs to go through their breakup on their terms.
Watch this video to learn more about how to grieve the end of a relationship to help you guide your friend through the grieving process.
12. Let your friend vent
Don't discourage your friend from expressing their anger. But, on the other hand, encourage them to let it all out.
Suppressing their anger may be unhealthy and might make it difficult for them to move on.
13. Don't advise them to rush into another relationship
After a breakup, they should heal before entering another relationship. Do not persuade them to get a rebound to cope with their hurt.
Advise them to take things slowly and carve out time for themselves to recover.
14. Surprise them
How to help a friend through a breakup is by surprising them with gifts and chocolate or whatever they like to brighten up their day. Even visiting randomly to check up on them will make them feel less alone and hopeful.
Related Reading: 

10 Ways to Thrill and Surprise Your Special Someone
15. Suggest therapy
If you realize you aren't in the right position to help your friend, then advise them to go to therapy.
A therapist can give your friend new perspectives on their situation, guide them through their feelings, and help them recover.
Do's and don'ts for comforting a friend post-breakup
When providing support for a friend going through a breakup, there are certain ways to go about it to ensure your actions have a positive impact on the friend.
What not to do
Don't assume you know what your friends need in this vulnerable time because you have been through a breakup before.
Or assume you have the perfect advice for a friend going through a breakup. Every breakup and the toll it takes on the individual varies.
So, you should ask your friend what they need and don't give unsolicited advice.
Don't depend on alcohol and other substances
Sharing a bottle of wine and allowing your friend to cry it out is not wrong. It is recommended. But constantly bringing alcohol or drugs into the equation to numb your friend's pain can have untold consequences.
This won't let them process their feelings the right way and might cause them to be dependent on the drugs.
Related Reading: 

The Only 6 Post Breakup Advice You Need
What to do
How to help a friend through a breakup is by respecting your friend's boundaries and following their lead. Don't force them to talk if they aren't ready to. Instead, provide emotional support and ask them what you can do to help.
Lend a listening ear whenever they need it and do not judge them. Don't rush them to overcome their heartbreak nor force your views on them.
The takeaway
Breakups are painful for everyone involved, but instead of watching your friend hurt, you can ease their pain by providing some comforting words.
How to help a friend through a breakup is not challenging if you know the steps to take. Depend on the tips above to put a smile on your friend's face.
Share this article on
Want to have a happier, healthier marriage?
If you feel disconnected or frustrated about the state of your marriage but want to avoid separation and/or divorce, the marriage.com course meant for married couples is an excellent resource to help you overcome the most challenging aspects of being married.
You May Also Like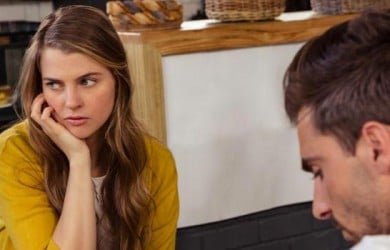 Popular Topics On Married Life