How to Cherish Your Spouse: 10 Ways
Cherishing your spouse might be overlooked in many marriages, not necessarily because we are unappreciative people who don't cherish those close to us but because we sometimes get so caught up with the day-to-day life that we forget to cherish our spouse.
If you want to understand how to cherish your spouse, read on.
But cherishing your spouse and ensuring that your spouse 'feels' cherished can take a marriage from average to magical, and that too with minimal effort. The rewards for yourself and your spouse are high, and cherishing your spouse is a great lesson to teach your children too.
What does it mean to cherish your partner?
If you are wondering what does 'cherish' mean, the word "cherish" is described as protecting and caring for someone lovingly. This is the literal meaning of cherish.
Saying "I love you" in a relationship or marriage is fine, but your actions make someone feel loved. Cherishing someone can be understood as validating the love you say you have for your spouse.
Therefore, the smallest things, such as helping them with chores or caring for them when they are sick, could say that you cherish your wife, husband, or partner. Watch this video to understand what it means to cherish your husband, wife, or partner.
10 ways to cherish your spouse
So now you know how to deal with making the changes to cherish your spouse. Finding ways to cherish your spouse can be a little challenging, so here are some ways on how to love and to cherish your spouse.
1. Make them feel heard
Listen to your spouse and hear them. Reflect that you acknowledge what they are saying and stay on their side in public.
When your spouse tells you something or voices a concern, make sure you acknowledge and act on it. Feeling heard is a big part of feeling appreciated and cherished in a relationship.
Related Reading :- How to Be an Active Listener in Your Marriage
2. Public display of affection
While some people are not big on it, a few gestures that show your affection and love for your spouse in public will be appreciated.
Show your spouse affection and care in public or when they are least expecting.
3. Cherish their efforts
Acknowledge your spouse's efforts toward your married life and attempt to alleviate them in some way.
Taking over preparing dinner one evening or cooking a nice breakfast every Sunday are examples of how you can help your spouse and make them feel cherished.
4. Take updates
Something as simple as taking updates or checking in on them can make your spouse feel cherished.
Remember to ask your spouse how their day was and pay attention to their answer. Something as simple as stopping what you are doing and looking at them when they are talking to you can make a huge difference.
5. Spend quality time
Spending time with each other is important. However, as a married couple, since you live together and do most things together, you may assume that you spend all your time together.
But what part of this time qualifies as 'quality time?' Try to get some alone time to be together – not doing chores, or just sitting next to each other while you play a movie. Spend time doing things you both enjoy or talk.
6. Compliment them
Simple compliments such as "You look nice today" or "You smell so good!" can make your partner feel cherished. Tell your spouse what you appreciate about them regularly.
7. Help them
To cherish someone can mean helping them when you have a packed schedule.
Something as simple as helping your spouse with something can make them feel appreciated and cherished. Ask your spouse, 'what can I do for you today?' you can help them clean the dishes or put away some stuff for donation. Simple things can go a long way.
8. Respect your differences
Being married does not mean seeing eye to eye on everything. It is perfectly alright if you and your spouse have different opinions or stands. One way to make each other feel cherished is to respect those differences.
9. Do not try to change them
We want the best for the people we love. However, sometimes, in our quest to make them the best version of themselves, we might try to change them in ways they are not ready for or do not want to.
One of the ways on how to cherish your spouse is to understand this and not try to change them. To cherish your loved ones means to accept them for who they are.
Related Reading :- 

Here's Why You Shouldn't Try to Change Your Partner
10. Be sensitive to their needs
Each one of us has needs in a relationship. Something that may not be as important to you may hold much value for your spouse. Ensure you are sensitive to their needs and love them how they need to be loved.
Difference between cherishing your spouse vs. making them feel cherished
When learning to cherish your spouse, an often overlooked factor is that, ideally, you want your spouse to feel cherished.
Sure, the fact that you cherish your spouse even if your spouse doesn't realize it is one thing, and a good thing at that. But finding ways to make sure your spouse knows you are cherishing them will take your marriage to a whole new level!
Make cherishing your spouse a habit
Making the act of cherishing your spouse a habit is going to require effort when you are learning how to cherish your spouse. Daily life will often get in the way and cause you to lose focus if you are not careful.
Start small, and don't try to switch up everything in your relationship immediately – you'll soon become overwhelmed or frustrated if you do.
Think of just one way that you could cherish your spouse to get started and implement that. Just make sure it's one that they will recognize or appreciate.
Your spouse's surprise when you start cherishing your spouse
Another factor to consider when learning how to cherish your spouse is that when you start to change your ways and demonstrate your love, affection, and care for your spouse more explicitly, your spouse might start to wonder what is going on, even becoming concerned that you are feeling guilty or something.
The best way to deal with this situation is to communicate to your spouse that you love them and that you could do more to make them feel cherished.
Let your spouse know that things are going to change and that they are going to enjoy it.
The takeaway
It might seem a little one-sided, especially if you feel you could benefit from being cherished too.
But the chances are, by taking these actions, you'll inspire your spouse to follow your lead and steer your marriage into new waters where both mutually cherish each other.
Share this article on
Want to have a happier, healthier marriage?
If you feel disconnected or frustrated about the state of your marriage but want to avoid separation and/or divorce, the marriage.com course meant for married couples is an excellent resource to help you overcome the most challenging aspects of being married.
More On This Topic
You May Also Like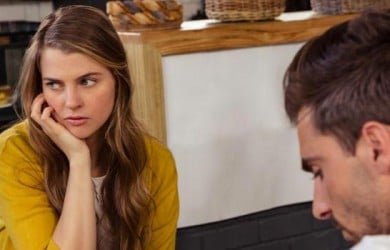 Popular Topics On Married Life