25 Ways on How to Accept A Breakup And Finally Move On
Telling someone to get over it and move on is easy.
Unfortunately, when you are on the side of the breakup, accepting a breakup and moving on with your life isn't that easy.
Of course, we all want to move on, but learning how to accept a breakup will take more than just realization.
Why is it so painful to accept a breakup?
Accepting a breakup and moving on is easier said than done.
If you are struggling with a breakup, you're not alone. The reason why we call it a broken heart is because of the pain we feel.
That pain you feel is not your imagination because it's real, and there's a
scientific reason.
Based on some studies, our bodies respond to a breakup the same way it does when it feels physical pain.
There can be many reasons why accepting that a relationship is over is so painful.
Whether your partner cheated, fell out of love, or just wanted to leave the relationship, the fact that you will feel rejected will hurt. We also want to know "what went wrong" in the relationship.
The sudden change in your life will also contribute to the hurt. Don't forget that you spent time, love, and effort, and like an investment, everything is gone.
Moving past a breakup is hard, but you have to deal with it. Now, the question is, for how long?
How long does it take to accept that it's over?
"I want to learn how to accept a breakup and move on. How long will I suffer this heartbreak?"
That's one of the most common questions about learning how to accept a breakup that you didn't want.
You may have heard that it takes around three months or it depends on how long you have been together, but the truth is, there is no timeframe.
Each relationship is different. Some have been married, some have kids, and some have spent decades together. Each love story that ends is different, and so are the people involved.
It means that the time to recover from a breakup depends on the person involved.
You will heal at your own pace and at the right time.
There can be factors to help you recover sooner. The reality is, accepting it's over and deciding to move on will depend on you.
Related Reading: 

How to Get Over a Breakup: 25 Ways to Move On
How should you react to a breakup?
"If we breakup, I want to know how to accept a breakup gracefully."
Most of us want to prepare ourselves, just in case. We all want to be someone who knows their worth and brushes the person who dumped us.
But the truth is, moving on after a breakup is hard. The break up itself, especially when it's a breakup that you didn't want, will hurt – a lot.
So, how do you react when your partner decides to end your relationship?
Here are some steps that will help.
Know that you will be okay

Breathe and remain composed

Respect your partner's decision

Try not to say too much

Don't beg

Say goodbye and leave
You have to react maturely, even if you're breaking inside. Don't cry and beg. It won't work, and you will regret it.
Stay calm and respect your ex's decision. This is hard, especially if your ex caught you off guard and you didn't have any idea that your partner would end your relationship.
Still, try.
There will be many ways how to accept a breakup you didn't want, and we'll get to that later.
Remember to keep your composure and end the conversation as soon as possible.
Learning the stages of breakup?
Before you try and understand how to accept a breakup, you will first understand and be familiar with its stages.
Why is this important?
You want to familiarize yourself with the stages that you will go through. If you know the stages of a breakup, it would be less likely that your emotions could get the better of you.
By knowing the stages of a breakup, you will understand the emotions you're going through, and you will know what steps to take.
What's the hardest part of a breakup?
What's the hardest part of breaking up with someone you love?
Is it the realization that you have the person you love who doesn't love you anymore? Or is it that you have invested so much only to lose everything?
Depending on the story behind the breakup, the answer may differ.
But most of us would agree that acceptance is one of the hardest stages of breaking up.
Most people will try to fix it, blame who's at fault, or be angry, but facing the reality that you're all alone, is one of the heart-wrenching parts of letting go.
25 Ways to finally accept a breakup you didn't plan and move on
It happened. You broke up, now what?
It's time to learn how to cope with a breakup you don't want, but where do you start?
Accepting it's over, but these 25 tips on how to accept a breakup could help:
1. Recognize the loss
One way on how to cope with a breakup you don't want is to recognize the loss. You have to allow yourself to recognize that you've lost someone important to you.
You loved this person, and it's normal to feel sad because you lost someone you love. A breakup you didn't plan would hit harder because you didn't expect the loss.
2. Feel the emotions
Once you start recognizing the loss, expect to feel different emotions. You will feel one or all of these feelings, such as confusion, sadness, anger, nervousness, pain, etc.
Allow yourself to feel all of these emotions. Why?
As you allow yourself to feel all these emotions, you are slowly learning how to move on from a breakup.
3. Allow yourself to grief
Remember, if you block every emotion from your breakup, you're not facing the problem. You're burying the pain deep inside. It would take time until you can no longer handle that heavy weight on your chest.
Don't do this to yourself. Allow yourself to grieve because you've lost someone important.
You loved this person, and you didn't want to part ways. Cry if you need to.
4. Validate your feelings
"I'm heartbroken. It hurts so much."
Close your eyes, and breathe. Yes. It does hurt – a lot.
Anyone who has the same heartbreak will understand. Now, comfort yourself. Start practicing self-compassion. If this happened to a friend, what would you tell your friend?
Listen to what your heart has to say.
Related Reading: 

Why Emotional Validation Is so Important for Couples in a Relationship
5. Practice self-love and compassion
This is the time to practice self-love and self-compassion.
Know that you deserve and don't let anyone devaluate you. Love yourself and spend your energy, time, and effort to be better. Try to notice how you talk about yourself and to yourself.
Sometimes, we may not be aware of it, but we're already too hard on ourselves.
Be compassionate with yourself, just like how you are with a friend or family member. If you can give love and compassion to other people, you can do it for yourself.
Also Try: Quiz: 

Are You Self Compassionate?
Andrea Schulman, an LOA coach, will teach us about self-love and 3 easy self-love exercises.
6. Talk to a therapist
It's already hard to accept heartbreak, but what if there was also abuse?
If you need additional help from the trauma, you may go to a licensed therapist. This professional can help you how to accept a breakup, move on, and rebuild yourself.
7. Start accepting
Learn how to accept heartbreak by seeing the present.
It's okay to cry and feel all the emotions. Once that's done, start accepting reality. Accept that you're on your own now and that you will now do everything to move on.
You may start slowly, but that's okay.
8. Ask for support from trusted people
Even if you have accepted the truth and started to move on, there will be times when you want someone to be there for you.
This moment calls for your trusted family and friends. Talk to them, and your burden will ease.
9. Clean your home
Did you know that one of the proven steps on moving on after a breakup is cleaning your home?
It's therapeutic and gives you the chance to remove your ex's things and every memory of him. It's important to make sure that you have different boxes where you can donate, throw, or return your ex's things.
10. Don't keep your ex's things
You might have the urge to keep those old photos, gifts, letters, or all the things that you deeply treasure – don't do it.
Keeping those things will only mean that you are still hoping to fix your relationship. You're still keeping the memories and holding on.
Remember, to move forward – you need to start with a clean slate.
11. Try journaling
There will be times when you want to put your feelings into words. Journaling is another therapeutic way to validate what you're feeling and start showing self-compassion.
You can list all the worries and questions you have, then on the next page, talk to yourself like you're talking to a broken-hearted friend. Invest in journaling kits and see how much it helps.
12. Start deleting
Check your phone, hard drive, and social media.
Delete all photos, chats, videos, anything that will make it more painful for you. It's a part of moving on.
Understandably, it's hard to let go, but know that this is how to accept a breakup. If you don't do this, you're giving yourself false hope by keeping your ex's memories close.
13. Unfollow and don't look back
Go to your ex's social media profiles and unfriend or unfollow. It doesn't mean you're bitter–not at all.
It only means you want peace, and you no longer want this person's memory to linger. It's time for you to move on, which means allowing yourself to be free from your ex's shadow.
14. Take a break from the Internet
There will be times when you want to stalk your ex. It's understandable. So if you think you want to do it, take a social media detox.
Out of sight, out of mind, so use this and stop checking your ex's profile.
15. Don't ask your friends to check your ex
Good job to stay out of social media, and there are no photos or texts left on your phone. Oh, wait, you have mutual friends.
Okay, stop right there. Accepting it's over means resisting the urge to ask about your ex.
Don't ask how your ex is doing; you want to know if this person is feeling miserable without you.
Don't start with false hopes because this will only prevent you from breaking free and moving on.
16. Cut ties
It's hard to cut ties with your ex's family or friends. Sometimes, you can remain friends with them.
However, in the first few weeks or months after your breakup, it's better to cut ties with these people. Don't linger, hoping your ex will realize that you can get back together.
To forget requires you to cut ties with the people connected to your ex.
17. Take time and reset
Learn to know how to accept a breakup by taking time to reset. You've been through so much. It's time to take a break. Let your heart and mind rest.
Time alone is essential for moving on, and only you can give that to yourself.
18. Start taking care of yourself
This is the start of a new you. Being single isn't so bad, but before you embrace your single life, it's time to take care of yourself first.
Get a makeover, buy new clothes, and go to the gym. Do everything for yourself and not for anyone else. Choose yourself and nurture this moment. It's time to grow, and you deserve it.
Related Reading: 

5 Self-Care Tips in an Unhappy Marriage
19. Prioritize yourself
Before anyone else, prioritize yourself first.
Look in the mirror and see how much you're missing by focusing on that heartbreak. Once you realize that you have your whole life ahead of you, you will start accepting a breakup and moving on.
20. Rediscover your old hobbies
Now that you have extra time to rediscover your old hobbies. Do you still remember when you treasured the time when you would do the things you love?
Playing guitar, painting, baking, do it again, and return to doing what you love.
Sometimes, we give so much when we are in a relationship. In this process, we are being unkind to ourselves. Now, you have the time to do the things you love again.
21. Go on a vacation
If you have time and the budget, why not treat yourself by going on a vacation?
You can bring your friends and family, or just travel alone. Traveling alone is also enjoyable because you get to discover yourself more.
22. Enjoy being single
You're single, so enjoy it. You're healthy, and you're alive. That's already something to be grateful for.
Being single means you're independent and ready to live your life to the fullest. Count your blessings, and you'll see just how beautiful it is to be alive and single.
Related Reading: 

25 Unexpected Benefits of Being Single

  
23. Go out
Go out. You don't need to spend months alone in your room. It's okay to feel all the breakup emotions, but don't dwell on them.
Meet new people; be open to dating if you're ready. Embrace the change that is coming your way.
24. Start a new hobby
You may have realized how fun it is to focus on yourself by now.
This is the time to do what you've always wanted to do. Learn a new skill, go back to school, or volunteer.
Use this time to do what you want.
25. Rebuild yourself
You're slowly learning how to prioritize yourself. This means you are also taking the steps on how you can rebuild yourself.
Embrace it, nurture your time with yourself, so by the time you're ready to date again, you're not just whole, but you're also stronger.
Conclusion
Learning how to accept a breakup is never easy.
There's a process that consists of stages that will help you learn how to accept a breakup you didn't want.
While it would be hard to heal your broken heart, there are tips that you can follow to help you rebuild and take care of yourself.
The goal is to focus on you, your well-being, your peace of mind, and of course, your happiness.
There will be times when you will still feel lonely and sad, but these tips could, at least, help you work on your resilience.
These tips can also help you improve your perspective in life as you rebuild yourself.
Soon, you'll be ready to face the world again, and at the right time, fall in love once more.
Share this article on
Want to have a happier, healthier marriage?
If you feel disconnected or frustrated about the state of your marriage but want to avoid separation and/or divorce, the marriage.com course meant for married couples is an excellent resource to help you overcome the most challenging aspects of being married.
More On This Topic
You May Also Like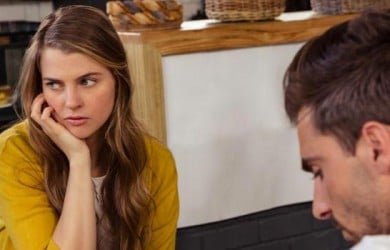 Popular Topics On Married Life