How to Accept Your Relationship Is Ending: 11 Tips That Work
Let's face it, heartbreaks are horrible. The struggle of going through heartbreak can be very challenging. It gets even harder when you're asking yourself, am I done with my relationship? So, learning how to accept your relationship is ending is very important.
When it comes to accepting the end of a relationship, there's a lot that needs to be acknowledged and covered. It can be a confusing and emotionally exhausting period of your life.
So, learning how to truly accept your relationship is over is very important. Carrying emotional baggage from a relationship that is over or about to be over into your future won't be fair to you.
So, sit back and learn how to accept your relationship is ending. For this, learning about the signs it's time to move on from a relationship is essential.
Other important questions like what to do when your relationship is dying will also be explored here.
So, take a breath.
Relax.
And learn about how to accept your relationship is ending.
4 signs your romantic relationship is over
Before you get into how to accept your relationship is ending, it's important to identify whether it is actually ending.
So, how do u know your relationship is over? Well, the good news is that there are several signs that your relationship is ending.
To prevent yourself from jumping to conclusions and immediately implementing the tips and tricks on how to accept your relationship is ending, be aware of these signs.
Related Reading: 

15 Ways of How to End a Relationship Without Regrets
1. Lack of sexual and physical intimacy
Although physical affection and sex aren't everything in a romantic relationship, they are still very important. Healthy relationships are characterized by consistent physical intimacy and sexual intimacy.
If you feel like neither you nor your partner is sexually interested in each other anymore, it may, unfortunately, be a sign that a breakup is near.
2. Lack of emotional connection
Intimacy doesn't just refer to sexual and physical intimacy. Emotional and spiritual intimacy are just important in a romantic relationship. When it comes to learning about how to know when a relationship is over for good, emotional connection is an important factor.
If there's no desire or space in the relationship to be vulnerable with your partner and share your feelings, opinions, ideas, thoughts, etc, with them and vice-versa, it might be a worrisome sign.
Related Reading: 

How Important Is An Emotional Connection In A Relationship?
3. The understanding is gone
Compatibility in a romantic relationship is fundamental for the long-term potential of that bond. If there's suddenly no understanding, then there'll naturally be a lot of conflict in the relationship.
This will make it very difficult to agree on anything. So, if the understanding isn't there anymore, it's another sign.
4. Desiring someone else
If either you or your partner has the desire to be with someone else, this is probably one of the most direct signs that the relationship may be ending soon.
There's a difference between having random fantasies and strongly desiring to be romantically involved with a person who isn't your partner.
Coping with a breakup: How long does it take?
If your long term relationship ended abruptly, then learning about how to accept a breakup you didn't want is essential. However, a common question that you may have while learning about how to accept your relationship is ending is how long will it take for you to get over this heartbreak.
When you're navigating your way through how to accept a break up in general and you're curious about the timeframe, unfortunately, there's no direct answer.
However, some social science studies on breakups have reported that it can approximately take people 10 weeks to get over a relationship that lasted for about 6 months.
However, it's important that you remember that when you're learning how to accept your relationship is ending, the amount of time you may need to get over your lost love will be governed by a lot of factors.
Some of these factors that'll determine how long it'll take for you to learn to let go of a dying relationship and get over it include:
Relationship quality

Duration of the relationship

Who dumped whom?
Letting go of the person you're still in love with
If you're thinking "I feel like my relationship is over", it means that you, unfortunately, have to learn how to leave a relationship when you are still in love.
If you think that the aforementioned signs of a relationship that may be ending match your situation, a lot of the work that you'll be putting in to learn how to accept your relationship is ending will be psychological.
So, how to cope with a breakup you don t want?
To begin with, you need to identify your limiting beliefs. These are mental blocks that are getting in the way of you learning about how to accept your relationship is ending and implementing the tips to cope with the break-up in a constructive manner.
So, identify those limiting beliefs and challenge them. After that, process your feelings. Identify how you're feeling because of the impending breakup and figure out why you're feeling that way.
Playing the blame game won't help you at all. Understanding your partner's point of view (about why they broke up) with compassion is also important. While you're learning how to accept your relationship is ending, it's a good idea to go off of social media for a bit.
Related Reading:

 How to let go of someone you love: 15 Ways
How to accept your relationship is ending: 11 effective tips
Let's get into what you do when you accept that my relationship is over. The first thing you need to know is that accepting that a relationship is over will take work. It won't be easy.
When you're learning about what to do when you know your relationship is over, remember to be compassionate and kind to yourself.
1. Allow yourself to grieve
So, how to get over someone you can't be with? Don't be in denial. Don't try to deny how hurt you feel. Don't try to repress your strong emotions.
You have to allow yourself to be sad and grieve the loss of an important person in your life instead of running away from the reality of the situation.
Related Reading: 

The 5 Stages of Grief: Divorce, Separation & Breakups
2. Share your feelings
Remember that when you're learning how to accept your relationship is ending and in the process of grieving, the feelings and thoughts that you have in this process can be shared.
Talk to anyone that you deeply trust about all the strong thoughts and feelings that you've been having while grieving.
Related Reading:

 How to Share Your Feelings With Your Spouse
3. Stay productive
As important as it is to allow yourself to grieve and reach out to someone you deeply trust when implementing how to accept your relationship is ending, it's also essential to be productive.
Try making some simple to-do lists that can be accomplished within a reasonable timeframe. You'll feel productive in this way.
4. Write about it
Journaling about the different ideas and thoughts you have about the heartbreak and your ex can also be very helpful in terms of figuring out the cause of the break-up and how you're coping with it.
5. Amp up the self-care
How to accept your relationship is ending? Try to pamper yourself physically, spiritually, and mentally! Spend a little extra time caring for yourself.
Meditation, reading, listening to music, spa days, exercise, good food, and dancing are just some of the innumerable ways in which you can practice self-care!
6. Make new routines
A difficult part of getting over a beloved is filling that void in one's daily life that was spent with one's significant other. If you spent an hour every morning talking to your partner, spend that time now doing something you love! Making new routines is important for moving on.
7. A closure ritual
Whether it's writing your ex a letter and never sending it to them or deleting pictures, videos, love letters of the two of you together, or returning your ex's belongings to them- do what you need to do as a closure ritual.
Check out these tips on how to get closure in relationships:
8. Cut off contact
It's best to be on a no-contact basis at least temporarily with your ex. Stalking them on social media or texting them or calling them on the phone right after the break-up won't help you. It'll just worsen the pain.
9. Perspective matters
How you view a romantic relationship that couldn't have lasted is also very important. Your perspective about heartbreak and why the romance had to end will determine how effectively you cope with the heartbreak.
10. Try casual dating (only if you're comfortable)
If it's been a while since the break-up and you'd just like to casually date some people and just put yourself out there without any serious commitments, then you can try it!
Related Reading: 

Casual Relationships: Types, Benefits and Risks
11. Embrace new possibilities
Remember that a romantic relationship that is meant to last will definitely last. So, this break-up has probably opened you up to the new possibilities that life has to offer!
Takeaway
Now that you know how to accept your relationship is ending, implement the aforementioned tips if you're currently experiencing heartbreak.
Share this article on
Want to have a happier, healthier marriage?
If you feel disconnected or frustrated about the state of your marriage but want to avoid separation and/or divorce, the marriage.com course meant for married couples is an excellent resource to help you overcome the most challenging aspects of being married.
Learn More On This Topic
You May Also Like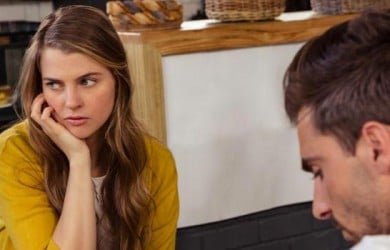 Popular Topics On Married Life