10 Ways to Have Stress-reducing Conversations With Your Partner
Stress-reducing conversations are an integral part of every healthy relationship. For one, having active conversations with your partner helps to build trust between you, and these deep conversations are necessary to help relieve tension in relationships.
However, knowing that stress-reducing conversations are vital is not enough. You must know how to engage in these conversations with your partner without spooking them.
This article will discover some exciting ways to reduce stress in your relationships.
First things first…
What is a stress-reducing conversation?
Stress reducing conversations are usually short and intentional conversations during which couples seek to connect after a long time apart (maybe a full day at work or when one returns from a long trip). During these sessions, everyone is free to vent and share their frustrations in an environment that is void of judgment.
Considering how important these are, they help to eliminate relationship stress and keep couples closer than ever before.
Over the years, science has proven that relationships that prioritize effective communication last longer than those where communication is sporadic and tense. This is because when couples can bare their hearts without fear, they feel safer with their partners.
In summary, stress reducing conversations help you unwind after a long day and bring you closer to your partner.
Benefits of stress reducing conversations
For some, the stress in relationships can easily be managed when both partners know how to help themselves unwind after a long day. With this in mind, here are some benefits of stress-reducing conversations.
1. Helps you feel close to your partner
Research has suggested that emotional intimacy is almost more important than physical intimacy in relationships, especially for women. One way to attain this is to make stress reducing conversations a part of your itinerary.
When stress reducing conversations become part of your regular activities, you allow your partner to bond with you. This will strengthen your relationship as well.
2. Eliminates fear and doubts
One of the reasons why your partner may feel like their position in your life is threatened is because you don't make time to spend with them. When you spend time having stress reducing conversations with your partner, you give them that feeling of importance.
This is second to none.
Related Reading: 

6 Tips To Recognize and Do Away with Relationship Stress
How can couples' stress reduce?
One of the easiest ways to help your boyfriend de-stress (or your girlfriend, for that matter) is to do what both of you enjoy.
Now, we can spend time giving you ideas, but this is the biggest secret for building a stress-free relationship. Find that activity that both of you enjoy and spend time engaging in it. Since tension reduction activities are considered fun, ensure that you don't take anything that looks like work into these exercises.
10 ways to have stress reducing conversations with your partner
Now that you are ready, here's how to have effective stress reducing conversations with your partner.
1. Understand that it is just both of you
One of the first things you must take into a stress reducing conversation is the knowledge that this time is just for you and your partner.
Your children are not allowed to interrupt. Your boss is not allowed to call you at that time. The idea behind these conversations is to give you some quality time with your partner, so please don't allow another person to interrupt.
2. No phones, please
Mobile technology has evolved speedily over the last few decades. While this has mostly been a blessing, excessive use of mobile phones has reduced physical interaction and dampened relationships as well.
You can be seated on the same sofa as someone who is lost in their mobile phone. Even if you want to strike up a conversation with them, you may not be able to do this because of the gadget in your hand.
One way to have a stress reducing conversation with your partner is to ensure that all mobile phones are kept away. If possible, you can turn them off or silence them. By doing this, you also let your partner know that they're important to you.
3. Eliminate all distractions
It is one thing to turn off your phone and entirely another to take all distractions away. As you try to have a supportive conversation with your partner, please ensure that you remove all distractions.
Be in the moment and listen to them with rapt attention. Even if you have to take some minutes to clear your head first, so be it.
Related Reading: 

20 Steps to Becoming a Supportive Partner
4. Take turns to share
The idea behind a stress reducing conversation is not to have a monologue where 1 person blabs the whole time while the other sits pretty and smiles through the entire ordeal.
This is a conversation, and as such, everyone must actively contribute toward it. Take equal turns sharing, and each person should be given the same time as the other one. If you plan to spend 20 minutes in a stress reducing conversation with your partner, please ensure that both of you get 10 minutes to talk.
However, if one of you feels like allowing the other to speak for longer, then so be it.
5. Listen to your partner with rapt attention
It is easy to zone out when you are not the one speaking. However, if your partner finds out that you are no longer listening to them (while they bare their hearts to you), they may get hurt and shut down the conversation.
And you don't want that!
When your partner is speaking, please do your best to give them your full attention. Then again, don't just sit like a log. Please encourage them to open up to you using your body language.
Smile when you must. Nod when they need encouragement. Hold their hands at intervals. Just make them know that they're not alone.
Related Reading: 

What Your Body Language Says About Your Relationship
Suggested Video: Being a good listener
6. Don't always try to play the hero
Couples often go into stress reducing conversations with the hero's complex. They think that they'll be able to fix things every time.
However, this doesn't seem right and can suggest that you don't trust your partner's strengths. As you figure out how to help your partner with stress, please remind yourself that they are rational beings capable of solving their problems. They often get into these stress reducing conversations because they need someone to talk to.
Can you be the one they talk to?
Trust that if they need your help in an area, they'll ask for it.
7. Don't bring up your relationship woes
You came to a stress reducing the conversation to cool off after a long day or week. The last thing your partner wants to hear is you complaining about how terrible they are or how frustrating your relationship is.
Doing this makes them feel defensive, and things can easily deteriorate from there.
Related Reading: 

30 Common Relationship Problems and Solutions
8. Don't take your frustrations out on your partner
When you begin talking about something that makes you feel bad, it is easy to get agitated and start taking it out on your partner. However you may be passionate about what you are saying, please never forget that your partner isn't the person or situation responsible for this frustration.
So respect them and never make them feel spooked.
9. Never take sides with the enemy
When your partner opens up and shares what stresses them out, please don't be tempted to say that the person they're complaining about is right (even if they are).
The idea behind a stress reducing conversation is to make your partner feel safe, and you do the opposite when you make them feel like you are taking sides with the enemy. If you must tell them the truth about their actions, you can choose another time to let them know how you feel.
However, this is a golden rule. Never take sides with the enemy.
10. Do this as often as you can
You may be shocked at how far your relationship can come when you make stress reducing conversations a habit. Doing this daily might not be practical (because life gets in the way). However, it would help if you made it a routine.
At least once every week, create time to have these conversations as they are necessary for your sanity and the success of your relationships.
Then again, you can plan to make them more exciting. At intervals, you can take your partner to a surprise location, order their best meal, and have these deep conversations in a beautiful spot. This will serve as an avenue for them to better appreciate the effort you are putting into the relationship.
Summary
Stress reducing conversations are vital for every relationship. When you don't have an avenue for letting go of your frustrations, it is only a matter of time before these frustrations start creeping into your relationship.
This article has shown you the guidelines for having effective stress reducing conversations. Please follow the steps outlined and always be open to learning new strategies on the go.
At some point, you may need the help of an expert as you navigate challenging times in your relationship. Please do not hesitate to reach out to a couple's counselor when deeper issues arise during these stress reducing conversations.
Share this article on
Want to have a happier, healthier marriage?
If you feel disconnected or frustrated about the state of your marriage but want to avoid separation and/or divorce, the marriage.com course meant for married couples is an excellent resource to help you overcome the most challenging aspects of being married.
Learn More On This Topic
You May Also Like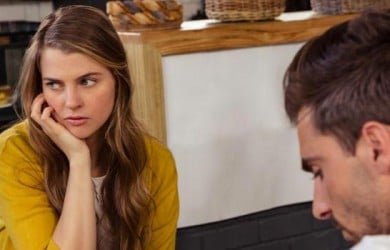 Popular Topics On Married Life