Funny Relationship Advice Everyone Should Consider Taking
There are quite a few funny relationship pieces of advice out there, many designed only to make you laugh at something that might otherwise frustrate you. Like the one advising women to find a man who makes them laugh, find a man who has a good job and cooks, who will pamper her with gifts, who will be awesome in bed and who will be honest – and to make sure that these five men never meet. It's just a cynical reminder that we shouldn't expect it all from one person. But, there are also a few jokes that hold some truth to them and should be taken into consideration. Here they are.
"When you hear a woman saying: "Correct me if I'm wrong, but…" – Don't ever correct her!"
This advice is bound to make both genders laugh their hats off, and that because it is true – in relationships, correcting a woman, even when she uses the phrase, is often the beginning of a very long argument. And this is not because women can't take criticism. They can. But, the way in which women and men communicate, especially when criticism hangs in the air, differs gravely.
Men are creatures of logic. Although the notion is not foreign to women, they tend not to abide by the constraints of logical thinking. In other words, when a woman says: "Correct me" she does not really mean that. She means: "I can't possibly be wrong". And when a man hears: "Correct me" he understands that he is to correct any wrong assumptions or statements. He is not. Not when speaking to women.
Read More: Funny Marriage Advice for Him
So, the next time a man hears his girlfriend telling that she will accept to be corrected if wrong, he must not fall into the trap. Men, although it might cause a slight feeling of a bent mind, please take this advice into consideration, and know – what you hear being said is not what is really being said.
"Couples who change their Facebook status to "Single" after a small fight are like someone who would fight with their parents and put "Orphan" as their status"
In the modern era, our natural inclination towards showing off and being a social creature got the perfect outlet – social media! And it is true that many tend to shout out everything that is happening in their lives into the world almost in real time. Yet, you should consider taking this advice, as relationships are still, no matter how many people know about them, a matter of only two people.
Read More: Funny Marriage Advice for Her
No relationship receives the respect it deserves when you announce to the world that you had a small (or huge) fight. No matter the cause and the guilty party, you should always resolve the issue in its entirety in the privacy before you publicize what is going on in your life. If that's not motivation enough for you, imagine how embarrassed you'll feel when you have to change it back to "In a relationship" once you kiss and make up with your partner and receive public congratulations for being such a rash status-changer.
"Relationship is like a house – if the lightbulb burns out, you don't go out and buy a new house; you fix the lightbulb"
Yes, there is also another version of this advice out on the internet, which goes something like: "unless the house is a lying *** in which case you burn the house down and go buy a new, better one". But let's focus on this one, assuming there is only the lightbulb wrong with the house.
It is true, you should not be rigid and expect that your partner will be the perfect being. You're not either. So, if there is a problem in your relationship, search for ways to fix it, rather than denouncing the entire relationship. How? Communication is the key, we cannot ever stress that enough. Talk talk talk, and always be assertive.
"When your ex-tells you that you'll never find anyone like him/her, don't stress – that's the point"
And, in the end, here's one that will give you the needed pick-me-up when you're breaking up with someone. Breakups are tough, always. And, if the relationship was serious, you will always have doubts about leaving your partner. And, the partner often reacts to the news in the above-stated manner, which can make it that much harder. However, when you did decide to break things up, you probably made this choice as a result of careful consideration and due to differences that you just can't tolerate anymore. The point is – not to find the same boyfriend/girlfriend as your ex, with the same issues, so don't stress over it!
Share this article on
Want to have a happier, healthier marriage?
If you feel disconnected or frustrated about the state of your marriage but want to avoid separation and/or divorce, the marriage.com course meant for married couples is an excellent resource to help you overcome the most challenging aspects of being married.
More On This Topic
You May Also Like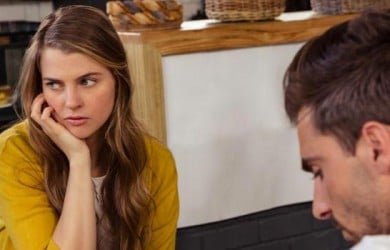 Popular Topics On Married Life