5 Benefits of Dominant and Subordinate Relationships
Being dominant or submissive can be natural for some people, especially in situations where they are comfortable. If you assess your relationship with friends, family and co-workers, you can answer whether you are a dominant or a subordinate in all these relationships.
Being in a dominant and subordinate relationship can be a significant part of one's character and might play a vital role in how one interacts with their partner. This can be fluid and change depending upon the situation and their partner's character.
For example, you may be the alpha when it comes to sex but the beta when it comes to planning dates.
It can also be the case that one of the spouses is more dominant overall while the other is more complying, hence a subordinate. Remember, such dominant and subordinate relationships are subjective to the individuals and entirely depend on both partners who practice dominant or submissive relationships.
Do you wonder how to be more dominant in a relationship? Or what do submissive and dominant mean in a relationship? This article will discuss how beginning a bond like a dominant and subordinate can offer multiple benefits for both partners.
What is the meaning of submissive and dominant in a relationship?
A dominant and subordinate relationship may make you think of the common sexual fantasies of roleplaying among spouses during physical intimacy.
However, you must know that this kind of relationship is not limited to being intimate. A couple can also practice dominance and submission in their daily affairs, with one having more power than the other.
More and more individuals, including relationship experts, recognize the benefits of dominant and subordinate relationships.
For instance, BDSM can help build trust between the partners due to the high intensity of leadership and obedience, allowing both partners to feel comfortable and content.
What are the dominants' and subordinate's roles in a relationship?
Any romantic relationship or marriage that practices a dominant and a subordinate usually assigned roles from the beginning of the relationship.
This means one partner (dominant) is responsible for making all decisions for the family, be it important decisions like the selection of educational practices, purchasing a new house, etc., or even trivial matters such as deciding what to have for dinner, when to go shopping, etc.
In contrast, the other one (subordinate) will obey the decisions and make sure things will go according to the plan.
In a dominant and subordinate relationship, the role of the dominant partner is to hold in the relationship while ensuring that they have their partner's consent. They have to ensure that their power does not undermine their partner's will.
At the same time, the subordinate must trust these decisions and offer the needed support and effort to make them work. They must speak up about their emotional and physical boundaries.
One of the biggest myths of dominant and subordinate relationships is that men always act as the dominant ones, whereas women are more compliant and obey.
However, that's not the case all the time, as, in some instances, women behave like dominant ones, and men obey their actions.
Related Reading: 

10 Basic Rights for Everyone in a Relationship
5 benefits of a dominant-subordinate relationship
Searching for a reason to try dominant-subordinate relationships? Wonders, what does it feel like to have one? Or do you enjoy being dominant? We have covered some interesting reasons explaining the benefits of a submissive and dominant relationship.
1. You might have fewer arguments
Misunderstanding can be the root cause of conflicts in most relationships. Unfortunately, experienced by many couples. However, when two individuals work as a team, support each other and accept the other's dominant nature, they tend to avoid many arguments or misunderstandings.
The subordinate partner trusts and accepts decisions the dominant one takes, leaving less room for sparking arguments and fights by making the relationship more self-aware.
2. Possible mental health benefits
Believe it or not, individuals who indulge in a dominant and submissive relationship can have better mental health. One study from Northern Illinois University has revealed that the "sexual act of giving and receiving pain can help in lowering the anxiety levels."
Engaging in BDSM can activate the biological effects and sometimes contribute to a "unique state of consciousness." (a deeply euphoric state following an intense workout or yoga). The researchers concluded that the participants (both submissive and dominants) had shown lower levels of stress hormones after participating in BDSM.
3. Can help strengthen trust
Individuals who actively participate in a consensual dominant-subordinate relationship with their partners can build a deeper level of trust and belongingness. By engaging consensually and safely, BDSM can offer a unique and powerful experience to the couples, eventually helping in bringing partners closure.
Furthermore, most dominant-submissive relationships ideally start with open and direct communication about what individuals prefer to explore.
Or what do they fantasize about? Are they interested in being utterly submissive or like to hold power and control?
Open discussions allow both partners to plan scenarios according to these parameters and build a higher level of trust towards each other.
Practicing BDSM requires a higher degree of trust as it is a little intricate and demands the participants to redouble their efforts on being vulnerable with each other.
Related Reading: 

16 Steps for How to Rebuild Trust in a Relationship
4. Less desire to cheat for some
When you are spending more content lives that accommodate your preferences, won't you have fewer reasons to cheat or leave your partner?
The dominant one will get the authority to control the relationship in his desired way. In contrast, the submissive one can follow the orders of the strong and passionate leader if that is what comes to them naturally.
Both partners can get emotional and physical satisfaction and lessen the chances of betrayal due to dissatisfaction.
Related Reading: 

10 Most Common Types Of Cheating In A Relationship
5. More interesting sex life
Many individuals and experts believe that BDSM is an amazing way to spice up your sex life. Sure, the dominant-subordinate relationship is fun, and indulging in sexual activity other than "vanilla" can be interesting.
The new findings published by "The Journal of Sex Research" reveals that BDSM practitioners usually have a more satisfying romantic life than those who don't practice kinky sex.
Kinky sex can help both partners experiment with new things, which can increase the satisfaction levels of both partners.
Are marriages stronger when one partner is dominant?
Dominant-subordinate relationships, especially in a marriage, are an important consideration. Usually, in many relationships, either spouse is more dominant while the other is more complying, hence a subordinate.
The dominant partner acts as a leader and holds the decision making power, while the submissive must follow the leader's decisions. This can give stability, clarity, and the needed support to grow the relationship if it is consensual and doesn't undermine the needs of the submissive partner.
Due to the absence of a leader in other couples, the relationship might not get the right stability and balance, which plays an important role in every relationship. This can even result in affecting your relationship.
One research from Charles University in Prague has shown that romantically dominant relationships in which one partner is dominant are likely to be more successful than partnerships with equality.
Are you dominant or subordinate in your romantic relationship?
Have you ever wondered whether you are submissive or dominant in your romantic bond? Or what are the responsibilities of a dominant partner? Can you find out that you are in love with a submissive or dominant partner?
Here are a few ways to help you know whether you like to take control or enjoy being submissive in a relationship:
If you allow your partner to make the major decision in your relationship, this can be one of the clear traits of a submissive personality.

If you don't like to take the lead and always allow your partner to have the upper hand, it might indicate that you have a submissive partner.

If you enjoy pleasing your spouse or prioritize them over other things, you can be submissive in your romantic bond.
The following signs showcase that you have a dominant partner:
If you like to take control and are not dependent on your partner's approval or participation to make a decision, it clearly shows your dominance in a relationship.

If you have a sexual fantasy where you always want your partner to please you or obey your rules in bed, you might be the dominant person in a relationship.

If you enjoy initiating rules and expect your partner to obey them all the time, you can call yourself the dominant one.
Commonly asked questions
Is being dominant in a relationship good? What are the characteristics of a dominant person in a relationship?
An excellent dominant husband or wife believes in taking charge to make a uniform decision without being abusive or controlling. At the same time, negative dominance can break the relationship.
Following are some of the positive traits of a dominant personality in relationships; these contribute to excellent dominant behavior and benefit your relationship in the long run.
Assertiveness

Respectful

Self-belief

Leadership

Strong

Independent

Caring
Consider watching this video to know more about Alpha male traits
Wrapping Up
The success of an asymmetrical relationship largely depends upon the style of dominance used by the alpha personality. The dominant person must ensure that they do not use aggression or abuse; instead, they try to be respectful and tolerant.
A dominant and subordinate relationship depends heavily on the consent of both partners and the careful maintenance of strict boundaries to avoid abuse.
Practicing BDSM in healthy ways can benefit your relationship by eliminating arguments and stress and contributing to a healthy and wholesome relationship.
Remember, BDSM can be fun, but if it's not working out for you or making you uncomfortable, talk to your partner, or opt for marital counseling.
Share this article on
Want to have a happier, healthier marriage?
If you feel disconnected or frustrated about the state of your marriage but want to avoid separation and/or divorce, the marriage.com course meant for married couples is an excellent resource to help you overcome the most challenging aspects of being married.
You May Also Like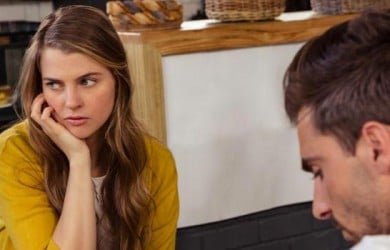 Popular Topics On Married Life