3 Common Power Dynamics in a Relationship and How to Resolve
When we think of a healthy relationship, what comes to mind is two partners who contribute equally within their capacities to make the relationship a strong and healthy one. However, if care is not taken, there might be a power imbalance that could affect the dynamics of the relationship.
Power dynamics in a relationship refer to how a partner's behaviors and interactions affect the relationship. In this article, you will learn the warning signs of an unhealthy power dynamic and some efficient ways to balance the power dynamics in a relationship.
What does power dynamic mean in a relationship?
As regards power dynamics in a relationship, it highlights the various ways that partners behave, which impacts each other's behaviors.
When there is a proper balance of power, it makes partners trust, love, respect, and value each other. In comparison, an imbalance of power can cause loss of emotional intimacy, resentment, lack of trust, isolation, etc.
To understand more about what power dynamic means in a relationship, this study by Robert Korner and Astrid Schutz is an eye-opener. This study is titled Power in romantic relationships, and it explains how positional and experienced power is associated with relationship quality.
What are the different types of power relationships- 3 types
When there is a negative power imbalance in a relationship, three likely power dynamics may occur.
1. Demand-Withdrawal dynamic
In this type of power dynamic, one of the partners feels the other half does not prioritize or consider their needs and demands. They might try to get through to their partner but get ignored. Often, this might cause resentment, malice, and frustration.
The partner who withdraws from the relationship may intentionally avoid responding to the demands of their partner. Partners in relationships can change this dynamic by being more sensitive to each other's needs, alongside open and honest communication.
Related Reading: 

What Constitutes Healthy Relationship Dynamics
2. Distancer-Pursuer dynamic
This power dynamic is featured by the "distance" trying to avoid intimacy from their partner, so they become resistant to all their partner's moves.
On the other hand, the "pursuer" strives to achieve a level of intimacy with their partner. As a result, the pursuer is usually more invested in the relationship than the other, and they are more likely to always bring ideas and suggestions.
3. Fear-Shame dynamic
In this power dynamic, when a partner exhibits fear and insecurity, it affects the other party, bringing out shame in them. Most time, this power dynamic does not happen intentionally. For instance, in a relationship involving a man and a woman.
If the woman experiences anxiety, it can cause a shame reaction in the man, who might begin to feel that his wife's emotions are because he cannot protect her.
10 warning signs that an unhealthy power dynamic exists in your relationship
When an unhealthy power dynamic is present in a relationship, it might lead to resentment, sadness, anxiety, and lots of conflicts. Here are some signs that show an unhealthy relationship dynamic.
1. Speaking up for yourself is a chore
When it comes to power dynamics in relationships, one of the ways to tell that there is an unhealthy pattern is when you're not comfortable defending or speaking up for yourself.
You will discover that staying quiet saves you the stress of entering a dialogue or conversation with your partner, especially when you have opposing views about something.
Sometimes, people might not speak up for themselves because they think their partner will reject their ideas outright. Similarly, they might be afraid that their partner will take revenge. People who don't speak for themselves in relationships will likely not get their fundamental needs satisfied.
Related Reading: 

House Chores – The Hidden Challenge Faced by Every Relationship
2. Your partner has the final say in an argument
Another way to know that unhealthy power dynamics exist is when your partner seems to have the upper hand in every argument. It is important to mention that couples experience conflict in relationships, which is meant to help them grow stronger.
However, it might be a cause for concern if your spouse has to be right each time there is an argument. This might mean they are not concerned about the present issue but just want to prove a point. When this keeps happening regularly, the power dynamics in relationships might be unhealthy.
3. They don't consider your feelings when making decisions
One of the clear signs that show that you're in an unhealthy power relationship is when your partner does not care about your feelings when making decisions. Most times, they might make these decisions and only tell you as a matter of notice.
In a healthy relationship, partners are meant to consider each other's desires, opinions, and needs when making decisions. If one party cares about themselves without thinking about how their partner would feel, achieving harmony and balance in the relationship might be difficult.
4. You feel lonely in the relationship
Partners in healthy relationships are likely not to experience loneliness because they can always depend on each other for support during their bad days. One of the ways to know if the power dynamics in relationships are unhealthy is when you feel lonely, even when your partner is there.
When you are lonely in a relationship, you might be cut off from everything happening. It might be difficult to have a sense of direction and purpose when you are lonely. Also, you might be less concerned about who calls the shot in the relationship because you may find it hard to process your thoughts or opinions.
Related Reading: 

15 Signs of Loneliness in a Relationship and How to Deal With It
5. They don't care about your needs but want you to meet theirs
If you want to tell if the dynamics of a relationship are unhealthy, you can know from their disposition to your needs. In a situation where your partner expects you to meet their needs, but they don't reciprocate, it might be an unhealthy power dynamic.
This could mean your partner does not think it is necessary to return the favor, irrespective of what you've done for them.
If you happen to revolt and demand that they meet your needs, they might begin to gaslight you and make themselves the victims. When it comes to healthy power dynamics relationships, both partners are always concerned about the welfare of each other.
6. They're mostly content, and you're always disappointed
If you're looking out for the signs of healthy power dynamics in relationships, one of the ways to tell is when both parties are happy and content with each other. However, if there is an imbalance of power in the relationship, one party might always feel discontent while the other may feel satisfied with all that is happening.
Hence, if you mostly don't feel satisfied after crucial discussions with your partner, it might mean an unhealthy power imbalance in relationships. If your partner's needs are always met, and yours are neglected, then it could mean that there's a power imbalance in the union.
7. They care about their experience during sex
When there is an unhealthy power dynamics in relationships, one of the partners might care about their experience when having sex, without minding if their spouse is satisfied or not. This means they might want to have sex when they feel like it, even if their partner is not in the mood. They may not try to satisfy their partner, as they would be focused on their needs.
8. They don't respect your privacy and boundaries
Another way to understand an unhealthy power dynamic meaning is when your partner constantly infringes on your privacy or boundaries with or without your consent. They might want to regularly go through your call log, emails, and social media messages to monitor your activities.
If they see anything out of the ordinary, they will likely jump to conclusions without waiting to understand the underlying issue.
In a healthy relationship, where boundaries exist, partners may not snoop around each other's phones looking for details of their private life. Instead, they trust each other to communicate appropriately regarding any situation.
Related Reading: 

How Much Privacy in a Relationship Is Acceptable?
9. They threaten to leave the relationship when you don't do their bidding
When it comes to unhealthy power dynamics in romantic relationships, your partner might keep threatening to leave the relationship if you don't do what they want. However, most of them are certain that when they're faced with the possibility of an immediate end to the relationship, they might adjust some of their behaviors.
Hence, when you find yourself trying to make your partner happy so they don't break up with you, an unhealthy power dynamic might be at play.
10. They don't discuss matters that are important to you
If your partner does not see the need to discuss matters you hold dear, it might indicate unhealthy power dynamics in relationships. You might notice that anytime you want to bring up an important issue, they will find a way to deflect it.
On the other hand, they will ensure that you listen to what they say without minding if it is convenient for you. Ultimately, you will notice that they are more concerned about themselves than your welfare.
To understand more on how power affects intimate relationships, read this study by Carter A. Lennon titled The role of power in intimate relationships. This study examines the relationship power in the investment model of relationship commitment.
Related Reading: 

How Much Do Looks Matter in a Relationship?
5 good ways to balance power dynamics in a relationship
When the power dynamics in a relationship are balanced, it may become easier to steer the relationship in the right direction. Here are some ways you can explore to balance the power dynamics in a romantic relationship.
1. Hold honest and open communication
You and your partner can make good attempts to make your discussions more open and honest. When partners are honest with each other, it becomes easier to build intimacy and trust.
Additionally, partners should not keep things from each other to foster a balanced power dynamic in the relationship.
For instance, if any party is not happy with the other, it is better to speak out than keep quiet because it might build resentment. Having honest and open communication also helps to solidify the relationship and make it healthier.
2. Learn to compromise
One of the hallmarks of a healthy relationship is when both parties compromise in certain situations.
It is important to mention that you might not always get your way in a relationship because your partner's needs should also be considered. You may have to be willing to adopt new ideas and see things from a different perspective.
3. Support your partner
Giving your partner good support is one of the healthy power dynamics examples. You and your partner need to motivate each other to pursue and achieve personal and career goals.
Additionally, you should support their individual interests in other aspects of life. If you are uncomfortable with some of them, you can communicate your thoughts lovingly without criticizing their actions or ideas.
Related Reading: 

How to Ask for Support From Your Partner When You Need It
4. Take responsibility for your actions and mistakes
You can also balance the power dynamics in your relationship by admitting your fault each time you are wrong. However, doing this might encourage your partner to do the same if they've not done it before.
When you and your partner take responsibility for your mistakes and actions, it reduces the rate of conflict in the relationship. It may also help to foster understanding because both of you are self-aware and intentional about keeping the relationship in the right direction.
Watch this video on how to take responsibility for your actions:
5. Share responsibilities with your partner
Partners in relationships need to share responsibilities with each other instead of leaving one person to do all the work. If one person keeps doing everything while the other partner does not contribute to executing these duties, there might be an unhealthy power balance in the relationship.
For more tips on how to balance the power dynamics in dating relationships, check out this study by Liz Grauerholz titled Balancing power in dating relationships. This study highlights the connection between fair play in dating relationships and the different psychological factors that are featured by intimate relationships.
Related Reading: 

How Do I Make My Partner Realize Their Responsibilities?
More questions on power dynamics in relationships
Power dynamics in the relationship, unless not balanced, can cause issues for the couple. If you have further questions, check out further questions on power dynamics in the relationship:
How does power look like in a relationship?
In a relationship, power is featured by the ability of one partner to exert influence and control over the other person. This means they might be responsible for making most decisions in the relationship.
Is it possible to change the dynamics in a relationship?
Changing the dynamics in a relationship is possible when both partners have open and honest communication on how to provide a balance when it comes to power and control in the union.
How can you change the power dynamic in a relationship?
Some of the ways to change the power dynamic in a relationship include taking responsibility for your actions, sharing duties with your partner, learning to compromise, etc.
Takeaway
When it comes to recognizing toxic behaviors between two partners and spotting the signs of unhealthy power dynamics in relationships, it might be difficult if you don't know what to look out for.
However, with the points revealed in this article, you may be able to tell if the power dynamics in romantic relationships are unhealthy or not.
If you need more help on how to balance the power dynamics in your relationship to make it a healthy union, you can consider going in for relationship counseling.
Share this article on
Want to have a happier, healthier marriage?
If you feel disconnected or frustrated about the state of your marriage but want to avoid separation and/or divorce, the marriage.com course meant for married couples is an excellent resource to help you overcome the most challenging aspects of being married.
More On This Topic
You May Also Like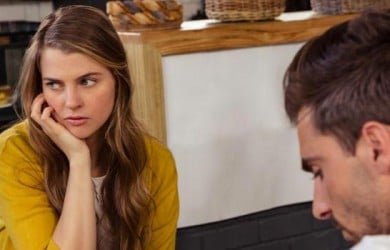 Popular Topics On Married Life