10 Ways How Dominant Men Manage Their Household
When we look around today, we see women matching their footsteps with men. The entire equal right and equal pay are getting everyone's attention.
While this is good news, and one must appreciate that people are talking about this, certain things are beyond this.
If we leave behind all the political and socio-economical fights between men and women outside the bedroom, we would observe that women might prefer their men to be dominant. Even in same-sex relationships, one partner often has a dominant energy as opposed to the other.
What is the meaning of being a dominant man? Watch this video to know more.
Ten ways how dominant men manage their households
Listed below are some tips that will help men take total control of the situation and help them position themselves as the leader of the household and in society.
1. Be a leader, not a boss
There is a difference between being a leader and being a boss. We all know about it. In professional life, you work under someone and are just a team member, but you're the leader in the home. You have the responsibility of the entire household.
Related Reading: 

Emotional Intelligence Leadership the Key to Marital Success
To be known as a dominant man, you must be a leader.
You have to make important decisions that will affect the entire family. These decisions may be tough, but you must look for long-term benefits and make the right choice.
2. Provide your family with the best you can give
Your partner may be working and earning, but it's equally your responsibility to provide your family with all the best things you can give.
You have to take care of their comfort. It would be best if you gave them things that are necessary for them to have a comfortable life.
You will be involved in big and important decisions. Your family looks up to you for it. If you fail to address these things, things might turn against you.
3. Be strong
Your family looks up to you for every small thing. They know that you're strong and can fight back in any situation.
This strength is used to protect them from any danger ahead. If you wish to be an alpha male, then you must demonstrate your strength from time to time.
It's not always about physical strength but mental strength as well. It would help if you were prepared for anything and everything.
You must stand at the front and safeguard your family. Doing such things can prove your dominance in the family and earn respect.
Related Reading: 

How Can Couples Build Strong Relationship With Trust Building Exercises?
4. Take firm and right decisions
While trying to keep your family together, you must understand that you can't say yes to everything.
You must make firm and right decisions for your family, even if it means saying 'no' at times.
Always back your decision with the right information. Though you're only sometimes answerable to everyone, ensure you are prepared with the right opinion.
This firmness and precision in decision-making will make you like the house's dominant men.
5. Have a charismatic personality
An alpha male in society has a charismatic personality. They're someone who gets everyone's attention easily. They present themselves well and are always updated about things around them.
Anyone can identify them from a distance, and their personality and behavior market them well in their surroundings.
If you desire to be one of the alpha men in society, make sure you have developed some charismatic personality traits. Treat people around you with respect and have high values.
Related Reading: 

How Does Borderline Personality Disorder Affect Relationships: 5 Ways
6. Be competitive in a good spirit
Competitive behavior can be a positive or a negative trait, depending on how one takes it. It is always suggested that dominant men must have a good competitive spirit, which will keep them going.
It must not always be about winning but winning the right way. People have high hopes for you, but that should not make you take the wrong measures to win a competition.
For once, you may get attention, but in the long run, it may impact your overall personality and stature.
7. Be confident of who you're and what you do
A confident man can win any battle. A confident personality can shake anyone and help establish a person as one of the most respected people. It's not easy to emerge as a confident person, but practice makes a man perfect.
You must go through a process to be a dominant male in relationships, marriage, or even society.
Read books, attain knowledge, and have the best information about your field and things around you. It shows in your words and presentation when you're sure of things.
Dominant men are needed both in the house and outside the house. These pointers will help you emerge as one in both places. Follow these suggestions and see the change yourself.
Related Reading: 

20 Things You Can Do To Feel More Confident In A Relationship
8. You do not mistreat your partner
Being dominant means being assertive and taking charge. What it does not mean is to mistreat the person you love.
Sometimes, people may use being dominant as an excuse to disrespect or not hear what their partner says.
Being in a relationship with a dominant person does not mean that your needs and wants are not accounted for; it just means that they take charge of most things.
9. You know when to be vulnerable
While dominant men need to be physically, emotionally, and mentally strong to keep their family and partner safe, they also should know when to be vulnerable.
There is strength in vulnerability because you can only move past your fears of opening up when you learn to be vulnerable with your partner. You do not have to do this with everyone, but being a dominant boyfriend or husband also means putting your relationship first and ensuring that you and your partner are always on the same page.
Related Reading: 

10 Tips to Become More Vulnerable in Your Relationship
10. Take charge of communication
Communication is one of the pillars of a relationship or marriage. With clear communication, a relationship may be able to survive the best or the worst of things.
When you are a dominant man in a relationship, you must learn to take charge of communication, among other things.
Sit with your partner to talk. Check-in with them weekly about how they are feeling. Know when to change your behavior to ensure they are happy with you.
To know more about power bases in heterosexual relationships, read this research.
FAQs
Here are some frequently asked questions about dominant men and household management.
1. What are the traits of a dominant man?
Some dominant man traits include –
1. He is self-disciplined
Dominance is not just about taking charge in the relationship or your partner's life. It is about taking charge of your own as well. One of the characteristics of a dominant man includes being self-disciplined.
You will find them sincere in their effort to live their best lives or be their healthiest selves.
2. He knows how to use his body language
A dominant man is confident and assertive and makes it known with his body language. You will find him standing with a firm posture, shaking hands with people firmly, greeting them nicely, and taking charge even at social events.
3. He understands time management
Another one of the important dominant personality traits is understanding time management. We have too much on our plates, and when we need to take charge of most of these things, time management is key.
A dominant man will never be seen wasting time or complaining. They would rather find a solution and work towards it.
2. How do you deal with a dominating man?
Here are some tips on how to deal with a dominating man in your life.
1. Let them have their way
One of the ways to deal with a dominating man is to let them have their way. While this is a way to ensure they are happy and fulfilled, it is also important to refrain from doing this when it challenges your principles or values.
For instance, if it is about what you guys have for dinner on date night, let them take a stand without fighting.
2. Understanding is key
In any relationship, understanding is key. However, when dealing with a dominant man, it is extremely vital.
You must understand there is a difference between letting yourself be dominated or walked over, but you choose to keep the peace when you can. You will still need to stand up for yourself when the need arises.
3. Look for the good side
Apart from the fact that they are dominant, your partner has various characteristics that are charming and endearing to you.
Focusing on those is a good idea when you are dealing with a dominating man in your life. Similarly, looking at the positive effects of their dominance helps you get more perspective.
4. Seek help
If you feel unheard or your feelings are unaccounted for in the relationship due to your partner's dominance, there is nothing wrong with seeking help to understand how to deal with things or determine the future of your relationship.
If you need to talk, seek help from friends and family. However, speaking to a relationship therapist is also a great idea if you would rather talk to a professional.
The takeaway
Dealing with a dominant person in a relationship can be difficult. However, being dominant in the relationship may also take work. It comes with a great deal of responsibility.
Suppose you are the dominant one in the relationship. In that case, it is vital to remember that just sometimes, letting go or taking it a little easy is not a bad idea, especially if taking charge has started to deteriorate your mental or physical health.
Similarly, if you are married to or in a relationship with a dominant person, you must remember that you chose your partner despite knowing they are dominant. You may have to be more understanding than usual but also work towards striking a balance.
Share this article on
Want to have a happier, healthier marriage?
If you feel disconnected or frustrated about the state of your marriage but want to avoid separation and/or divorce, the marriage.com course meant for married couples is an excellent resource to help you overcome the most challenging aspects of being married.
More On This Topic
You May Also Like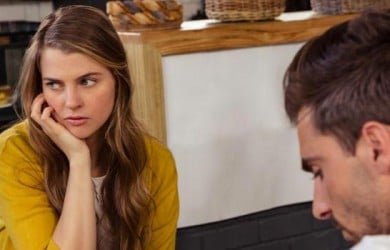 Popular Topics On Married Life