How to Deal With Taking a Break in a Relationship: 10 Rules
Sometimes couples need to spend some time away from each other when they are going through a rough patch and are finding it difficult to resolve things. It doesn't mean they're ending the partnership or breaking up. They're merely taking some time apart to think things through.
In finding ways to learn how to deal with taking a break in a relationship, the pair will follow the same rules that apply when they're together. If the partnership is exclusive and committed, the individuals will remain loyal and faithful while on a break.
Relationship break rules dictate nothing changes between the partners. The goal is to decide whether each person is better as an individual or remain together in a relationship.
What is a relationship break
Can taking a break from a relationship help? Relationship breaks can actually be healthy for a partnership. A break is merely a specific period of time spent apart with minimal contact with the other person.
It's taking some space to think about whether the rough patch experienced is a sign the relationship is beyond repair, and it's time to move on separately or do they really want to try to work through things.
Taking a break in a relationship rules as they apply means if the two people enjoyed an exclusive, committed partnership, you can't stray from those and do as you please.
Neither mate should anticipate stepping outside of the relationship with other people. That would deem cheating, resulting in the other partner likely calling the end to the union.
Understand why you're taking a break
No relationship is perfect. Sometimes things can get to be a bit too much when you find that you need the chance to take a breath. You don't want to act hastily and let go of your mate altogether, but a break would probably be wise so you can gain a different perspective.
It can be a chance for each person to heal from all the disagreements, the confusion, and the tough emotions.
Related Reading: 

How to Understand Taking a Break in a Relationship: When and How
Does taking a break from relationships work
It's not always ideal that a couple finds they need to take time and space apart. If attempting to work things out together via healthy communication or possibly other attempts like counseling are ineffective at restoring the partnership, a break naturally reveals the union was one that wasn't sustainable after all.
In saying that, it is a last-ditch effort and marriage or partnerships require hard work and dedication. It's critical, though, that each person understands how to deal with taking a break in a relationship since contact during a relationship break is grossly limited.
The time apart is meant to have space apart to consider life separately. "Can Relationship Breaks Work," a podcast by Unfiltered, tries to unpack how a break can make a difference in a relationship.
How long should a break last
The suggestion for how to deal with taking a break in a relationship is to endure a period of no less than two weeks and no more than approximately a month.
Still, there is no pressure to go back with a partner if it becomes apparent that the relationship is not one that you find healthy or see for the future. A relationship can come back much stronger after the time apart, fully recovered, having missed the other person.
However, usually in these situations, there are specific boundaries when the partnership starts, and these are followed when having space between each other.
But suppose you don't use the time to put in serious effort to understand the underlying issues and work through those. In that case, you might have unrealistic expectations for the break, believing that the mere distance will fix what's broken, and that doesn't always do the trick.
10 rules for taking a break in a relationship
Couples taking a break need to consider in their particular case is taking a break in a relationship healthy and has everything else been tried, including couples counseling.
Professionals can offer taking a break relationship advice and guide partners on how to survive a break in your relationship with minimal to no communication during a relationship break.
There are specific rules that apply with the time apart if you hope for it to be effective. If the two of you don't enter into the break on the same page, with mutual guidelines, you'll be at square one. With rules, everything will be straightforward and work smoothly.
1. No straying from the rules
In the beginning, when you agree to take time apart, you'll need to determine how to deal with taking a break in a relationship. There will need to be some hard and fast rules that you agree to and don't stray from.
Whether you see other people needs to be established upfront and mutually and whether sexual contact is permissible. A serious conversation on boundaries is required and you should set the rules in stone.
2. The duration of the break
One factor in determining how to get through a break in a relationship is setting a time frame. When setting boundaries, you should each select a deadline date on your calendars when it will end.
Despite a reconciliation or an end to the partnership, on that date, the two of you should meet on that day to discuss the next step, whether you'll go ahead and get back together, if you need more time, or if things need to end.
The decision of when it should end needs to be mutual. The longer it goes, the more adapted you're both becoming to being on your own.
3. Journal your emotions
In the beginning, you'll be frustrated and, of course, overwhelmed, but these emotions will change each day. That means journaling those feelings can be beneficial throughout the break.
Research shows that writing down details about your stressful day can help you process emotions and negative situations better.
You might miss your partner desperately in the beginning, but that too could change drastically to the point you notice you're doing great by yourself – and like it.
Watch this video to learn more about how to react if your partner asks for a break:
Related Reading: 

5 Ways How Writing a Self-Esteem Journal Can Save Your Marriage
4. Time with things and people you love
Suppose you use the time to benefit the partnership. There was an underlying cause for the frustrations that led to the break and why the rough patch couldn't be resolved.
This time period needs to be spent with those you care for and doing things you enjoy so you can evaluate the relationship to see if your mate still fits. If the deadline comes and you can no longer include them, a breakup is the appropriate next step. That's how to handle a break in a relationship.
5. Problem-solving with a new perspective
When you contemplate the "how to take a break from relationship rules," remember that these do not state that you should be attempting to solve your problems while apart.
These issues were already communicated probably multiple times while together. Now is the time to consider things in a different light, reflect, and have a different perspective.
Related Reading: 

10 Best Conflict Resolution Techniques for Every Relationship
6. Mutual friends are off-limits
Considering how to deal with taking a break in a relationship, one factor to consider is avoiding discussions of the subject with friends that the two of you share.
The potential for something one of you said getting back to the other mate is a genuine possibility and can wreak havoc on what you're trying to accomplish.
7. Avoid your partner when on a break
If you're taking a break from marriage while living together, it kind of defeats the purpose of the time apart. There is supposed to be no contact, no seeing each other, no communication, or as minimal as possible.
There has to be a family member, close friends, a place to stay aside from the same house to be a genuine break, or it might not be effective.
8. Decide whenever you are sure
Learning how to deal with taking a break in a relationship can be exceptionally easy for some mates when one makes a fast and straightforward decision.
It sometimes doesn't take the whole length of a set deadline. In some cases, partners decide to meet early to let their significant other know that the relationship needs to end.
9. Communicate
When the break is over, communicate what you reflected on and the insight you gained about the issue with your partner. Make sure that the conversation happens in person regardless of your decision on the outcome of the relationship.
An open, honest line of communication is still vital to helping a mate understand what went wrong and why so it doesn't happen in future partnerships.
Plus, you can actively listen to your part in its demise. If the two of you recover, the same is true. Each mate can pay attention to their roles in creating the need for the break to avoid it in the future.
Related Reading: 

Healthy Communication For Couples: Speaking From the Heart
10. Visualize the ideal partnership
No partnership is ideal, nor will any be perfect, but you can visualize what you determine to be the most healthy, strong, and thriving relationship.
Doing so can help you see where you need changes in your own union. You might want there to be more attention and affection, a greater level of communication, or perhaps trust needs to be reestablished.
Research shows that visualizing the future positively impacts the decision-making process and perspective on the future. It provides clarity and focuses our attention.
In any case, when you communicate that these are the things you hope to achieve to recover, you need to recognize that they will also be things you need to work on as well.
Related Reading: 

10 Characteristics of a Good Partner
Final thought
In attempting to figure out how to deal with taking a break in a relationship, it's wise to take an expert's guidance. Professionals can help you develop the necessary rules and set the boundaries for your time apart.
The counselor will also let you know both sides of what you can expect from a break; a recovery or the demise. The outcome will be up to how the mates handle their personal space.
Share this article on
Want to have a happier, healthier marriage?
If you feel disconnected or frustrated about the state of your marriage but want to avoid separation and/or divorce, the marriage.com course meant for married couples is an excellent resource to help you overcome the most challenging aspects of being married.
More On This Topic
Recent Articles
You May Also Like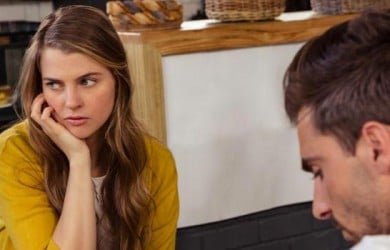 Popular Topics On Married Life