Polyamorous Relationship Rules
Some of you may be reading this and thinking poly….poly what?
For those of you who aren't familiar with this lifestyle, poly, from the Greek, means many, and amorous refers to love. So a polyamorous relationship is one where both partners have agreed to have other sexual and romantic partners.
You might be wondering how a polyamorous relationship differs from extramarital affairs or cheating on your partner.
The biggest difference between those situations and a polyamorous relationship is that in the latter, there are no secrets. No hiding your trysts from your partner, no sneaking around behind their back to meet up with your "little something on the side."
Related Reading: Polyamorous Relationship – Characteristics and Types
Polyamorous relationships or open relationships
Polyamorous relationships are what people used to call "open relationships", where both partners know and in fact support their partner having other sexual and romantic partners.
"Consensual, ethical and responsible non-monogamy" is one way these relationships are described.
21% of people in the United States are in or have had non-monogamous relationships.
What's it like to date when one is polyamorous?
One of the most important polygamy dating rules to follow is to keep in mind when dating as a polyamorous person is to be completely honest with any potential partner.
This means being upfront with the fact you have a primary relationship, (or even several) and that you are capable of loving and forming sexual and emotional attachments to multiple partners.
This allows the person you would like to date to decide is this the type of relationship they would be interested in pursuing.
For the polyamorous person, they need to be clear with themselves: do they have the time, energy, emotional bandwidth and sexual endurance to have multiple partners?
How do you see yourself supporting all these needs of several partners?
Also Try: Am I Polyamorous Quiz
What's it like to be in a polyamorous couple?
In order for the relationship to function optimally, complete honesty is key. Couples may not need to know specifics of the multiple partners, but they do need to be open with each other about the existence of the partners.
Typically, a polyamorous couple has one primary relationship—say, the person they live with, split household chores and expenses with—with one or several secondary relationships.
Related Reading: Everything You Need to Know About Polyamorous Dating
Polyamorous dating rules
All successful polyamorous couples—and by successful, we mean happy and thriving—point to the importance of setting rules. The couple needs to decide what is important for them to know about the other partners.
Some polyamorous couples want a full report when a partner returns home from a date, others prefer only to know that the partner is going out, but don't want to hear the details.
Other rules might include:
Do we bring the other partner home for sex, and if so, can it occur in our bed? Or should sex always take place outside of our shared home?

Do we meet each other's partners?

Can we date each other's partners? (For bisexual polyamorous couples)

Birth control, STD testing and protection, sexual safety

Talk about fidelity versus loyalty

Depth of intimacy and emotional connection with other partners
Related Reading: My Boyfriend Wants a Polyamorous Relationship
The triad relationship
There's another type of relationship in this category: the triad relationship.
A triad relationship, or "throuple" as the media calls it, is one where the primary couple includes one additional person in the relationship.
Depending on the sexual orientation of the primary couple, this third person will be either a male or a female, who may be heterosexual, homosexual or bisexual. All three people are romantic with each other. They may all be sexual with each other. There are even asexual triad relationships, with no sex involved at all but a deep friendship between all parties.
Triad relationship rules
Once again, total honesty is essential for this to work healthfully.
In general, triad relationships require:
Alone time for each "pair" so they can grow their dynamic

Time all together

Safe sex practices

Manage any jealousy that might come up

Decide how open you will be with others about the unique nature of your relationship, especially if there are children still at home.
Related Reading: Tips on Asking Your Partner for a Polyamorous Relationship
Starting a polyamorous relationship
Interested in trying this out?
A good place to start is by using one of the several dating platforms built to include polyamorous people, such as BiCupid.com, FetLife.com, Feeld.com, and Polyfinda.com. Tinder has a "seeking a third" section, OkCupid does as well.
Be upfront that you are polyamorous and seeking same.
How to be polyamorous
Experienced polyamorous people will all tell you that you need to be very organized and fair with the time you give all your partners.
Make sure you can support their emotional, sexual and social needs.
Just starting out? You may want to start slowly by adding only one additional partner to ensure that you don't become overwhelmed.
How to deal with a polyamorous partner
Sometimes polyamorous people become involved with monogamous people.
As long as everyone is honest about needs and expectations, these arrangements can work. If you are a monogamous person involved with a polyamorous partner, be sure to be honest with yourself.
Check your level of jealousy, and talk about it if you find yourself resenting the time your partner is spending with other partners.

Are you happy? Are your needs being met? If so, this may be working for you. If not, don't expect the polyamorous partner to change.
Polyamorous relationship problems
Polyamorous relationships have problems just like monogamous relationships.
Some are shared: disputes about whose turn it is to take the recycling to the curb, who isn't pulling their weight with the household chores, and who forgot, once again, to put the toilet seat down.
But some are unique to the multiple-partner structure:
It takes a lot of time and energy to be attentive to multiple partners

There is no protective legal status for polyamorous relationships, unlike domestic partners. Should one partner leave the relationship, or die, there are no rights for the other partner(s).

Humans are human, and jealousy can occur.

Boundaries need to be continually defined and redefined
· More partners equals greater exposure and risk to STDs.
Share this article on
Want to have a happier, healthier marriage?
If you feel disconnected or frustrated about the state of your marriage but want to avoid separation and/or divorce, the marriage.com course meant for married couples is an excellent resource to help you overcome the most challenging aspects of being married.
More On This Topic
You May Also Like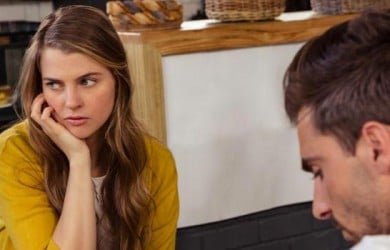 Popular Topics On Married Life