10 Dos and Don'ts for Dating Someone With Multiple Sclerosis
Dating has its challenges in the best of scenarios. When you have a disability, especially one that may not be visible, such as multiple sclerosis (MS), it may feel like the scales tip in favor of the challenges. Dating can and should be a fun and fulfilling experience.
With the ten tips discussed in this article, you'll be able to navigate dating someone with multiple sclerosis more easily and confidently.
What is Multiple Sclerosis (MS)?
MS is a chronic, autoimmune disease that affects the central nervous system (CNS).
Specifically, MS affects the fatty, insulating tissue around nerve cells called myelin. Damage to these myelin sheaths results in MS plaques (like scar tissue) developing and key electrical signals between the brain and body getting interrupted.
Depending on where in the CNS demyelination occurs, MS can physically and mentally impact a person. In some instances, MS can lead to serious limitations and disabilities that drastically impair one's day-to-day life — including their dating or love life.
10 dos and don'ts of dating with multiple sclerosis
If you are dating someone with multiple sclerosis, you should know a few dos and don'ts of dating to help you and your partner enrich the relationship.
5 dos of dating someone with multiple sclerosis
Here are some things you should do regarding MS and relationships or exploring dating with multiple sclerosis.
1. Let them tell you when they are ready
Allow your partner the space to let you know that they have MS whenever they feel comfortable sharing that information. Don't hold it against them if they take time to be open with you.
That time is different for everyone, and it depends on several factors. Some people will immediately want to tell someone they're dating about their MS. Some may prefer not to disclose their MS to a new partner until the relationship is serious, if at all.
2. Learn about MS and fertility
Women and men with MS can be successful parents of happy, healthy children. The disease process and treatments to manage MS may pose challenges for some people.
Whether you want or can have biological children may be important to you and the person you're dating, so it can help prepare you with the right information.
Discuss conception, pregnancy, delivery, and breastfeeding with your MS treatment team to ensure the safest experience for you and the baby.
3. Learn about how MS may affect your family planning
One of the dos of MS and dating is to know that the disability does not mean you cannot have a family, even as it affects your family planning. MS should not get in the way of being successful parents of healthy children.
The question, "Is MS hereditary?" is often asked when considering having children if you or your partner have MS. While MS is not hereditary, there is a genetic component to the disease.
A person's risk of developing MS increases when you have a close family member with MS. This genetic component does not necessarily mean you can no longer have a biological child.
4. Learn extensively about how MS affects you specifically
One of the dos of multiple sclerosis dating is to be well aware of the way MS affects you.
MS is a complex and unpredictable disease that affects everyone differently. It would help if you learned as much about MS and how it impacts you specifically. Only then will you be able to explain it to your partner in the best way.
5. Understand the emotional impact MS can have on your dating life
Dating someone with multiple sclerosis, dealing with the myriad symptoms of MS, and specifically, MS's impacts on your personality can take an emotional toll.
Depression, anxiety, and irritability are very common in those living with MS. Its emotional impacts may also include loss of self-esteem, anger, grief, and stress. This can get in the way of a healthy relationship and sex life.
Counseling or therapy — for you and your partner — can help address the physiological and psychological issues you're going through.
Five don'ts of dating with MS
Here are 5 don'ts of MS relationships or dating someone with multiple sclerosis that you should know about.
6. Don't be alarmed if you experience changes in your libido
When dating someone with multiple sclerosis, remember that any physical and emotional effects may contribute to a decrease in sexual desire.
Women may experience reduced sensation in the vaginal area and the clitoris. They may also experience heightened sensations that can be painful. Vaginal dryness is another side effect of MS experienced by women that can get in the way of their sex life.
You can look into relationship counseling to help you understand the relationship between MS and sex.
7. Don't leave room for assumptions
Instead of leaving space for assumptions and conflict, communicate your needs when living with someone with MS.
Whether or not they've disclosed that they have MS, allow them the space to be clear with you about what their needs are.
Let them speak up about how they feel and what they need. This understanding gives you the information and insight to have a chance to show support in the way that they need it.
To learn more about assumptions that could be ruining your relationship, watch this video:
8. Don't be self-conscious when it comes to sex
Becoming intimate with someone when you or they have MS may be different than it used to be.
Throughout its disease course, MS may affect the nerve pathways that are responsible for sexual arousal and orgasm. Successful sex may take some trial and error. It's okay if it just doesn't work out sometimes. Work with your partner and make adjustments.
9. Don't become despondent if you encounter sexual challenges
MS can affect your ability to have sexual intercourse or experience the same sensations you once did.
Wondering how does MS affect intimacy?
The most common sexual issue reported by men with MS is erectile dysfunction or trouble achieving or maintaining an erection. Additionally, men may experience reduced penile sensitivity and challenges in achieving ejaculation.
10. Don't forget to maintain balance in your relationship
When one person in a couple has MS, the other person lives with MS too.
When dating someone with multiple sclerosis, it is essential to ensure that both people in the relationship give and receive in their partnership. This balance can be especially difficult to strike when one person is a caregiver.
But again, finding ways for both people to give and receive in the relationship is critical.
Related Reading

: 

10 Tips on How to Maintain Balance in a Relationship
How does MS affect dating and romantic relationships?
When dating someone with multiple sclerosis, you may have to get used to the significant impact that this disease can have on your relationship.
MS would impact most aspects of the relationship, making one partner heavily dependent on the other. The partner with MS may require physical and mental assistance from time to time, causing complications in their intimate life.
However, equipped with knowledge about the disease, love for your partner and the desire to make things work, you can have a warm and loving relationship that lasts. You can also seek the help of a mental health expert for guidance in case things get too difficult for either of you.
Conclusion
If you have MS or are dating someone with MS, there is no reason you cannot have a fulfilling, loving relationship. You may have some bad days between the good days.
Dating someone with multiple sclerosis may require some adaptations and patience, but MS doesn't have to end your romantic life.
Share this article on
Want to have a happier, healthier marriage?
If you feel disconnected or frustrated about the state of your marriage but want to avoid separation and/or divorce, the marriage.com course meant for married couples is an excellent resource to help you overcome the most challenging aspects of being married.
More On This Topic
You May Also Like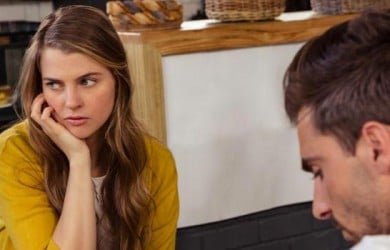 Popular Topics On Married Life