The Must Know Dos and Don'ts of Wedding Hair Extensions
As you know, the wedding day – as well as a couple of days before and after that – is probably the most important part of your entire life, especially if you are sure that you've found the one.
Now, given the above, you may want to add more wow to your hairstyle, or just some extra length to help you achieve the look you've always wanted. If that's the case, you will most likely have to rely on hair extensions.
Even if they're not so hard to deal with and you can count on your stylist to apply them perfectly, there are still a couple of things that you have to take into consideration when it comes to hair extensions for your wedding day.
If you don't know exactly where to start in this field, you can give this guide a read and then return here to find the wedding hair dos & don'ts every to-be bride must keep in mind.
Or, in other words, how to make sure that you won't regret your wedding day hairstyle!
The starting point
Before we learn about the do's and don'ts to picking fabulous wedding extensions, you'll have to choose from two types of extensions if you decide to get some for your wedding day – namely clip-on and bonded extensions.
The latter type is commonly used, rather expensive, but doesn't work too well if you want to wear your hair up. Bonded extensions are known to fit better on people who wear their hair down.
Clip-on extensions, on the other hand, can be added throughout your hair in strategic places, where you need them the most. Because of this, you can wear your hair however you want – there's no risk of extensions showing up.
On top of that, clip-on extensions can be taken out at the end of the day. This gives you the ability to engage in all types of activities – swimming, spa, sauna, etc.
Recommended – Pre Marriage Course Online
Wedding hair extensions: The dos and don'ts
If you want a really short answer to why this information will help you, keep in mind that there are a lot of things to take into consideration during a wedding. It's not just about how you see yourself in the mirror.
People will be looking at you, obviously, and cameras will be flashing in your face all night long. Therefore, here are the dos and don'ts of wedding hair extensions.
Don't get synthetic extensions. They may be cheaper, and you may have an easier time finding a color match for your natural hair, but synthetic extensions reflect light too much. Thus, your hair will appear shinier in flash photography – giving it a false look. Do invest in real hair extensions – after all, it is your wedding!
Do invest in high-quality hair extensions. Research properly and pick the extension type that fits you best. You may spend quite some money, depending on the type you choose, but doing so will ensure that no one will notice that you have extensions on.
Don't cut the extensions yourself. Even if you choose to go with clip-on extensions, you should never take the risk and cut them yourself. True, you may be saving a bit of cash, but your hairdresser will make sure that you have a perfect look for your wedding.
Do experiment with your hair before the big day. It is well-known that hair extensions have to be treated carefully. Because of this, you'll want to avoid using styling or heat products too much on them. If you have a certain style in mind, make sure to test it before the wedding and ensure that the extensions can handle it.
Don't color the extensions yourself! A hairdresser will make sure that the extensions match the color of your natural hair, as well as seamlessly blend it. It goes without saying why you shouldn't cut or dye your own extensions!
Do keep in mind that you can wear your hair up. Extensions should not be limiting your hairstyle choices. It's totally wrong – ponytail or bun, you can have it! Of course, this implies hiding any signs of micro-rings or clips, but it doesn't mean that it is impossible!
Don't go over the top! Given that it's your wedding day, you may get carried away and find yourself with one too many extensions on your head. As you know, too many extensions on natural hair will usually seem fake and, most importantly, not blend at all!
Do wash your extensions before the big day! Synthetic or real hair, it doesn't matter – you have to wash and condition your extensions before the wedding day. They will be squeaky clean and also have any product buildup removed from them.
Don't clip in your extensions too close to the hairline. When it comes to clip-on extensions, having them too close to the hairline will make you feel uncomfortable, not to mention the fact that they can easily slip out due to lack of support. Make sure you – or your hairdresser – clip them two inches away from your hairline.
In the end, you can see that having hair extensions on for your wedding is not as easy as it sounds.
However, if you take all of the above into account and pay attention to what you and your hairdresser do, there's little that could happen to your extensions!
The final say
As a final tip – or do – we recommend that you search for multicolor extensions, instead of relying on solid shade ones.
There are some brands out there that offer multilevel coloration, which can really help you achieve that all-natural look!
Such extensions come with shades that feature 7 to 11 different colors, which have been hand-blended to look entirely natural, to better compliment your hair. With their help, you could also make your hair lighter and darker!
In short, when it comes to hair extensions, the sky's pretty much the limit! You could do anything you want with your hair for the big day.
Naturally, you can do so as long as you keep in mind the dos and don'ts of wedding hair extensions!
And always remember that not to mess up your hairstyle you must know the dos and don'ts before getting extensions for your wedding.
Share this article on
Want to have a happier, healthier marriage?
If you feel disconnected or frustrated about the state of your marriage but want to avoid separation and/or divorce, the marriage.com course meant for married couples is an excellent resource to help you overcome the most challenging aspects of being married.
More On This Topic
Recent Articles
You May Also Like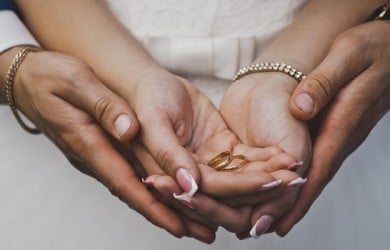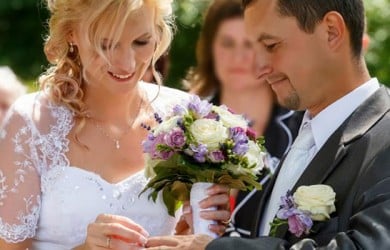 Popular Topics On Getting Married