15 Definitive Signs You're With a Good Man
Have you ever wondered how some women end up with certain men in their lives? How do you cope or endure in a relationship that isn't giving you the best or what you want? The problem lies in not knowing what a good relationship is.
So, how do you know you have a healthy relationship? What are the signs you're with a good man and not a pretender? This article will discuss the meaning of a good man and the apparent good guy signs. Keep reading to find out more.
Definition of a good man
If you ask a few people how they perceive themselves, they will describe their personality on a positive note. In that case, who are the bad guys that hurt others?
Who are the "scums," "liars," "cheats," and "pretenders" in relationships? If every man claims to be the best, what is a good man? How do you know when you have a good man?
Many will agree that a good man is committed to his relationship and partner. A good man regards and respects his partner even in disputes. He understands that relationships demand love, patience, commitment, and endurance.
One of the signs you have a good man is when you see him as your safe place. As such, he isn't just kind to you but also to others. A good man compromises to make the relationship work. Also, he understands the key to living a healthy life is humility and kindness.
The best men know your weaknesses and insecurities but don't take you for granted. Instead, they help you overcome them until you are confident. Essentially, a good man is your peace and that is one of the main signs you're with a good man.
How can you tell whether you are with a good man
Another pertinent question is how do you know you are with a good man? With the definition of a good man above, you should have an idea if you have found a good man or dating a good man.
Nonetheless, it is vital to know the cues that point to the qualities of a good man in a relationship.
A good man is trustworthy and won't behave questionably. Particularly, you should pay attention to both his words and actions. If you are curious to know if you have found a good man, check out the following definitive signs of a good man.
Related Reading: 

10 Ways to Find a Good Man
15 telling signs you're with a good man
Feelings can cloud your judgment and you may become unsure about whether you like someone or not. But if you pause things and analyze your behavior, you will notice that there are clear signs you're with a good man.
Here are some key signs he's a good man. They can address all your doubts and reassure you about the man that you have. And if you have a good man hold onto him as you've hit the jackpot!
1. He is kind
One of the top signs you're with a good man is kindness. A kind man is compassionate and understanding. You come first in his dictionary, and he ensures your happiness is paramount.
While being friendly is easy, being kind entails more. It means putting others first. Generosity and integrity are the watchwords of a kind man, and he wears them like armor.
2. He is your number one fan
If you are loving a good man, rest assured you are part of the most influential people in his life. In that case, he will be your support system every time. He will motivate you and push you forward towards your goals.
Even when your dreams seem unrealistic, a good man will be optimistic and encourage you whenever you feel down. It is one of the signs you're with a good man that as long as you have him, you will feel like you have zero problems in life.
Related Reading:

 20 Steps to Becoming a Supportive Partner
3. He connects with you emotionally
Another description of a good man is when he can have emotionally-driven communication with you. He asks a question that makes you think further than your present level and significantly impacts you.
If you are looking for signs you're with a good man, notice your emotional connection with him. It is easy to converse with anybody, but finding someone who can have an intellectually stimulating discussion is challenging.
4. He understands the meaning of love
Love is trust, sacrifice, compromise, and compassion. To love another human is to be generous, to accommodate their feelings, background, experiences, and baggage without questioning.
A good man understands this and doesn't just say it. Instead, he implements everything, making you wonder from which planet he comes. His loving action and attitude towards you are unmistakable signs you're with a good man.
Related Reading:

 Understanding Love and How It Grows in a Marriage
5. He ensures you trust him
One of the first things a good man does when dating you is to ensure you trust him. Your good man understands the place of trust in relationships. So, he will first work towards building trust as the foundation of the relationship.
In addition, an intelligent man knows that things will start falling in place once you trust him in the relationship. For example, it is one of the meaningful signs you're with a good man if he makes sure his words and actions sync so you don't have to doubt him.
Related Reading: 

15 Ways on How to Build Trust in a Relationship
6. He makes you feel safe
To answer the question, "How do you know you are with a good man?" You need to know how you feel when you think about your man. Do you feel secure knowing you are dating him? Do you have doubts of any sort?
If the answers to these questions reassure you, you have found a good man. A woman will feel secure and safe around a good man even when the world is on fire. You will feel like you have no problem whenever you are with your man.
Related Reading: 

6 Tips for Building Emotional Safety in Your Relationship
7. He makes you feel vulnerable
One that most healthy relationships have in common is vulnerability. That is the ability to open up to your partner and squash all your fears. Not many people let their guards down emotionally, but a good man will make this easy.
Aside from making you feel safe, a good man will make you feel no shame about your vulnerability. That further strengthens the bond, trust, and honesty you both have.
To learn more about the power of vulnerability, watch this video:
8. He expresses his feelings clearly
One of the signs of dating a good man is an expression of his feelings.
A good man doesn't withhold anything from you. He lets you know his intention from the beginning of the relationship. That's to remove doubts and ensure you are both on the same page and make you reciprocate easily by being more outspoken in the relationship.
Also, Expressing his feelings means opening up to you whenever he is in trouble. He won't just share the good news with you, but also the unpleasant because he sees you as his partner.
9. He listens to you
One of the actual signs you're with a good man is when he listens to you. Understand that listening and hearing are different. When your man listens to you, he understands your perspective and doesn't judge you.
When you have a good man, he is your go-to for any conversation. Whether you want to talk about your haunting background, work experiences, your family, or other issues, he is always there for you.
10. He takes responsibility
Dating a good man doesn't mean there won't be a fight. Both of you will have disagreements from time to time. But you know what distinguishes a good man from others? He takes responsibility for his behaviors and admits he is wrong.
In other words, a good man doesn't believe in shifting blame to avoid scolding. He shoulders his faults and asks for forgiveness when he is wrong. He understands mistakes are typical and doesn't feel ashamed to make them with you.
11. He appreciates little things
Again, one of the top signs of a good man is appreciation. A good man appreciates little things you do for him or give him.
For example, as little as doing his laundry can make your man go overboard for you in return. Every help matters to him, and he ensures to reciprocate in multiple folds.
Related Reading:

 8 Ways to Show Appreciation to the Love of Your Life
12. He won't abuse you
Good men are regarded as responsible because they have a beautiful background. Also, they learned from good relationship experiences while sifting the bad ones away. They know abuse has no place in a healthy relationship and will never move close to it.
Whether emotionally, physically, or verbally, you are shielded from abuse when dating a good man. Good men seek to know the root of the problem and the solution. Instead of engaging in domestic or verbal abuse, they sit you down and have a meaningful discussion.
13. A good man makes you feel beautiful
One of the good guy signs is the ability to make you feel beautiful. Of course, every woman is beautiful in her way. However, a good man will constantly remind you how gorgeous and unique you are.
It is one of the signs you're with a good man if you start feeling like the most beautiful woman in the world. That's precisely what you are to him. He sees no other but you, and that's why taking care of you is easy for him.
14. He improves himself constantly
Even though you are one of his topmost priorities, a good man doesn't neglect his needs. He may be the best man at his job, but he doesn't let this distract him.
How do you know when you have a good man? You will see a good man taking more responsibilities, getting into good shape, or learning a new skill.
A good man is always on the path to being a better person in every area of his life. That's because he wants you to see him and be proud.
Related Reading: 

Why Is Accepting Responsibilities in a Relationship Important?
15. A good man knows his boundary
You may be their best friend in the world, but a good man knows where to draw the line. That means he understands your policies, likes, dislikes, and rules. In essence, a good man respects you and your wants. Just because you are dating doesn't give him the chance to overstep.
In conclusion
Many women want to know the signs of a good man before going into a relationship. Others they want to be sure they have found a good man or are dating a good man. That's why this article has tried to show you the description of a good man.
If you are convinced he is a good man, all you need is to reciprocate to motivate him to do better. If otherwise, discuss with your partner what you deserve in the relationship.
Share this article on
Want to have a happier, healthier marriage?
If you feel disconnected or frustrated about the state of your marriage but want to avoid separation and/or divorce, the marriage.com course meant for married couples is an excellent resource to help you overcome the most challenging aspects of being married.
Learn More On This Topic
You May Also Like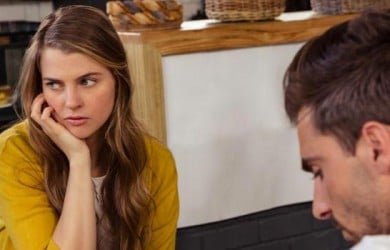 Popular Topics On Married Life