Consistency in Relationships: What It Means, and Why It's Important
Consistency in a relationship is a level of predictability, reliability, and dependability. When used in a different context in a romantic partnership, couples can feel their union has reached a level of comfortability and familiarity.
If things develop into a rut, that can be a challenge, but trust and confidence are also a good recipe. When a support system is needed, there is always someone available to build up, cheer on, motivate and encourage.
Two people in a partnership with consistency have chosen exclusivity and moved forward to what it means to have a committed relationship by being available to each other regularly, being consistent with daily communication, and getting to know each other.
The closer they become, the bond becomes more established. That's a result of consistency in love.
What does consistency mean in a relationship?
Consistency in a relationship is a repetitive behavior that leads to trust and confidence for each mate. When displaying consistent behavior, a partner will show up on time when making a plan and engage in regular contact when not together.
The desire to get to know each other takes precedence with consistency and stability in a relationship. Each chooses to spend quality time together in what becomes an honest and exclusive partnership.
In trying to understand consistency as it compares to commitment, take a look at this research.
Why is consistency in a relationship important?
Consistency is key in a relationship since it means stability, accountability, honesty, essentially the foundation of a partnership. As long as each person puts forth an effort to be consistent in a relationship, it can lead to growth and the development of a bond.
If one person is inconsistent, that speaks to a lack of desire to create that closeness since inconsistency is a matter of conscious effort. It also takes that same effort to correct the behavior and develop consistency in a relationship – if that's your desire.
What does consistency look like in a romantic relationship?
In the initial stages of a partnership, the attraction, chemistry, infatuation monopolize the brain and carry the couple through the first few months of dating. But the sign of true staying power is consistent relationships once stability begins to develop.
As a couple becomes comfortable, grows close, and establishes exclusivity, love must be consistent. It's the period when trust forms and a level of confidence.
What are some signs to tell that a partner is showing consistency in a relationship in the beginning? Let's look.
1. An effort with contact and time
Mates exhibiting consistency in a relationship will be generous with their time. That should work for each partner. There shouldn't be one person putting forth all the effort.
If you seem to be initiating making plans, scheduling time together, setting up dates, step aside for a bit to see if your mate attempts to make a few arrangements.
It's also essential to look over those times and see if there was any inconsistent behavior in relationship with showing up to any of the plans you set up.
Consistency in a relationship is also regularly checking in with each other aside from spending time together. If you can't see each other for a couple of days, consistency means making sure to reach out with a phone call, video message, some form of contact.
Related Reading: 20 Effective Ways to Put Effort in a Relationship
2. Promises kept
Consistency is a love language that shows dependability and reliability. When a partner makes promises, their mate can rest assured these will be followed through. Read a personal take on consistency as a love language here.
A concern with a consistent mate is how their partner perceives them. Breaking promises will only disappoint a mate that's significantly cared about, and that's the last thing a consistent individual wants to do.
The top priority is to be the one person a significant other can count on. Letting them down is not an option.
3. Actions speak louder than words
Consistency in a relationship means a partner shows their feelings to back up their words. Often once a partnership fades away from the honeymoon phase into a level of comfortability, words become stale.
However, consistent partners ensure their behavior aligns with what they're saying to you, so there are no doubts.
It brings a level of sincerity where familiarity might have stolen some of that away over time if efforts were neglected.
4. Even keel
When mates come to a point where there is a slow and steady pace, even temperaments, no hot or cold or lashing out or frustration directed at each other, they have reached a level of consistency in a relationship.
Someone who finds it necessary to take their bad day out on you (almost every day) or perhaps sends mixed signals – one minute there's interest, the next minute they're distant shows not only inconsistency but likely isn't the right person for you.
5. Predictable
Consistency is predictability. You will know what to expect from this mate. Some people who don't have that might find that unappealing; it's quite the opposite.
The repeated behavior eventually becomes quite comforting and security you grow to appreciate and adore. There is no question concerning feelings, whether they care or intentions. You know where you stand and that you're a priority.
6. Moves slowly
Your honeymoon phase isn't quite the same as most people who experience infatuation and gregarious attraction with a consistent partner.
There's a lot of inconsistency with those types of partnerships, and in some cases, those fizzle quickly.
When you have consistency in a relationship from the beginning, it's almost like having a bit of familiarity, allowing a gradual progression.
That creates a more stable foundation to evolve into potential exclusivity where a strong come-on at the start sits on shaky ground.
7. Family and friends
A mate who has consistency in a relationship will gradually include you into their circle of friends and family.
It's an indication of a serious commitment developing and a pattern of behavior where your partner has continued to introduce you more to different aspects of their life.
That is whether it be their home, interests and hobbies, their office, or now the people who are important to them.
A foundation forms of trust and a level of confidence that can help to evolve the relationship forward to the next step, which is probably what your mate is hoping for.
How to be consistent in a relationship?
When considering how to be consistent in a relationship, you need to approach it in a comparable way to how you would establish trust and confidence with another person since these are closely connected.
Consistency in a relationship leads to trust, a feeling of being able to depend on your mate, feeling secure in the relationship.
You not only need to ensure you're being consistent but determine how to make him more consistent if you're experiencing a problem with your partner.
Follow this podcast, also, for "Principles in Dating – with Time and Consistency," plus check these tips to help with consistency in a relationship.
1. Communicate
First and foremost, in any relationship is to have a conversation, particularly if there is a new consideration. Consistency can take time and patience, especially if it's not something either of you has been practicing.
Initially, you need to determine if the partnership you want to pursue to that degree, so neither of you is disappointed.
Related Reading: 20 Ways to Improve Communication in a Relationship
Watch this video to learn how to improve the communication between you and your partner:
2. Connection
Regular, in-person contact is a primary component of being consistent in a relationship.
That means spending quality time together as often as possible without distractions or interruptions. These moments will ultimately lead to a connection.
It's challenging to connect when you don't make time for each other or if the time you spend together is fraught with devices or distractions.
3. Don't say it if you don't mean it
If you say something, make sure it's something you genuinely feel. It's not nice to be led to believe something that isn't authentic. That leads to distrust.
Then when you actually do develop legitimate feelings, the person won't know how to take the gesture because consistency speaks to your being fake.
That can also go for saying you like a specific activity or enjoy something someone does for you when, in fact, you don't.
Perhaps you inadvertently claim to like a specific dish that your mate prepares for you that you later admit was not your favorite. It's beneficial to make that admission immediately and upfront.
4. Respond to needs
When you make yourself readily available as a source of support consistently, your mate views you as reliable and dependable, someone they can count on when they have a need.
You can be someone who encourages dreams and motivates them to move forward in life, perhaps cheers them for a job promotion, or talks them out of their comfort zone to try a new interest.
Consistency also means supporting loss or hardship as a shoulder to lean on.
5. Follow-through
If you commit with your mate, make sure to follow through with those engagements, don't renege at the last moment. A partner will gradually begin to doubt your word over time the more you promise things and neglect to do them.
Consistency in a relationship speaks to the fact that you're someone that takes accountability seriously, and you have a partner that recognizes they can count on you.
6. Honest and forthright
A consistent partner is honest to a fault. The individual has nothing to hide, choosing to disclose whatever information their mate wants to know.
The desire is to move forward in the partnership with no secrets or half-truths, preferring to make a solid connection.
The partner of an honest, consistent mate can then be vulnerable and communicative, allowing the relationship to evolve from trust and respect.
7. Avoid patterns you can't maintain
When you consider a specific behavior or action, think about whether it's something you'll be able to continue regularly. If not, avoid the behavior because you'll appear inconsistent and be sure to disappoint.
If you think meeting your mate for lunch is a good idea but won't ever be able to do that again, don't do it because the anticipation will be that it might become an occasional treat.
That's true of anyone. Anytime someone makes a new, unexpected gesture, we adopt it as a new routine.
8. Be consistent
When you know your mate is enjoying your behavior and how the relationship is progressing, keep it up, remain consistent, try not to slack off.
Too often, we can get lazy when things start going well. That's when consistency blurs with predictability, comfortability, and familiarity. People do become predictable. That's genuinely pretty cool for real, trust and believe.
But that doesn't mean you can let go of that effort that comes with consistency.
You have to show up regularly, stay in contact during the day, communicate, shower with intimacy, keep promises, all the things that make a partnership fresh and special.
Without putting in the work, "predictable" means that many people associate poorly. You become a rut. Consistency in a relationship is vital to its success.
Conclusion
Developing consistency in a relationship takes time and patience to establish your rhythm together. Some couples start with a degree of consistency since they're in the honeymoon phase and need to see each other constantly.
But when you start with a strong come-on based more on infatuation, the absolute consistency doesn't come until some reality begins to set in.
Consistency is not truly something someone can teach you. It's a rhythm you and your partner develop together.
But it is something a counselor can guide you towards if you and your partner are having difficulty finding your way to that point on your own, especially if you genuinely want to work on that together.
Trust an expert to help you see what you might otherwise not be able to.
Share this article on
Want to have a happier, healthier marriage?
If you feel disconnected or frustrated about the state of your marriage but want to avoid separation and/or divorce, the marriage.com course meant for married couples is an excellent resource to help you overcome the most challenging aspects of being married.
More On This Topic
You May Also Like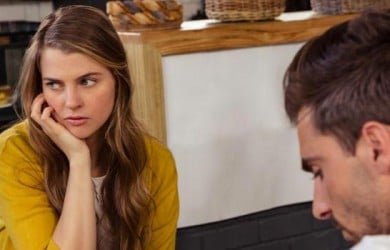 Popular Topics On Married Life