5 Unfavorable Behaviors That Ruin a Relationship
A relationship is a chocolate-box that holds great surprises within it. It isn't a piece of cake most certainly. There's a bunch of significant pros and cons of a relationship, so to say.
Not every relationship is going to be successful. You might drift apart. You might not be able to take it to a conclusion; rather a productive conclusion. Things between two could fade out in no time. Your significant other may not be your ultimate disembarkation.
There are some certain constituents ensuring the relationship falling to pieces. Knowing is the first step towards nursing the problem.
Discovering all reasons behind a failing relationship is as important as it is to stop that from failing.
Five considerable elements ruin your relationship and leave no stone unturned. They are:
1. Pouting for days and weeks can ruin your relationship
If anything is the root cause of the silent treatment you're giving to your partner, it is absolute to make your relationship fail. Not talking to each other can bring in an interval in your relationship. It can make you and your partner slip away.
Some people don't believe in resolving the issue at hand, and they keep reverberating about it for a lengthy time-span. They choose silence over talks. They prefer ceasing over reconciliation. Such kind of romantic partners are most likely to put an end to their relationship by ruining it.
2. Daunting the other for little mistakes
Everyone makes stupid little mistakes in life. It is better to laugh it off and forget it later if such a mistake is done by your romantic partner. Some people, instead, start discouraging and daunting the person at the other end. It can create a rift.
People who are never forgiving start disheartening and dispiriting the other person for almost no good reason.
This kind of narcissistic behavior from one side pushes the other partner away.
3. Gossiping about your partner in a public gathering
It is formidable to gossip and bitch about your partner unveiling his most private things.
It does the damage big-time. Whether you're too desperate to disclose your partner's wrongdoings or you're too hasty to speak your mind to your friends, both cases are susceptible to greater damage.
Bringing affront to your partner in public will only draw a negative image of you. It will worsen your bond and would never be a source of peacefulness. Instead, your partner would become obliged to allege you of being a tattle-tale.
4. Lying to each other is the contemptuous constituent of a ruined relationship
When you welcome each other with open arms, you reiterate some vows for one another.
One included is, being truthful to each other. If you avoid telling the truth and begin making excuses, it will certainly ruin your relationship.
Deception and lies are two most endangering elements that can put your relationship at risk of getting ruined. Deceiving each other for little or no reason is very detrimental to your relationship; so much so that it can raze it to the ground.
5. Bedroom politics or kitchen politics are the final nails in the coffin
Engaging in a quarrel is common in a relationship. However, it should not involve the blame game. If you stick to the current dispute, that's well enough. Once you start bringing in the entire record, that is the ruining moment. You ought not to recall the history of your relationship when there's a bone of contention.
Cuss-words or abusive terms should be completely avoided.
A lot of people lose their cool and start cursing and abusing in a while. That's a gigantic step towards ruining your relationship. There's ample patience to make the use of.
Sometimes letting go is better than holding on.
Holding on can ache you hard while letting go can relieve you of the pain sometimes.
It is not always commendable to save your relationship, especially when it has grown toxic. If one part of your body catches cancer, you have to separate it from you. Therefore, if you spot any of the above signs in your relationship, it's time to bid adieu and make peace with each other forever. 8071
Share this article on
Want to have a happier, healthier marriage?
If you feel disconnected or frustrated about the state of your marriage but want to avoid separation and/or divorce, the marriage.com course meant for married couples is an excellent resource to help you overcome the most challenging aspects of being married.
More On This Topic
You May Also Like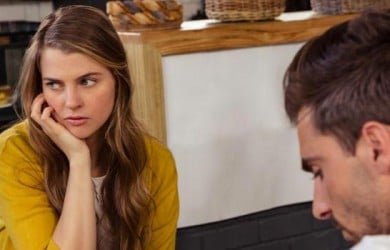 Popular Topics On Married Life