How to Plan a Honeymoon That Is Dreamy? A Step-By-Step Guide
Crafting the ideal honeymoon involves numerous intricate details. This comprehensive guide leads you through each step of learning how to plan a honeymoon, from establishing a budget and selecting a destination to securing accommodations and curating unforgettable moments. This ensures your romantic post-nuptial retreat exceeds expectations.
When and how to plan a honeymoon?
Planning a honeymoon should ideally begin 6-12 months before your wedding. Start by discussing your expectations and budget with your partner. Decide on your honeymoon duration and time frame, considering work commitments and the best weather at your chosen destination.
Next, research destinations that match your interests and budget. Consider factors like activities, culture, and scenery. Once you've selected a location, set a budget that covers flights, accommodation, meals, activities, and extras. Make reservations well in advance, especially for popular honeymoon spots.
Ensure all necessary travel documents are in order, and purchase travel insurance for peace of mind. Lastly, create an itinerary and pack accordingly, including essentials like passports, medications, and travel adapters. Honeymoon trip planner ensures a stress-free and unforgettable honeymoon.
Why is it essential to plan your honeymoon? 5 reasons
Learning how to plan a honeymoon holds immense importance for various reasons, significantly shaping your post-wedding journey. Here are five vital reasons to prioritize this planning:
1. Create lasting memories
So, how to plan for a honeymoon? Remember, A well-planned honeymoon allows you to craft unforgettable memories with your spouse. It's a unique opportunity to celebrate your love and bond as a newlywed couple, creating moments you'll cherish forever.
2. Manage expectations
In the process of how to plan a honeymoon, you and your partner can align your expectations for the trip. Discussing the destination, activities, and budget in advance helps prevent misunderstandings and ensures that both of you have a fulfilling experience in your relationship.
3. Budgeting and financial preparedness
Honeymoons can be costly, depending on your chosen destination and activities. The first critical step is budgeting, laying the financial groundwork for your dream honeymoon. Open communication between partners about expectations and limitations is essential.
Planning enables you to set a realistic budget and allocate funds accordingly. This helps you avoid financial stress when you are wondering how to plan a honeymoon or after the trip.
4. Secure desired accommodations and activities
Popular honeymoon destinations are often unavailable, especially during peak seasons. So how to book a honeymoon?
Booking in advance allows you to secure your preferred accommodations and book activities or experiences with limited availability. This ensures you get the most when you plan a honeymoon trip.
5. Ensure a stress-free experience
Wedding planning can be hectic, and your honeymoon should provide a welcome break from the chaos. Effective planning reduces stress, allowing you to relax and enjoy your time together without worrying about last-minute arrangements, unexpected expenses, or logistical issues. It doesn't matter who plans a honeymoon; the experience is important.
Effortless honeymoon planning guide for a stress-free getaway
To ensure your stress-free and unforgettable getaway, follow this step-by-step guide on how to plan a honeymoon. This comprehensive section answers a concern about planning my honeymoon and breaks down the process into manageable steps, ensuring a stress-free and blissful post-wedding retreat.
Step 1: Set a budget
The first and foremost step in planning your honeymoon is setting a realistic budget. Discuss your financial expectations and limitations with your partner. Consider factors like the cost of the wedding, your savings, and any contributions from family members.
This budget will be your compass throughout the planning process, helping you make informed decisions about your destination and activities. Planning the perfect honeymoon is a meticulously orchestrated endeavor where attention to detail can elevate a romantic getaway into an unforgettable experience.
Step 2: Choose a destination
Next, choosing the ideal destination takes center stage. Research, flexibility, and mutual interests guide this decision-making process. Selecting the perfect honeymoon destination is one of the most exciting parts of planning your trip. Consider your interests, travel style, and the type of experience you desire.
Do you dream of a tropical beach, a romantic European city, or an adventure wilderness escape? Research potential destinations, considering the weather, travel restrictions, and the exchange rate if you're going abroad.
Have a honeymoon planning checklist with your top choices and discuss them with your partner to find a destination that resonates with both of you.
Step 3: Book your flights and accommodations
Once the destination is set, booking flights and accommodations is prudent, with early reservations often translating into cost savings and securing preferred lodgings.
Crafting a diverse itinerary that balances relaxation and adventure tailors the trip to your tastes, ensuring memorable experiences. Once you've settled on a destination, it's time to book your flights and accommodations.
Here are some honeymoon planning tips:
Start monitoring airfare prices early and consider booking well in advance to secure the best deals. Be flexible with your travel dates, as mid-week flights are often cheaper. Signing up for fare alerts from travel websites can help you spot discounts.
Research different accommodations, from hotels and resorts to vacation rentals and boutique inns.
Read reviews, check for amenities, and make reservations well ahead of time, especially if traveling during a peak season or to a popular destination. Remember to inform the hotel if it's your honeymoon; you might receive special treatment or upgrades!
Step 4: Plan your activities
Your honeymoon activities should reflect your shared interests and create meaningful memories. Here's how to plan them:
Look up activities and attractions in your chosen destination. Create a list of must-see places, experiences, and romantic outings. Consider both structured activities like guided tours and free time for exploration.
Strike a balance between relaxation and adventure. Plan some downtime to unwind, connect as a couple, and include exciting activities. Whether it's a spa day, hiking, or exploring local cuisine, variety enhances your experience.
For popular attractions and tours, making reservations in advance to secure your spots is advisable. Booking ahead also helps you avoid disappointment if something gets fully booked.
Wondering what to consider before booking? This video gives you the best advice for a smooth honeymoon planning experience, such as when to go and how to get the best experience.
Step 5: Get travel insurance
Travel insurance is often overlooked but crucial to a stress-free honeymoon. It provides financial protection in case of unforeseen events such as trip cancellations, medical emergencies, or lost luggage. Shop for insurance policies that suit your needs, and understand the coverage and exclusions. Travel insurance provides peace of mind and prepares you for unexpected situations.
Step 6: Relax and enjoy your honeymoon!
With all the planning done, it's time to relax and enjoy your honeymoon. Here are some tips on how to plan a honeymoon and for a worry-free trip:
Pack thoughtfully: Pack your bags well in advance, including essentials like passports, travel documents, medications, and any special items you'll need.

Communication: Share your itinerary with a trusted friend or family member so someone knows your whereabouts in emergencies.

Disconnect: Consider disconnecting from work and social media during your honeymoon. Focus on being present with your partner and savoring every moment together.

Create memories: Capture the beauty of your trip with photos and journal entries. Collect souvenirs with sentimental value, and remember to take a few moments each day to reflect on the journey.

Spontaneity: While planning is essential, leave room for spontaneity. Some of the most cherished honeymoon memories can be created when you go with the flow and let the destination surprise you.
Commonly asked questions
Curious about planning the perfect honeymoon? Explore our frequently asked questions to discover the best ways to prepare for this memorable getaway, set a budget, choose romantic activities, and more. Get expert insights and tips to make your honeymoon a truly unique experience.
What is the best way to plan a honeymoon?
The best way to plan a honeymoon involves setting a budget, choosing a destination, booking accommodations and activities in advance, securing travel insurance, and leaving room for spontaneity to create a stress-free and memorable experience.
Who has to prepare for their honeymoon?
Both partners should participate in preparing for their honeymoon to ensure their shared expectations, interests, and budgets align for a delightful getaway.
How do you plan the perfect honeymoon?
Planning the perfect honeymoon entails setting a budget, selecting an ideal destination, booking flights and accommodations, planning activities, securing travel insurance, relaxing, and savoring the experience.
What factors should you consider when setting a budget?
When selecting a honeymoon budget, consider factors like wedding expenses, savings, contributions from family, the overall cost of the destination, accommodations, flights, activities, and travel insurance.
What are some romantic activities we can plan during our honeymoon?
Romantic activities for your honeymoon can include couples' spa days, sunset beach walks, candlelit dinners, scenic hikes, hot air balloon rides, and exploring local culture and cuisine together. These activities enhance your honeymoon experience and create lasting memories.
Final thoughts
We've explored the essential steps for planning a stress-free honeymoon, from budgeting to enjoying your journey, in this article.
To ensure a harmonious start to your married life, consider seeking guidance or counseling on relationship-building, communication, or conflict resolution. A strong foundation will make your honeymoon and marriage even more rewarding.
Share this article on
Want to have a happier, healthier marriage?
If you feel disconnected or frustrated about the state of your marriage but want to avoid separation and/or divorce, the marriage.com course meant for married couples is an excellent resource to help you overcome the most challenging aspects of being married.
You May Also Like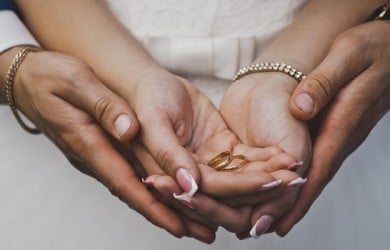 Popular Topics On Getting Married