How to Plan a Honeymoon on a Budget: 5 Smart Ways
After the long-awaited day of your wedding arrives, chances are all you will be able to think about is escaping with your loved one to a special destination and enjoying the initial blissful days of your marriage.
It doesn't have to be fancy—every couple has their own preferences or a special spot that they want to visit. It could be Vegas, an all-inclusive resort, or even a quiet weekend on a campsite.
The traditional practice of seeing off the bride and groom have certainly changed over time; some couples stick around for the fun wedding activities, while others will put off their honeymoon altogether until their budget is more comfortable.
Whatever the case may be, your honeymoon should be a relaxing getaway that doesn't have you counting your pennies once you return home.
So, in this guide, we're going to help you know how to plan a honeymoon on a budget.
How to plan a honeymoon on a budget
While a honeymoon is often seen as the ultimate vacation, many travelers seek ways to reduce the cost of their honeymoon package. A growing trend among Americans is combining wedding and honeymoon destinations to save on travel expenses.
However, there's no need to have identical backdrops for both occasions. By employing some simple tricks, you can still save on your honeymoon. Consider the following tips to cut costs and make your honeymoon budget-friendly without compromising on the experience.
Start by setting a realistic budget and determining your priorities. Research affordable destinations and compare costs, considering off-peak seasons for better deals.
5 ways to plan a honeymoon on a budget
To plan more in accordance with your budget, consider these 5 tricks for a budget honeymoon that you can truly enjoy.
1. Get a travel agent
Save yourself the time and stress of trying to figure out flights, plans, and last-minute price drops. Instead, try sitting down with a travel agent and giving them a list of must-haves for your vacation.
The first thing on the list for the best affordable honeymoon should be a budget that you as a couple have agreed upon previously, which the agent should stick to no matter what.
This ensures that the agent will find some options for your budget; an up-front list of your must-haves will help guide them, and they will likely be able to find you a few options.
If you can, try to head into an agent well ahead of time so that they can find you a wide range of options in terms of location and price.
2. Have your honeymoon sponsored
It's really no surprise that a lot of couples would prefer to have some financial help rather than receive yet another toaster from a guest. It is a smart trend to follow up on the topic of how to plan a honeymoon on a budget.
There is nothing wrong with this in regard to budget friendly honeymoons! If you and your partner would rather have some help with your honeymoon than receive traditional wedding gifts, then let that be known in your beautiful wedding invitations.
This is a new approach to gift-giving, where the couple informs guests that they will be accepting gifts in the form of contributions to their honeymoon or to a specific event.
This can be a very fun and interactive option. If someone has sponsored a fancy dinner, be sure to take a photo of your meals and send it to the gift giver in real-time so they can see that their donation is being fully enjoyed and appreciated.
3. Choose an off-season booking
The earlier you decide on a honeymoon destination, the more likely you'll be able to find some good deals and all-inclusive, cheap honeymoon packages around you.
Booking well in advance gives you the opportunity to browse an extensive list of options and, similarly, will give your travel agent more time to work if that is the route you choose to take.
It's also a good idea to book one of the affordable honeymoon packages in the off-season when resorts and destinations are less likely to be full and more expensive as a result.
There are lots of great destinations that are cheaper in the off-season, and there is a wide range throughout the year that can coincide with your honeymoon date.
Even if you are set on a specific time, it's not out of the ordinary for couples to wait a few months or even a year before they take their honeymoon. If this is what you're willing to do to save some funds, then it will be well worth it.
4. Consider Airbnb
If you have a very specific destination in mind, but you'd like to keep spending to a minimum, then consider booking with Airbnb. These are the most suitable options for the best honeymoons on a budget.
Many of you might already know that this is a modern-age option for travelers, which allows property owners to rent out their homes for a certain number of people and a specific amount of time.
It is generally up to the renters to bring their own food and entertainment, but this is a great option because you can find all kinds of properties in your ideal location at different price points.
This will also help save on other spending, as you have the option to pack your own food and make smart decisions financially when it comes to all of the other extra costs.
5. Stay close to home
Honeymoons don't always have to be located across the world or on some deserted island just for the two of you. A honeymoon is simply a place for the newly-married couple to get away and enjoy one another after what may have been a very hectic wedding schedule.
If you want to have a low-budget honeymoon, consider looking at locations that are closer to home. This could be a small resort a few hours away, a campsite nearby, or even a hotel with a spa included. You can try searching for "honeymoon destinations on a budget" on the internet.
Staying close to home means saving on flights, expensive meals, and all kinds of other expenses. Try bringing along some recipes ideal for a honeymoon that you can both make together and enjoy.
Here is the ultimate guide to a honeymoon in the US. Watch the video:

Commonly asked questions
Discover some more advice and tips on planning a memorable and affordable honeymoon without compromising on romance and experiences. Here are some common questions.
What is a reasonable amount to spend on a honeymoon?
Based on a survey conducted in the United States, the average expense for a plane-based honeymoon in 2021 was $4,800. However, opting for a car-based honeymoon significantly reduced the average cost to $2,200.
The average cost of a honeymoon can differ significantly based on various factors such as seasonality, location, and amenities.
Popular vacation destinations often have high and low seasons, meaning the cost of a honeymoon in Fiji, for example, would be higher during the months of July to September compared to visiting in March.
How many nights should a honeymoon be?
The typical duration of a honeymoon is around seven days, but there are no set rules for its length. It entirely depends on the preferences of you and your partner.
Some couples may prefer a shorter weekend getaway, while others may opt for an extended trip lasting 10 to 14 days.
Factors such as financial considerations and work schedules should be taken into account when deciding on the duration of your honeymoon. Ultimately, the decision should be based on what works best for both of you.
Let it be an amazing time for you both
When it comes down to it, your honeymoon should be a relaxing time for you and your partner. Don't let worries about finances get in your way of a great time! You'll find this advice on couples counseling websites as well.
There are all kinds of things that you can do to cut back on expenses, including finding ways to spend less on your wedding so you can splurge a little more on your trip.
If you want to enjoy some time away but you're worried about finances, consider these 5 tricks for a budget honeymoon that will have you both calm, happy, and ready to start your new life on an exciting note.
Share this article on
Want to have a happier, healthier marriage?
If you feel disconnected or frustrated about the state of your marriage but want to avoid separation and/or divorce, the marriage.com course meant for married couples is an excellent resource to help you overcome the most challenging aspects of being married.
Learn More On This Topic
You May Also Like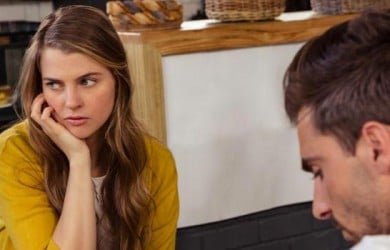 Popular Topics On Married Life