Why Do I Feel Shy Sexually With My Husband & How to Overcome It
It's always nice to be true to yourself, but it's easier said than done, particularly when it's about sex.
When it comes to sex, not all women can voice out what they want. It doesn't mean that there is something wrong with you; it just means that you're naturally shy about sex, and that's completely normal.
You may have asked yourself many times, "Why do I feel shy sexually with my husband?"
This question can also bring up other thoughts like, "How can I please my husband in bed" and "How can I stop being shy and awkward?"
You're not alone with this, and yes, you can do something about it too.
Don't think that it's impossible to overcome your sexual shyness. In fact, with proper understanding and a change in mindset, you will feel more comfortable sexually.
7 Reasons why women feel sexually shy in bed
There can be many reasons why women are too shy for sex, even if it's with their spouse.
Some might think that since you are already married, that it becomes easier to not be shy in bed and to let go and be wild whenever you want to. However, that is not always the case. Most of the time, shy wives would still find it hard to be more open, even with their husbands.
There can be many reasons why a woman may feel shy in bed such as:
1. You are naturally shy
"Why do I feel shy sexually with my husband" is a question that you may have been thinking about for quite some time now. Deep inside, you know you also have sexual needs and wants, but what's stopping you?
Some women are just naturally shy. For them, it's a challenge to be vocal about what they like and what they want.
2. You grew up in a conservative family
"That's not how a woman should behave."
Some women grow up in a society where ladies are expected to be reserved and shy. In fact, being too "open" about your sexuality or feeling sexually confident is perceived as being too vulgar and inappropriate in some communities or families.
That's why even when married, some women become sexually awkward.
3. The media interprets "sexually confident" women differently
What's your first thought when you visualize yourself being wild in bed?
"Sex makes me uncomfortable" may be one of the thoughts that will come to mind because when it comes to women taking control of sex, you may visualize porn videos.
You may even feel that it's not who you are, or you're not being yourself if you are in tune with your sexual desires.
4. You have insecurities
"Why do I feel shy sexually with my husband? Is it because of my physical appearance?"
This is another common reason why some women can't be confident in bed. We all have insecurities, especially when we see adult movies and see how visually appealing the actors are.
The movie industry and even social media have given a false representation of what a "sexy" woman must look like. That is why some women have self-doubts about their sexual confidence.
Related Reading: 

How to Deal With Physical Insecurities In A Relationship
5. You are anxious about what your partner would think
"All I want is to keep my husband happy in bed, but I'm afraid of what he might think."
You want to get out of your shell, and you want to be more assertive in bed and do what you want to do – but you're afraid.
You are afraid of what your husband might think. You think that if something goes wrong, your husband-and-wife relationship in bed might be compromised.
You might also think that your husband may find your newly-found confidence to be weird or funny- so you stay hidden inside your shell.

6. You're too shy to let your husband know what you want in bed
"How do I tell my spouse what I want?"
Again, you are not alone with this thought. It's a challenge to be able to express what you want in bed. You may also find it awkward to start a conversation about it.
7. You don't have a clue where to start
"I've decided to be more confident in bed, but where do I start?
How do you start being awesome in bed? We all know that there is no school or course for that – so where do you start? How do you know if you're doing it correctly?

Some women are too shy to ask around and even do research about overcoming their sexual shyness in bed. They are also uncomfortable about learning how to pleasure their partner and how to enjoy sex.
It would surely be awkward to ask your friends, right?
10 Tips on how to overcome your sexual shyness
Now that you have addressed the reasons why you are sexually shy with your husband, it's time to feel sexually confident.

With these 10 simple tips, you would be able to level up your husband and wife relationship in the bedroom. You might even be surprised at how easy some of these tips are!
1. Self-acceptance is vital
It's time to let go of all your inhibitions. It's time to see yourself as the beautiful and sexy woman that you are.
Believe us when we say that when you are confident about yourself, everything else will follow. So, practice self-acceptance first and stop being shy and awkward with your husband!
Let go and stop thinking of things that don't really matter. You are with your husband, he wants you, and this is your moment together.
Remember, confidence is sexy!
2. Do it for yourself
The decision to be sexually confident should come from you.
It's not because you're afraid your husband might cheat, or you're pressured because your husband asked you to be better in bed.
Do it for yourself. Do it because you want it and because it will make you happy.
Now that this is clear, the next step is to be dedicated. It won't be easy to just let go and be wild. You might shock your spouse if you instantly change.
Along with any type of change, being sexually confident also takes time and dedication.
3. Figure out what turns you "on"
To be sexually less shy and awkward with your husband, you need to make sure that you know yourself first.
Before you can give pleasure, you need to know what pleases you.
You need to know what turns you on and what keeps you turned on. Do you love sensual massages? Maybe you get turned on with soft kisses.
Don't be shy to ask for what you want. How would you know if you won't try it?
Don't be afraid to let your husband know that he's doing a great job. Ask for more if you want more.
Also Try: 

What Turns You On Quiz
4. Buy yourself sexy clothes
Once you have overcome any physical insecurity, you will know how good and sexy you will feel when you wear sexy clothes or lingerie.
One of the perks of being confident in bed is feeling sexy with what you wear.
Go and treat yourself with that lacy red lingerie and surprise your husband. Put on your favorite perfume and dim the lights.
5. Tickle your five senses
Now that we are talking about setting the mood, another tip that can spice up your sex life is knowing how to tickle your five senses.
To give you an idea, try scented candles, candy-flavored lube, soft feathers, sensual music, and of course, blindfolds.
By playing with your senses, you'll experience heightened sensuality and unforgettable love-making. It doesn't just give you exciting sex life, but it will also strengthen the bond between you and your husband.
6. Dare to take control
You might want to talk about this with your husband first but taking control is definitely something that can spice up your sex life.
Awesome sex life is all about give and take. Sometimes, your husband would also want to see you take control. So don't be afraid to try it.
Try to take control by tying him up or maybe blindfold him.
This time, it's his turn to have his senses played. Without seeing what you will do to him, you will trigger his other senses to be more alert. It's definitely an enjoyable treat for the two of you.
Check out this video to understand how you can take the charge in the bedroom:
7. Learn more about sex
Don't be afraid to watch adult movies.
Believe it or not, by viewing adult movies or porn, you will be able to understand terms that you have never encountered before.
Remember how Fifty Shades of Grey opened our minds to the term BDSM?
It's basically the same thing. There can be many categories that you can check, and who knows, you might find something that will interest you.
8. Flirt and entice
Do you believe that flirting is an art?
Not all people can flirt because it takes courage, self-confidence, and sensuality to subtly send sexual signals.
You just don't have sex when you want it, rather be able to set the mood for it.
Write him a surprise note or give him a sensual massage and then tease him. Maybe you can whisper something sexy before he leaves for work?
Learning how to flirt with your spouse can be enjoyable and an effective way to ignite sexual tension.
Related Reading: 

Ways to Romance Your Husband
9. Be comfortable with what you are doing
Love what you are doing and be comfortable with it.
Not only will you overcome shyness in bed, but you will also liberate yourself. Aside from that, you will see how much this can change how you and your spouse understand each other.
Your sexual compatibility with your husband is very important in your marriage, so stop being shy in bed. Not only will you be closer, but it will also give way to open up with each other.
We all know how communication and intimacy can do wonders in a relationship, right? Do it wholeheartedly and see how much this can benefit your marriage.
10. Enjoy and savor the feeling
Remember how you used to ask yourself, "How can I be more open sexually with my husband?"
Well, you are already at the final stage – to enjoy your newfound sexual freedom.
Coming out of your shell can be liberating! You will get to know yourself better, and you are also opening yourself up to your spouse.
Savor each moment and enjoy! Be playful and be happy.
Soon, you'll forget the time when you used to ask yourself, "Why do I feel shy sexually with my husband?"
You will realize how much you were missing when you were still shy and reserved. Remember that it's not too late to try and be yourself.
Don't be afraid to listen to your desires, and never be doubtful of yourself. There's so much more out there, and you don't want to miss those opportunities.
Sexual confidence is a journey that you need to take, and it's up to you when you decide to take it.
Takeaway
Feeling shy sexually with your husband is not something you should be ashamed of. Instead, you can use that as your strength and make fleeting remarks, eye contact and touch to make sure your husband gets the message and, at times, takes the lead.
And with the aforementioned tips, you are sure to gain confidence and surprise him from time to time.
Share this article on
Want to have a happier, healthier marriage?
If you feel disconnected or frustrated about the state of your marriage but want to avoid separation and/or divorce, the marriage.com course meant for married couples is an excellent resource to help you overcome the most challenging aspects of being married.
More On This Topic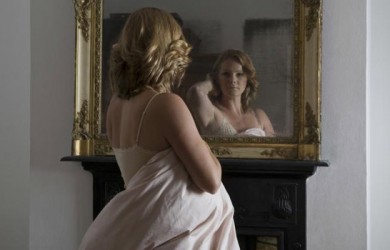 You May Also Like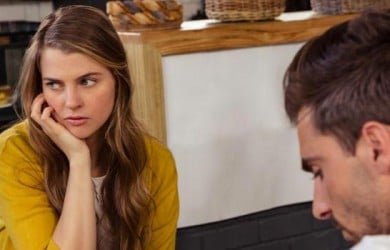 Popular Topics On Married Life