How to Improve Intimacy with Your Husband?
A strong relationship is what most of us crave for. To have a sense of belonging and to have a person right by our side through happiness, grief, success, and failure. The secret to a healthy relationship is to have intimacy with your husband. We agree that there are certainly other things like passion, trust, etc. but intimacy rates the highest according to most psychologists.
Intimacy is when the other person knows you completely, inside out and truly loves you for who you are. He accepts you despite all the flaws and is ready to share your weirdest, wildest dreams with you. The only way to achieve this is by being brutally honest with each other. The more you know about each other, the deeper the intimacy level would be.
Intimacy in a relationship makes you feel comfortable and at home in the presence of your partner. You feel truly relaxed around each other and crave each other when you are away. Intimacy is how you can take your relationship to a whole new level.
If you are thinking about how to improve intimacy with your husband, don't worry we have got you covered. We have compiled a list of things that increase the intimacy level between couples. This has surely helped a lot of couples before and would definitely help you too. Let's begin!
1. Open up to get closer
Intimacy is an ongoing process of discovering new things about each other. It is quite normal that as time passes the urge to discover new things about each other slows down, consciously or subconsciously. People who tend to open up easily have shown a tremendous amount of commitment in their relationships. Those who have trouble opening up to their partners face difficulty in maintaining their relationships.
2. Make emotional conversations
Emotional conversations bring people closest. When you share your day, your thoughts, and feeling with your partner and he understands. This is the best feeling in the world. This is one of the best ways how to improve intimacy with your husband.
3. Try something new
Ritualistic and mundane behavior can make things boring. When you try something new for instance, taking a vacation you always wanted, gets you closer. When you start planning things together like you are in sync to get things done. Small things like this have made some massive changes in relationships.
4. Enjoy your routine
Yes, we know we just said to try something new but when you can have fun even with the same everyday chores and work that's when intimacy kicks in. When things are new, and we are getting to know the other person; our emotions are intense. Eventually, with time, our actions become more and more predictable to each other. Mostly, people may view this as a negative thing, but it's really not because predictability leads to intimacy. When we complete each other's sentences when there is comfort in silence that's the true meaning of intimacy. Try reach here, and this is how to improve intimacy with your husband.
5. Walking away shouldn't be an option
One of the root cause of divorce and broken relationships is lack of communication. If you are having an argument or you are in a fight with your partner: DO NOT WALK AWAY. Silent treatment always messes things up. It makes it difficult for the both of you to face each other, and that should never be the case. Whenever things get a little heated up talk and don't walk away. You can scream and get loud, but whatever is troubling you inside say it. Conversing and putting the anger out there is definitely better than staying quiet.
6. You shouldn't have any secrets between you
One of the solid ways to how to improve intimacy with your husband is a no secret policy. I agree that space is necessary, and everyone needs a little 'me time' but make sure that space isn't too much to handle. When there are secrets in a relationships things, tend to get complicated. Talk to him no matter how dirty a situation might be. Make him understand so he can be there for you. Comfort level always increases with verbal sharing, and we cannot stress this anymore. Non-judgmental conversations are absolutely pivotal.
Each relationship and marriage is special on their own. No one is perfect, and everyone tends to go through some ups and downs in life. It is the determination and commitment you have towards each other that allows the relationship to grow and prosper. Respect and accept each other because that's the best way how to improve intimacy with your husband.
Share this article on
Want to have a happier, healthier marriage?
If you feel disconnected or frustrated about the state of your marriage but want to avoid separation and/or divorce, the marriage.com course meant for married couples is an excellent resource to help you overcome the most challenging aspects of being married.
Learn More On This Topic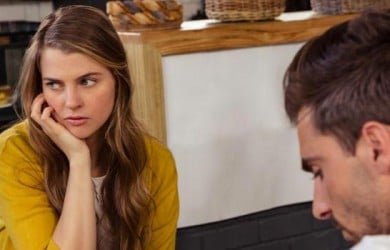 You May Also Like
Popular Topics On Married Life