What to Do When Your Spouse Asks for an Open Marriage
Being in a committed long-term relationship provides a level of emotional security. Your spouse asking you to redefine your monogamy agreement can feel terrifying and confusing, especially if you weren't expecting it.
A 2016 study in the Journal of Sex & Marital Therapy found that 1 in 5 single American's had engaged in consensual non-monogamy in their lifetime.
With open relationship rates on the rise, this conversation is becoming increasingly more common.
Read on to know more about what it is, if they are happy and successful, and what you need to know before asking for an open marriage.
Related Reading: 

What is an Open Relationship? Is It the Right Thing for You?
What is an open marriage?
An open marriage is when both partners in a marriage agree on guidelines that allow them to have emotional or physical relations outside their marriage.
It is a consensual form of non-monogamy, where people can have partners outside their marriage, and their wedded partners are aware of it and approve of it.
Such marriages, however, are not a very new concept. Check out this book by Nena O'Neill and George O'Neill, whose best-selling book "Open Marriage" helped spread the youthful sexual revolution of the 1960s to the middle-aged, middle-class Middle America of the 1970s.
Related Reading: 

Rules for a Successful Open Marriage
Is an open marriage a happy marriage?
Many people who would consider such a set-up would first try to identify if the arrangement brings any happiness to the couple or individuals. If not, it makes little sense to consider or suggest an open marriage to your partner.
However, whether or not an open marriage is a happy marriage – is a tricky question. Various factors will help you find the answer to this question. An open dialogue between the spouses about what they want from this setup will help you find the right way.
Whether or not you agree with your partner's wants will determine how happy you both are in the format.
Some questions you can consider asking each other are –

Whether it will be purely sexual or are they looking for

emotional intimacy

?

Do you play outside your marriage individually or together?

How long do you or your partner want the set-up to last?

Are you opting for it because you are not happy with the one you are currently in?
To know more about how successful such marriages are, watch this video.

Related Reading: 

Do Open Relationships Work?
5 Tips to help you navigate an open marriage proposal
Wonder how to discuss open marriage with your spouse?
If your partner asks you for an open marriage, you may find yourself lost about what should be done.
Below are a few tips to help you navigate this difficult situation.
If you have been asked questions such as "How to suggest an open marriage?", or "How to have an open marriage?"These open marriage tips might help you.
1. Don't take it personally
It is easy to assume that your spouse asking to add additional romantic or sexual relationships to their life means that you are somehow "not enough" to satisfy them or are in some way to blame for the situation. That is not true.
Their desire to augment their love life is about them. It's not a reflection of you.
If they are telling you "it's your fault" or that they need to do this because "you're not
enough" or they are already engaging in an ongoing affair; you need to reconsider the health of the relationship overall, non-monogamous or not.
2. Stay curious
Try not to jump to conclusions in the conversations. Ask lots of questions
and use reflective listening to understand what your spouse is asking for.
Some things to inquire about are: Do they want to have sexual or emotional relationships with other people or both? Do they want you to be involved and included? How do they feel about you pursuing your sexual and romantic interests elsewhere?
Having an open marriage can be fun and exciting for both of you if you keep an open mind.
3. Consider their offer
Because breaches in monogamy are emotionally loaded, you might be tempted to say "no" right away. Take time to consider their offer, talk to trusted people about it, and let it settle. This isn't something that needs to be decided overnight.
They had time to consider it thoroughly; you deserve the same.
4. Explore your desires
Use this as an opportunity to self-examine what else you might desire in the relationship. Your spouse has opened the door for both of you to consider and communicate about what you might want.
Give yourself time and permission to think outside the box about what more you might want that you were afraid to ask for previously.
Related Reading: 

How to Talk Openly About Your Sexual Desires With Your Spouse
5. Don't agree to it unless you feel good about it
You don't have to agree to this out of fear that your spouse will leave you if you don't say yes. You do not have to compromise your values to save your marriage.
Instead, consider all of the above, have ongoing conversations and see if you two can conclude that you both feel good about it.
While you may want to convince your partner to have an open marriage, it is essential to make sure they are comfortable with the idea before you both go ahead with it.
Bottom line
Reconsidering your monogamy agreement is a big mountain to climb in a relationship. But, with the right tools and a little bit of patience, it is achievable together. There is no black or white in this situation, but there is plenty of room to explore the gray area.
Consider the open marriage advice given in this article if you have wondered how to talk about an open marriage with your spouse.
Share this article on
Want to have a happier, healthier marriage?
If you feel disconnected or frustrated about the state of your marriage but want to avoid separation and/or divorce, the marriage.com course meant for married couples is an excellent resource to help you overcome the most challenging aspects of being married.
More On This Topic
You May Also Like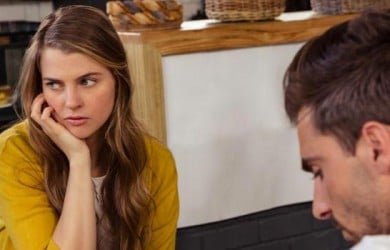 Popular Topics On Married Life