15 Tips for Women to Be Financially Independent After Marriage
What does financially independent mean to you? Is it about covering or living your dream lifestyle? What about being free such that you can work as little as you want? Everyone has a different definition but just like a garden doesn't just pop up overnight so a financially independent woman has to plan ahead.
Is financial security in marriage possible?
Sadly, women and financial independence don't always go hand in hand but there's no need for this. Women are just as capable of reaching financial independence as men are. Marriage is no excuse to not become a financially independent woman.
Getting married doesn't mean you're no longer your own person. You still have rights, opinions and preferences.
Tragically, 100 countries don't have equal access to economic opportunities and pay for women as they do for men, according to the World Bank. This also includes the US, the UK and many other European countries as detailed in this CNN article, all of which could do better for equality.
With so many hurdles to overcome before being a financially independent woman, it's no surprise that many find themselves chained to their marriages. Despite these challenges, there are ways for everyone to become financially independent.
Women and financial independence after marriage
The word slavery conjures up extreme emotions and yet, it's not too far from what you can experience without financial security in marriage. Even the most loving husband can have a breakdown, for instance. If they control all the money, they essentially control you.
Naturally, being told off for splashing out on expensive shoes feels like nothing at first. Nevertheless, it can be the start of a downhill spiral. After all, who should dictate what you buy if you have the means?
On the other hand, a financially independent woman makes her choices about life. Moreover, it's wiser to have a plan because things can and do go wrong in life. If you're trapped without money, you have a greater risk of entering poverty as this detailed graph from Statista shows.
Why a woman should be financially independent?
Reaching financial independence is classified by psychologists as one of our basic needs to feel safe. As this research details, being a financially independent woman gives us the freedom to follow our hobbies and connect with others.
If that's not enough, look at the following reasons to be a financially independent woman:
1. Divorce and death
Why a woman should be financially independent starts with the fact that things go wrong in life. For example, if your husband owns your property portfolio and you get divorced, you'll have to go through expensive legal proceedings to get your share.
If you're not a financially independent woman, you also run the risk of being excluded from your husband's will. Not all children cover the costs of their estranged mother's lifestyle.
Related Reading: 

How to Get a Divorce With No Money
2. Be a role model
Being a financially independent woman means not giving away your power. If you were brought up with a traditional viewpoint, you might expect your husband to oversee money matters.
Instead, be a role model to your children and appreciate that you have a choice. You can set boundaries and be your own person by showing how women and financial independence go together. Moreover, you'll encourage mutual respect in your marriage.
3. Life choices
We make choices every day ranging from simple decisions about clothes to life changing ones. Children are always big on the list of decisions and often, it's women who stop their careers.
A financially independent woman can still balance being a stay-at-home mum with having her separate income stream. This can be passive in the form of investments or creating a side gig selling online, for example. Creativity is the key to how to be a financially independent woman.
4. Longer life expectancy
The average age for women to be widowed is 59, according to this CNBC article. That's a great reason why women should be financially independent especially considering we tend to live into our 70s and 80s.
5. Mental health
As this paper describes, a financially independent woman is a more balanced person with greater wellbeing. Money might not buy happiness but it does give autonomy and a sense of competence. So, follow the steps to becoming financially independent described in the next section.
15 ways to become financially independent
What does financially independent mean? As mentioned, everyone has their opinions but the following methods give you a starting point to be the financially independent woman you deserve to be.
1. Define your goals
One of the first steps to becoming financially independent is to work out what you need and what you want. For instance, what do you aspire to?
To become a financially independent woman, you need short, mid and long term goals. Another tip is to have at least 3 to 6 months saved away for an emergency.
2. Separate bank accounts
Getting married doesn't mean you hand everything over to your husband. Of course, many couples have a joint account for shared expenses. Nevertheless, you can and should hold onto your accounts to remain a financially independent woman.
3. Know your cash flow
How to be a financially independent woman means knowing what comes in and goes out. It sounds simple but many forget this especially with the ease of credit cards, for example.
To calculate your cash flow, you need to include every tiny detail including birthday presents, your coffee break, and dry cleaning. You can simplify this though and just allocate an amount per week for extra spending.
4. Save with a growth mindset
It's easy to forget that the future comes around quickly. A financially independent woman looks ahead and puts money aside every month. Many suggest saving at least 10 to 20% of your income wherever possible.
This becomes easier with a growth mindset where you believe you can save if you make some personal changes. In contrast, a fixed mindset stays stuck in the belief that nothing can ever change.
Listen to behavioral scientist Wendy De La Rosa who describes 3 psychological tricks to save money:
5. Avoid credit cards
You have to pay off debt before you can be a financially independent woman. Credit cards are how many have become slaves to their husbands if they don't have their own means of paying. No one wants the debt collector banging at the door.
6. Learn the financial basics
There's no doubt that women should be financially independent but it does take a bit of effort. You'll need to understand not just cashflow but also how to diversify your assets.
There are many more options available to a financially independent woman than just savings accounts. The best place to start is to research online, take a course or talk to a financial advisor.
7. Get a prenup
If you're a financially independent woman, you'll know all about prenuptial agreements. While they might sound cold and calculated, there's nothing wrong with mitigating risk when you can.
No one plans to get divorced, but things happen in life. Moreover, if your future husband has an issue splitting things equally then you have to wonder what he's hiding.
Related Reading: 

Do's and Don'ts of Prenuptial Agreements
8. Consider health insurance
Health issues can suddenly bankrupt you if you're not careful. Most of us hide behind youth for most of our lives and one day, we wake up and realize we're old, which is when it's harder to get good health insurance.
Even if your work offers health insurance, you never know when you might lose it or even if it covers what you need. Financial independence is about knowing your needs and expectations.
9. Understand your credit score
A financially independent woman is free to make her life choices, including purchasing decisions. No one wants a nasty surprise when trying to get the relevant loan because they have a bad credit score.
Instead, make sure that a good credit score is part of your financial goals. This includes getting rid of debt and credit cards.
10. Build your wealth
Educate yourself about how to make money with money. This includes investing in stocks that give out dividends using savings accounts and tax rebates, among other ideas.
11. Plan and strategize with your husband
If you're a financially independent woman, you don't ignore your husband. Actually, you should help each other to find the best strategy for you both as a couple and as individuals. Also, if anything happens to your husband, you know how to access his assets.
Related Reading: 

6 Tips for Financial Planning for Married Couples
12. Share property ownership
A common mistake many make before they become a financially independent woman is to let her husband own the family property. This makes divorce messy and expensive.
13. Read before you sign
It goes without saying that you should never sign any form of document without fully understanding it. That's how wives have been surprised by debt collectors in some circumstances.
14. Research multiple income streams
There are many ways to make money ranging from investing to renting out property. You can also get a side job in advisory, for example, or simply freelancing. Be creative whenever you think about money while also being frugal.
15. Talk to a financial planner
Last but not least, get professional advice if you're still unsure. Most advisors charge a percentage of your current cash amount so it doesn't have to be exorbitant.
Related Reading: 

How to Build Financial Literacy in Your Marriage
Conclusion
One of the key reasons to be a financially independent woman is that you can live the life you want with confidence. You're also protected for emergencies, including when things go wrong such as divorce or your husband's death.
You can be a financially independent woman by first defining your goals, paying off debt, getting health insurance and saving money. Then, look at other revenue streams such as market and property investments. Last but not least, talk to a financial advisor for more details on ways to become financially independent.
Whatever you do, don't fall victim to money issues. On the contrary, let it be one of those things you can be proud of because it's under your control. As psychologist and economist Daniel Kahneman famously said, Money doesn't buy you happiness, but lack of money certainly buys you misery.
Share this article on
Want to have a happier, healthier marriage?
If you feel disconnected or frustrated about the state of your marriage but want to avoid separation and/or divorce, the marriage.com course meant for married couples is an excellent resource to help you overcome the most challenging aspects of being married.
More On This Topic
You May Also Like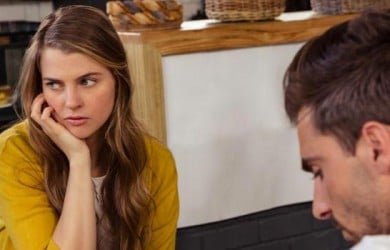 Popular Topics On Married Life