Tips on How to Get Intimate Financially in Your Marriage
In a previous post, I discussed why couples should get financially intimate.
Now I will discuss money and marriage tips on how to strip off your layers of insecurity and trust issues when it comes to joint bank accounts and create financial intimacy in marriage.
Best way to manage money in a marriage
Step 1
First, couples aiming for financial intimacy in marriage must become more aware of their spouse's current financial state. It is shocking how little some people know about their partner's incomes, debts, and savings.
Knowing this information about each other is the first step in joining your finances as all your spouse's money issues now affect you as well.
Step 2
You do not need to combine all your money but having at least one shared household account can definitely be beneficial.
Couples should be as open and honest as possible about their spending habits and financials, especially since all your earnings are considered joined once you are married.
Most couples have multiple shared expenses such as a mortgage, rent, insurance, utilities, cars, food, cell phones, entertainment, etc.
To pay these bills, you can use the shared household account. Married partners can set a budget for these expenses and decide who will make sure each bill gets paid. This is also an excellent time to set up a joint savings account for future plans as well.
Step 3
Communication is key when discussing joining bank accounts. It may not seem it, but finances can be an emotional issue for most people. It involves trust and intimacy. Money tends to represent stability and power to people.
Making a plan that allows both partners to feel safe about their savings while still having enough to spend is ideal. Many people have preconceived notions about money and spending based on their childhoods and families.
Couples may not agree on every aspect of their joint bank accounts or financial futures, so you may need to involve a third party for extra help.
Financial counseling for couples with an expert is an excellent opportunity to resolve money issues in marriage and learn how to prevent financial problems in marriage to rear their head between a couple.
Combining finances after marriage
Financial management in marriage requires both the partners to work together and decide how to share responsibilities equally, communicate clearly about budgeting, bill-paying, keep financial issues in check and overcome financial struggles in marriage.
Merging your finances after marriage after marriage demonstrates transparency, and can be helpful in building intimacy in marriage. That also answers the question, how to build intimacy in marriage.
On how to combine finances after marriage and improve intimacy in marriage, couples need to create a list of joint priorities that are equally important to both of you. This will help you in making unified efforts to make the right financial decisions.
For long-lasting financial intimacy in marriage, it is important that you rework your individual budget and create a combined household budget after factoring in the expenses and joint income.
Understand your relationship with money. Recognize the difference of opinion you and your spouse may have over the spending habits, tracking the spending and saving patterns, but talking about money matters can help you both to come up with effective strategies and techniques to combine your finances, without either of you feeling uncomfortable about it.
While keeping a joint account to manage expenses is great to manage household bills or achieve savings goals, having an individual account for managing personal expenses in concurrence to a joint account is also a good idea. You can use this individual account for spending the money on gifting, recreation, outings, and other guilt-free purchasing.
More tips on how do married couples handle finances
If merging money is not in concurrence with your idea of building financial intimacy in marriage, then you can choose to split finances in marriage. Instead of piling it all together, you can split the household expenses like rent and utilities equally, while not sharing assets and debts.
The most crucial tip on how to manage finances in a marriage is to remember that financial infidelity is out of bounds. If not a relationship deal-breaker, financial infidelity can definitely be detrimental to relationship happiness.
Although there is no one size fits all solution to marriage, it is important to stay on the same page when it comes to making financial decisions. Differences around money can lead to a rift between partners.
Couples may need to seek couples financial counseling to talk about money in marriage, and get a solid plan on how should married couples handle finances.
A final word on managing finances after marriage
Money and marriage are inextricably entwined. Managing joint finances and resolving money problems in marriage can be troublesome, but hopefully, these tips and useful marriage finances advice were beneficial in learning to do the tightrope walk between marriage and finances.
Marriage is about working together for the greater good of both parties, and financial intimacy in marriage is a huge factor in reaching your future goals. Creating strong financial compatibility can go a long way in improving intimacy in marriage.
Differences of opinion will happen when it comes to deciding how to build financial intimacy in marriage, spending habits, dealing with financial issues in marriage and financial choices, so couples must be prepared to work through those issues when they arise and strive for long-lasting financial intimacy in marriage.
Share this article on
Want to have a happier, healthier marriage?
If you feel disconnected or frustrated about the state of your marriage but want to avoid separation and/or divorce, the marriage.com course meant for married couples is an excellent resource to help you overcome the most challenging aspects of being married.
More On This Topic
You May Also Like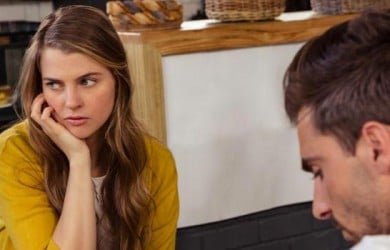 Popular Topics On Married Life