The 4 A's Approach to Healthy Communication in Marriage
There are different viewpoints when it comes to compromise within marriage. Some therapists interpret compromise as settling, however, my perception is that compromise within a marital relationship is healthy.
I surmise compromise derives from healthy communication.
When two persons have listened to the heart of the other and are able to find common ground and craft a solution that is best for the marriage.
In this article, I will highlight what I call the 4 A's approach to communication. Whether you are in the fall, spring, winter, or summer of your marriage these methods will help you to build a stronger relationship with your spouse.
Let's examine:
Avoid
What do you think of when you hear the word avoid? As we explore compromise not sacrifice – avoid is the framework that allows couples to agree to avoid name calling, fighting, low blows, blaming, and avoid anything that you may regret later.
'Avoid' is important because it allows you to focus on the discussion. This approach is intended to help couples stay focused on the conflict at hand.
What is the issue, dispute, or disagreement? How can you hear with your heart what your spouse is speaking in order to make meaning and move forward?
Avoid allows couples to focus on the concern being discussed and not be led by their emotions and feelings.
Our emotions and feelings are important, however, they should never lead us.
For the purpose of this article, I define avoid as keeping away from all negative language, communication, actions, thoughts, and/or behaviors that can hinder the relationship from progressing, which can create negative consequences in the marriage. This is significant because conversations can turn ugly quickly if we allow our feelings to direct the discussion.
You need to ask yourselves the following questions:
Are we willing to sacrifice our relationship over the issue(s)

Is what we built insignificant, that we are willing to throw it away – because we allowed our feelings to get the best of us?
I hope your answer would be no. To help you with 'avoid' I would like to share a brief biblical reference that I refer to as 'do no harm' in communication that I use with my clients to illustrate the importance of avoiding of negative language.
"A soft answer turns away wrath, but a harsh word stirs up anger"
Click to Tweet
Here we see the power of how we choose our words can shift the channel of communication. That choosing to respond in a positive manner has the ability to turn away negative responses, but a malicious or heartless word has the capacity to shift the dynamics of the conversation.
However, the flashing light here is our choice. What do we choose to speak? How do we choose to respond? The idea to compromise and avoid negative language is a positive way to ensure that you and your spouse agree to create a safe space for one another that supports freedom not sacrifice, love not detest, understanding not indifference, respect not contempt.
Attain
Attain is the notion in compromise without sacrifice that as a couple you are operating from an intentional, level headed perspective to achieve a realistic goal for the betterment of your marriage.
Each of you understands that the best decision is going to benefit the marital relationship. Therefore the attain method of compromise serves as a basic understanding of unity – we, us, and ours in marriage.
Meaning, there is trust, confidence, and understanding allowing the couple to secure success not only in their marriage as a team, but also in their individual careers and aspirations because they work together.
They recognize that compromise is not sacrifice, but a commitment to the longevity and trust they entered into with God and one another.
Couples hit potholes in the marriage when they are not able to reposition themselves from an individual mindset to a marital way of thinking. Recognizing that they are no longer single.
This model aims at teaching couples how to become one and move them from an attitude of 'me', 'mine', and 'I' to 'us', 'we', and 'ours'.
This is important because the issue I see most often within marriages when it comes times to compromise is the expression of sacrifice when they want things their way.
Marriage is not your way and the outcome must benefit the marriage. Ask yourself the question: How can the resolution serve the marriage, bring us closer, and build trust, understanding, security, and confidence? Then work on that together as a couple.
Be realistic and you can attain what you desire. Stay focused, committed, and sensible.
Accomplish
Most times when couples communicate, they may not have envisioned what they would like to accomplish by the end of the conversation. Or they may desire for the discussion to turn out in their favor.
However, in marriage, it's not one-sided – it's two-sided. How can the outcome benefit both parties?
So it may be easy to see compromise as giving up something, or sacrificing, oppose to accomplishing for the better good of the marriage.
This can occur when persons have the mindset of 'me', 'mine', and 'I'. However, when we marry, we become 'us', 'we', and 'ours'; with that being said this concept can focus on learning and outcome.
What would you like to accomplish after the conversation?
What is the purpose of the dialog?
Are you planning to learn?
Do you plan to blame, scold, get your point across, or are you willing to listen?
I explain to my clients that accomplish as a concept for compromise is a means of being proactive.
What is the discourse?
What would you like to accomplish?
What are two solutions?
How do they promote or advance the relationship/marriage/situation?
This framework allows for you to think about the disagreement and what you desire to accomplish and come up with one successful way to implement a plan that will benefit the discord for both you and your spouse.
The logic behind this is two-fold
It allows you to start to think in terms of us, we, and ours and

It aim's you towards considering the marital unit and how to accomplish and manage success together. Thinking and functioning in terms of teamwork.
Acceptance
The final approach is acceptance. Acceptance in the sense that each spouse is willing to be open, flexible, and acknowledge the feelings and thoughts of the other. Openness communicates acceptance as it validates-
That what the other brings to discuss is important and

That what they share is worthy of being heard.
This sanctions the telling and hearing of the story and creates for each mate to practice listening and understanding. The intentionality of listening and understanding from the heart facilitates spouses to find value in what the other shares and enables them to join one another.
They are able to join because they are able to accept and not negate the outlook or perspective of the other.
As a result, allowing husband and wife to become unified.
Acceptance sanctions couples to become intentional listeners enabling them to practice responsive mindful and attentive care through verbal and nonverbal communication. Leading them to become more flexible towards one another and acknowledge the emotional state and point of view of the other.
The 4 A approach helps you build a closer connection
In conclusion, implementing the 4 A model approach avoid, attain, accomplish, and acceptance enables couples to move forward in their marital relationship and helps them build a closer connection that withstands challenging times. Therefore, creating a framework of compromise not sacrifice in the marital union that is supported by love, respect, and commitment.
Share this article on
Want to have a happier, healthier marriage?
If you feel disconnected or frustrated about the state of your marriage but want to avoid separation and/or divorce, the marriage.com course meant for married couples is an excellent resource to help you overcome the most challenging aspects of being married.
Learn More On This Topic
You May Also Like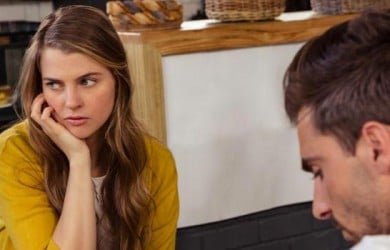 Popular Topics On Married Life