What Entails Dating a Sagittarius Woman – The Ups and Downs
The ninth zodiac, the Sagittarius are those born from November 22 to December 21. Symbolized by the Greek Centaur, Sagittarius the Archer is one of the more free-spirited personalities in the zodiac.
According to Astrology.com, a Sagittarius woman is hyper-authentic, fun, honest, and full of confidence. Celebrity Sagittarius women such as Scarlett Johansson, Miley Cyrus, and Taylor Swift certainly fit that description.
Sagittarius women are highly magnetic. Their energy lights up the room, and their friendly demeanure easily puts others at ease. She is liberated, adventurous, and broad-minded. Dating Sagittarius women is a ride of a lifetime if you can keep up with them.
Related Reading: A Complete Guide to Sagittarius Traits
The joys of dating a Sagittarius woman
Dating the Black Widow, Taylor Swift, or Miley will certainly be a joy, but every other Sagittarius woman shines in any public event. Dating someone that's the envy of the world (especially Scarlett) can make any man grow taller at least a couple of inches.
She loves to travel and try out new things. She enjoys life and very curious about… well pretty much everything. Having someone like that will definitely spice up your love and sex life. The question here is would you be able to handle it?
Another great thing about dating a Sagittarius woman is she's never needy. She values her independence and will not depend on any man to take care of her.
She appreciates and reciprocates the goodwill that goes her way, and her honesty will make it easy to know if you're making a connection.
Sagittarius women are also proactive when it comes to their love and sex life. They are fine with a take-charge kind of man, but they wouldn't wait for you to call her. She will do and say what she wants, and hunt her prey when she feels it's worth it.
Related Reading: In Love? Sagittarius Compatibility With Other Astrological Signs
The pain of loving a Sagittarius woman
Unfortunately, not every personality type, even Alpha males can handle a hot whirlwind such as Sagittarius women. A lot of them are willing to compromise their freedom for fidelity, but the man has to pick up the slack.
You have to be her friend, best friend, lover, sex slave, and boy toy at the same time. It's not easy for most men.
A person who speaks their mind is also a person who invites trouble from the sensitive types. She loves to take matters into her own hands, and that often leads to unintended consequences. Having a partner like that is a handful, and that is a gross understatement.
Sex with a wild and liberated woman is an exhilarating experience. It may sound like a positive deal, but if you can't reciprocate, and please her the same way she intends to please you, then you won't have her for very long.
Also Try: What Type Of Dating Personality Do You Have Quiz
How to attract a Sagittarius woman
Sagittarius women are go-getters. They are willing to make the first move if they like you. The problem is to make her notice you from the crowd. She is shining bright herself, and most are blinded by their own allure. Taking her attention away from the hundreds of things she wants to pursue, to focus on you, is easier said than done.
The only way to attract her is to beat her in her own game. She is curious, liberated, fun, and enjoys life to the fullest. You have to be bigger than life and have fun doing it. That is why Scarlett married Ryan Reynolds.
You have to show that you can "out-fun" her when it comes to living and enjoying life.
She wants to experience everything, and you have to deliver an out of this world experience. Sagittarians are more masculine than most female personalities and are looking for the supreme alpha male. If you're a soft and sensitive type of man, then you can forget about having a relationship with a Sagittarius female. She will run over you and leave you behind.
If you're asking how to know if a Sagittarius woman loves you? Then you're an idiot, she always speaks her mind, if she loves you, you will know. Conversely, when a Sagittarius woman ignores you, you are too timid for her taste.
Related Reading: Zodiac Dating - the Good and the Bad of It 
How does a Sagittarius woman act when in love
Sagittarius women are passionate about everything, and they are twice that when it comes to sex and romance. She believes in focus and attention and when you're in a relationship with one, you will be smothered by it. She loves fun and experience and having someone special in her life means she wants to share all of them with you.
It's hard to find men that can handle a wild horse of a Sagittarius woman. For example, a cancer man and Sagittarius woman compatibility is literally fire and water. A Cancer man is serious, intuitive, and are mostly introverts. They have a penchant for the arts and culture and their dreams and happiness transcends reality.
A Sagittarius woman and a Cancer man have much to offer each other since they both love the deeper aspects of life and metaphysics, they are both allergic to bullshit, and are always searching for something for more than what the world has to offer.
However, the way they manifest these personalities are polar opposites. While Cancers prefer to discuss the meaning of life quietly with friends, Sagittarians will go ahead and try it in public, regardless of how insane it may seem.
Compatibility wise, they will not be great lovers, but they can be good friends for a Sagittarian to retreat to during their rest days.
A Sagittarius woman will put her money where her mouth is, she will stand by her beliefs and act on it. If she is in love with someone, the world will know about it. It is why in spite of her outgoing personality, she can remain loyal to a lover who can handle her.
She is worth the trouble. (especially if it's Scarlett Johansson) She is a trophy wife in public and a sex goddess in private. She will jump hoops and move mountains for people she cares about, and if you're lucky enough to be one, then you will definitely feel it. Again, the question is, can you handle it?
Share this article on
Want to have a happier, healthier marriage?
If you feel disconnected or frustrated about the state of your marriage but want to avoid separation and/or divorce, the marriage.com course meant for married couples is an excellent resource to help you overcome the most challenging aspects of being married.
You May Also Like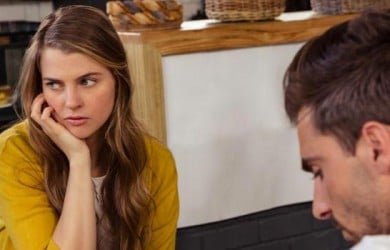 Popular Topics On Married Life