How Compatible Are You With Your Partner According to Astrology?
There are many ways in which people try to find out if they're compatible with their love partner. Astrology is one of them. Although it has been regarded as a scientific field of study for most of the time in history, it is now abandoned as such.
However, there are still many who believe that there is some truth to the horoscope. Others think of it as a fun way to do some soul-searching.
But most check how compatible they are with their partners when they're about to marry them. Let's see which signs are a good match, and which shouldn't be dating at all.
Related Reading: Determining Love Compatibility by Birthdate
Who you should avoid if you want to avoid trouble
1. Aries are a fire sign, passionate and stubborn. They don't go well with earth or water sings in general. This is especially true for Taurus, an equally wilful sing.
2. Taurus loves order and stability, so signs like Aquarius, who is too eccentric, or Libra, who is all-over-the-place sometimes, tend to be a bad idea if you want to avoid constant misunderstandings.
3. Geminis are creative, energetic, and sometimes chaotic, which is why Virgo, who is extremely tidy and down-to-earth isn't a good partner to this life enthusiast.
4. Cancers are extremely sensitive and moody, which is why Aquarius isn't a good partner for them due to their inconsistent emotionality.
5. Leo loves attention and is a true extrovert who flourishes when all eyes are on him or her, which is why Pisces shouldn't be their pick, as they are very much introverted and solitary.
Related Reading: Guide to the Most Compatible Zodiac Signs
6. Libra is a sign that always seeks harmony, which is why a moody Cancer should be avoided, although there is a possibility of the two finding a shared language.
7. Scorpio could potentially get along with another Scorpio as they understand each other, but in most cases, this is an explosive match, intertwined with a lack of trust.
8. Sagittarius is a sign that goes directly after what they want, which is why they don't pair up with indecisive Pisces.
9. Capricorn is a tenacious sign, and their down-to-earth nature doesn't go well with air signs, especially with equally assertive Gemini.
Related Reading: The Psychology Behind Love Compatibility Between Zodiac Signs
Perfectly compatible signs
On the other hand, there are also perfect matches according to astrology.
1. Aries and Aquarius are both very adventurous, and they make a perfect match in all areas of life, as there is never a dull moment in such a marriage.
2. Taurus and Cancer complement each other wonderfully and this match can and usually does last a lifetime.
3. Gemini and Aquarius are ideally similar and ideally different, so they have a feeling of knowing each other for eternities from the first moment they meet each other.
4. Cancer and Pisces are a match made in heaven, and their marriage is bound to resemble one. Their emotionality and almost supernatural sensibility make this a perfect couple.
5. Leo and Sagittarius are both strong personalities and daring individuals who complement each other on their paths towards greatness.
Related Reading: The Worst Zodiac Sign Compatibility Match for Each Sign
6. Virgo and Taurus are both practical and easy-going which makes their marriage relaxed and stress-free. They are the elderly couple who were committed to each other their entire lives.
7. Libra and Gemini have the strongest intellectual connection, and they know how to achieve harmony and balance in everything they do and say, making them an excellent match.
8. Scorpio and Cancer form a passionate and emotional bond that enriches their marriage for years and decades.
9. Sagittarius and Aries are a couple that is sensual, passionate, and enthusiastic about their shared projects as well as their marriage.
10. Capricorn and Taurus have both practicality and endless appreciation for each other, which makes them a match made in heaven, and promises a steady and loving marriage.
11. Pisces and Scorpio are also a perfect match because if their highly intuitive natures attuned to each other's needs and inner worlds. To an outsider, these spouses appear to talk to each other without ever using a word.
Related Reading: Love Compatibility between Zodiac Signs
What science has to say about astrology
Astrology used to be a part of science, hand in hand with medicine. Nowadays, it's considered a fun by most people, and particularly in the scientific community. It has been empirically proven not to have any predictive ability.
Yet, those who study astrology claim the rules of the Universe still evade human science, and astrology is one of the pathways to understanding it.
In other words, you should take everything you read about zodiac signs with a grain of salt.
Related Reading: Sexual Compatibility – Could Astrology Explain Your Sex Life?
You should definitely not rely on this for the major decisions in your life. From the psychological standpoint, there are other factors to consider when you're marrying someone. And there is a lot you can do to ensure your marriage will be a happy one, and not to depend on the alignment of the stars in the moment of your birth.
Share this article on
Want to have a happier, healthier marriage?
If you feel disconnected or frustrated about the state of your marriage but want to avoid separation and/or divorce, the marriage.com course meant for married couples is an excellent resource to help you overcome the most challenging aspects of being married.
You May Also Like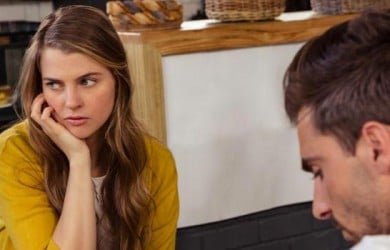 Popular Topics On Married Life