How to Tell if Someone Likes You: 30 Signs to Know
When you like someone, and the core of your heart cares about them, you want to know if that "someone" likes you in return or not.
A question that always pops in your mind must be, 'Does he or she like me the way I do?'
Of course, it's not that simple. Many of you might not know how to tell if someone likes you or not. It is hard to comprehend the traits relevant to emotions – emotions similar to affection.
Human psychology is very complicated, and every individual is entirely different from the other. According to the triangular theory of love proposed by Robert Stenberg, love has three components – intimacy, passion, and commitment.
Talking of intimacy refers to feelings of closeness, attachment, and connectedness. On the other hand, as mentioned above, human psychology is like a web that can't be unwound. Every person, being very different from others, has different psychological patterns.
Knowing how to tell if someone likes you could be one of the most challenging questions, but don't worry.
We're here to decode signs that someone likes you and how to know if someone is serious or not.
How to tell if someone likes you: 30 obvious signs to watch out for
Psychologists have proposed many ideas that could help answer the question, "How to tell If someone likes you."
There are various signs which would help you discover if someone likes you. These signs may vary in males and females.
Women are considered the delicate gender, which shows their sentiments of intimation quite readily. On the other hand, men are deemed introverts in this regard. They typically don't expose their feelings that easily.
As far as signs are concerned, there are many, and observing these signs in 'that someone can prove to be of great use.
For instance, according to psychologists, if you want to know whether a girl likes you, pay attention to her appetite. Experiments have shown that if she's interested in you, she will eat less while dining with you.
Out of these, eating patterns can easily be observed. This doesn't apply to men.
There are more signs discussed below to help you offset your love life –
1. They make lingering eye contact
Experiments have shown that if someone likes you, they try to make eye contact with you.
This usually applies to men. They are found comfortable making eye contact. On the other hand, women are found to be shy while maintaining eye contact with someone they admire.
If the duration of this particular contact is more extended, say, 30-40 seconds, then it's for sure that they are interested in you.
Related Reading: 

10 Powers of Eye Contact in a Relationship
2. Their friends will know
If someone likes you, their friends will create jokes when you're around. They might give you a mysterious look.
3. They want to know you better
If they want to know more and more about you, they will like to spend time with you. They can ask you to relish a cup of coffee with them.
They will probably sit with you; listen to you carefully for an extended period without getting bored. And, of course, they will ask about your likes and dislikes.
Related Reading: 

How to Understand Your Partner Better: 15 Ways
4. They value your opinion
In Psychology, there's a principle known as the 'similarity principle.' This principle can be observed when we're meeting new friends.
If they agree with your point of view, they want to get along with you and share the same hobbies and interests. In an intimate relationship, they would also like your weak point of view.
5. They like the same things that you do
Someone who likes you will have the same interests as you do. They will love the same music, bands, songs, colors, and more.
If you've ever mentioned your favorite place to them, they will like to visit that with you. This proves that they like you.
6. They mimic you
Psychological tests have shown that if you like someone, you mimic them sitting alone or while being with them.
So, if someone mimics you while being around, they will likely like you.
Also Try: 

Psychological Relationship Test
7. They love to tease you
If someone plays modest jokes, it indicates that they like you.
8. They are always there for you
Being available when you need them most can signify that they like you.
These were some of the signs discussed which would aid you in finding if someone likes you. They might not apply to everyone, but you can use some of these to reveal someone's perception of you.
9. There are casual touches
Here is another way to figure out how to tell if someone likes you. If you notice casual touches such as placing their hand on your shoulder or unknowingly touching your hand, then those are signs someone likes you romantically.
Remember that people don't just do that to be friendly or sweet. They are aware of this action and do it because you are special.
In any event that you may feel uncomfortable, let this person know.
Related Reading: 

What is the Physical Touch Love Language®?
10. They get nervous
One of the most adorable signs someone is attracted to you is when they stumble with their actions and words. Some people still act like they have seen their high-school crush, and it's pretty cute.
This worsens once you notice them, too. You might even notice how cold their hands are.
11. Their feet point towards you
This may be a strange sign for some, but it belongs to the most common psychological signs someone likes you. If you think a person likes you, try looking at their feet.
If you notice that they always point their feet in your direction, this means that, subconsciously, they want to be near you or close to you. Remember, body language is one of the best giveaways when you like someone.
How aware are you of your body language?
Georgia Dow, a Psychotherapist, explains this further.
12. They are always happy when they're with you
If you want to know how to tell if someone likes you, try paying attention to their mood when they are with you. A person who is infatuated or in love with you will always be happy around you.
Don't worry, this person isn't pretending. Love can make us feel complete and jolly.
13. They want to get close to you
A person who likes you will find ways to be close to you. From joining your group for lunch, asking to be in the same group, or even choosing to be on the same shift as you.
It's subtle, but it's one of the most obvious signs that a person is into you.
14. They remember everything about you
Here is how to know if someone likes you secretly. Have you ever encountered a person who remembers the littlest things about you?
We usually talk with our friends and say random things about ourselves. Now, a person who likes you will know every detail.
From your favorite dip for your chicken nuggets to your weirdest comfort food, this person even knows the reason behind them.
15. You see them blush
Your friends tease you, and this person blushes and loses focus. They may start saying weird things, stutter, and even turn bright red.
There is no denying it. This person likes you – a lot.
16. They always find time to contact you
As they say, it's all about priorities. If you know that this person is busy but still finds time to call, text, and even chat with you, that is another way how to tell if someone likes you.
You'll always find the time if you are serious about something or someone.
Related Reading: 

What Are the Three Biggest Priorities in a Relationship
17. Their posture improves when they are with you
Here is another one of the psychological signs someone likes you. When a person keeps the trunk of their body open and exposed, then this means they are lowering their guard.
How does this translate to affection? It shows that this person is opening up to you and being vulnerable.
18. They contact you when they are drunk
Alcohol can sometimes give us the courage to tell a person how we feel. If you want to know how to find out if someone likes you, drunk dialing is one sign to watch out for. For some, this is their only way to admit their feelings.
19. They open up with you
One of the signs someone likes you is when they open up to you. You might wonder, "Of all people, why is this person so trusting of me?"
Either they treat you as their best friend, or they open up to you because they like you.
20. Your conversion seems light
A person who likes someone will always be happy. This person doesn't want anything negative around you, the two of you. This ruins the mood.
If you're happy and your conversations are light, there's a chance to get closer, don't you think?
21. They make an effort to make you smile
Aside from light conversations, a person who likes you will always try to make you smile.
They are not just there when you need them, and they would also make you smile and help you if you're going through something.
Related Reading: 

20 Effective Ways to Put Effort in a Relationship
22. They give you small gifts
Do you notice someone consistently giving you small gifts? Are you receiving chocolate bars, encouraging notes, coffee, or maybe a cute pillow? These are tokens of affection and a significant sign of how to know if someone likes you.
23. The tone of their voice changes
People close to this person would notice that when they are close to you, the tone of their voice changes.
We can't control it; instead, our body automatically does this when we're near a person we like.
24. They want to be their best when they are with you
When we're with friends, we tease a lot. But what if someone develops feelings for you?
Expect that this person always wants to be the best in front of you. You might notice that they would feel off when someone makes fun of them when you're around.
25. They would ask you for a "not an actual date" meet up
Another noticeable sign of how to tell if someone likes you is when they ask if you can hang out but not as an actual date.
A little bit defensive, but since they have feelings for you, they would show some obvious signs.
26. They love doing favors for you
You've noticed that this person is always eager to do favors for you. They may offer to get you coffee, get you breakfast, get your things from the office, and even accompany you with your grocery shopping.
27. They notice the littlest things about you
"Oh! This is your first time trying out this coffee flavor."
This person notices the minor details that many won't see because his focus is always on you. This is usually harmless, as long it won't make you feel uncomfortable.
28. Sometimes, they can't look at you straight
When someone likes someone, they have different ways of showing it. Some will do their best to show their best behavior, while others get nervous.
Either they can be close to you and sweet around you, or they could be someone who can never look you in the eye or talk to you.
29. Some may fidget – a lot
Fidgeting is also a sign of nervousness. If you're together, this person might fidget a lot. While there could also be many other reasons a person does this, it's also a sign that they like someone.
30. They are overprotective of you
How do you know when someone likes you? This one is cute. We've seen this sign in dramas. A person being overprotective is definitely caring for you and doesn't want anything or anyone hurting you.
Related Reading: 

Overprotective Partner? Here's What You Can Do
What should you do if you think someone likes you?
Before, you may have asked yourself, "How do you know if someone likes you?"
Now, you know the answer, so what's next?
If you like this person, and clearly, they like you back, then assess the situation first. If you're both single, then go ahead. Let each other know about your feelings.
Some people are comfortable making the first move, like asking the person they like for coffee. Some are not.
If you're not shy, go for it!
What if you are shy? Then, allow this person to come to you. You can always give out cues and clues about your feelings, right?
How can you tell if someone likes you or is just using you?
"How do I know if someone likes me? I don't want to be hurt again."
Indeed, knowing that someone has feelings for you is not always that easy. For some, fear sets in. It's hard to trust and fall for someone when you're afraid.
Remember that you can't push away the people ready to love you. Instead, you can seek counseling and therapy and pay attention to what they will do for you.
Time will reveal if what they are showing you is pretense or not.
Be vigilant, and you'll see who is faithful and who is not.
Still not sure if someone likes you? Here are questions to ask yourself
What if knowing how to tell if someone likes you is not enough? To dig deeper, we must understand that every situation is different.
Men and women don't have the same signs when they like someone. Try asking yourself these questions to be sure if someone has feelings for you.
If we're talking about a man:
1) Does he blush, become shy, stutter, or become awkward in your presence?
2) Is he always there for you and will do things for you?
3) Is he sweet, teasingly playful, and gives you subtle touches?
4) Is he overprotective of you?
5) Does he look away when you catch him gazing?
If we're talking about a woman:
1) Does she put in extra effort to look good when she's around?
2) Does she look away when your eyes meet?
3) Do her cheeks blush when you're close to each other?
4) Is she extra caring, protective, and sweet with you?
5) Have you ever caught her staring at you?
Bottomline
Knowing how to tell if someone likes you will surely help you a lot. It lessens the burden of guessing if the other person likes you.
However, this is just the first step. You will still have to assess if this person's intentions are real or not, then the final test of getting to know each other comes next.
Share this article on
Want to have a happier, healthier marriage?
If you feel disconnected or frustrated about the state of your marriage but want to avoid separation and/or divorce, the marriage.com course meant for married couples is an excellent resource to help you overcome the most challenging aspects of being married.
More On This Topic
You May Also Like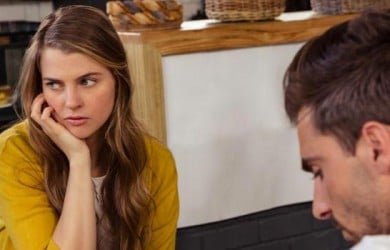 Popular Topics On Married Life